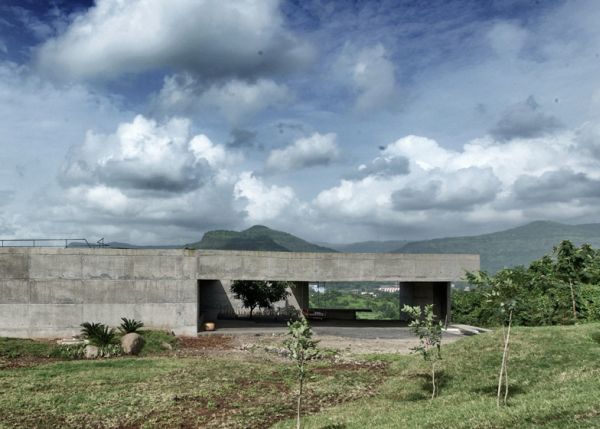 Austere and beautiful – these two words define the essence of the Khopoli House designed by Mumbai based studio SPASM Design Architects. Nestled amidst the lush green hills of the 'Western Ghats' in the Indian state of Maharashtra, this nigh monolithic monster is actually envisaged as a 638 sq m holiday home away from the rush of city life. The distinct profile of the building was achieved by the use of locally available basalt stone mixed into commercial concrete. In fact, the dark grayish color scale of the Khopoli House is inspired by the natural basalt stones that surround the rocky site.
Of course, beyond just blatant symbolism, the concrete mixture does have its practical considerations for the Khopoli House. According to the architects, its usage was dictated by the mercurial climatic changes faced by the region, which includes very high temperatures during the summer and very heavy rainfalls during the monsoon. In this regard, the solidity of the concrete helps in overall insulation, while the lustrous characteristics of stone facilitates drainage of excess water.
As for the features of the Khopoli House, the entrance is marked by a cantilevered concrete overhang that shelters the outdoor space for car parking purposes, or for just sitting and enjoying the paradisiacal views of the hills. The interior spatial arrangement comprises of two separate wings, with the living and dining area located in the middle 'void'. The dark palette of the outer building skin is also continued on the inside with rigid stone-lined walls and staircases. This design scope alludes to a subdued architectural style that speaks through its enchantingly sober facades and 'chaste' minimalist proportions.
Via: Dezeen