Italian company Decormarmi's industrial design brand Kreoo that specializes in bathroom products will be unveiling the new marble washbasin designs with the Dora coffee tables (by Enzo Berti) at the Salone del Mobile 2018.
Bubbles washbasin by Marco Piva is the focal point of the collection that features unusual details, colors and materials.
Bubbles washbasin by Marco Piva
The creative design of Bubbles washbasin is inspired by pleasing visuals of soap bubbles floating in the air. Made from marble and stone, the washbasin, that comes in freestanding or countertop versions, consists of several modules fastened by metal inserts, allowing a combination of different marble colors and finishes. This way, there is a possibly to carve a module even from smaller blocks of stone to reduce material waste.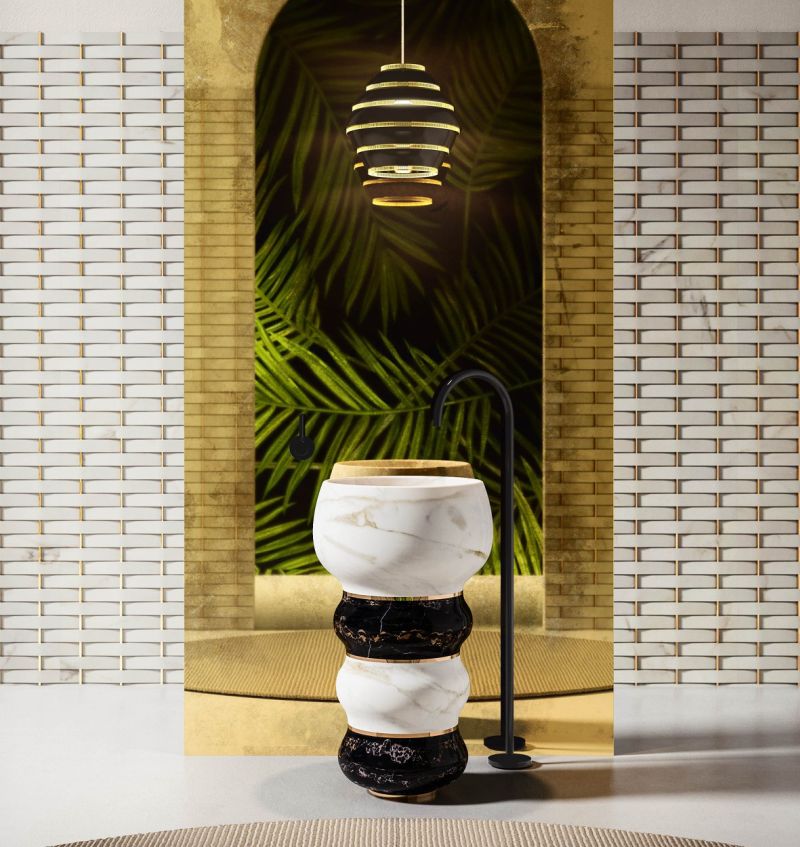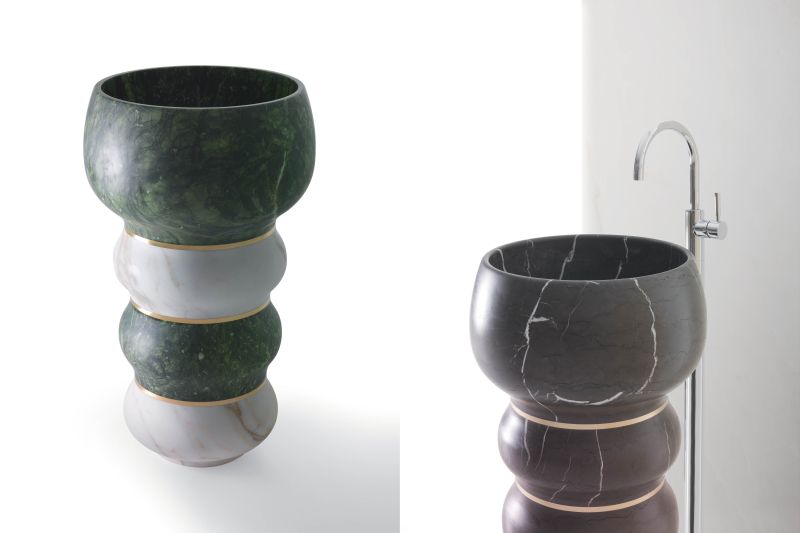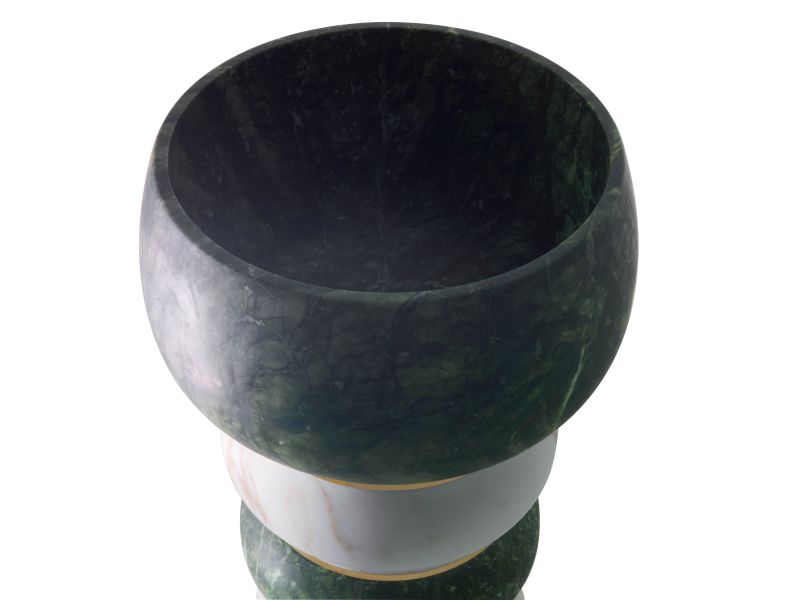 Amber and Scarlet washbasins by Enzo Berti
These freestanding washbasins are inspired by the cleanliness and rounded curves of wine glasses.
The Scarlet version (RHS) is wider and rounded, with a narrower mouthpiece that evokes the majesty of a red wine glass. On the other hand, the Amber washbasin (LHS) boasts an elongated form, reminiscent of the shape and color of a white wine glass.
Both designs feature a conical base, with small variations in size. Sculpted from solid marble, these washbasins are created by the combining two separate pieces.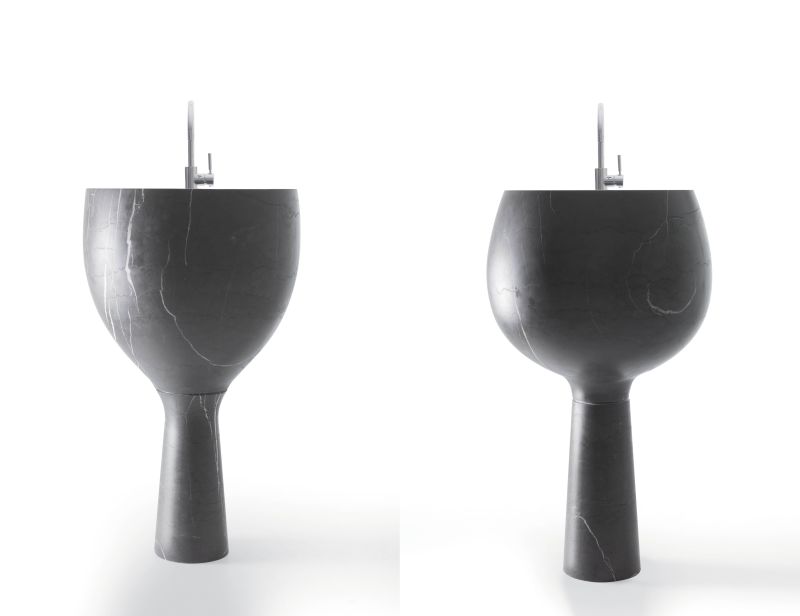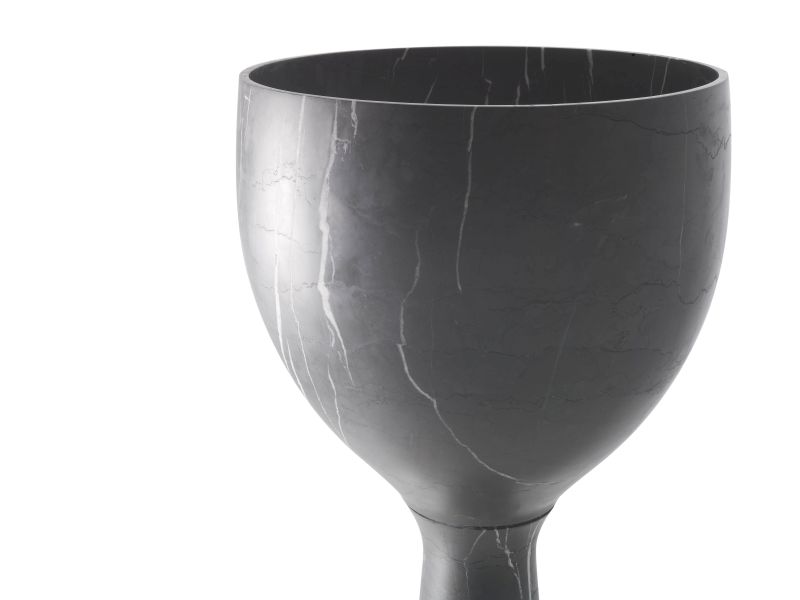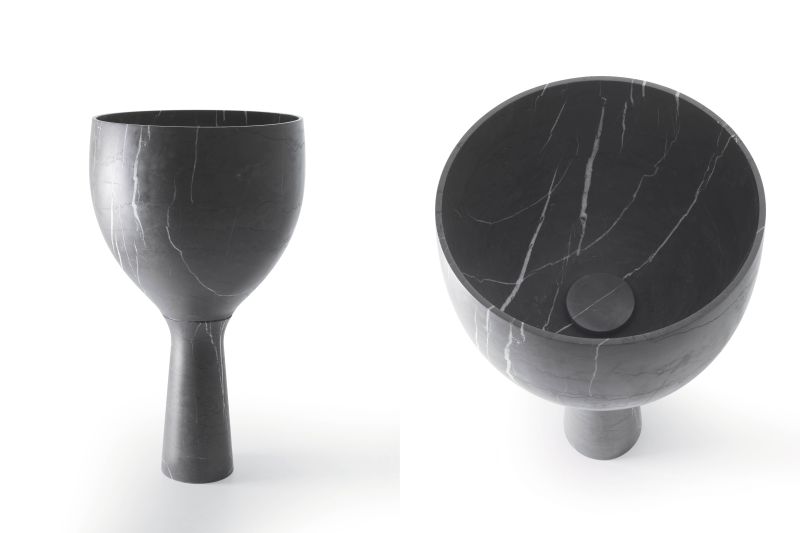 Also Read: Cerasa To Unveil New Bathroom Collections At Salone Del Mobile 2018
Roma washbasin by Marco Piva
The Roma freestanding washbasin combines natural marble with the refined elegance of gold leaf. The bright lines of the contrasting material highlight the sculptural shape and textural combinations. It creates a unique aesthetic, combining harmony with shape and functionality.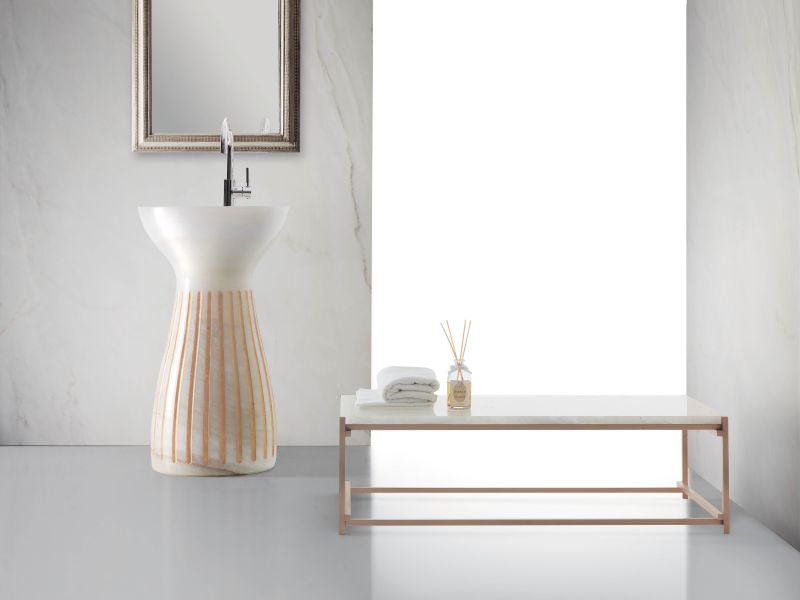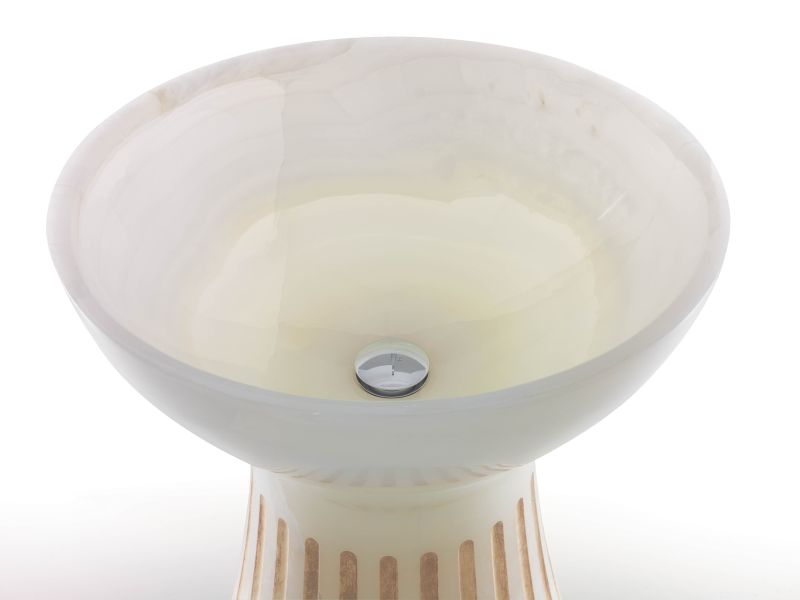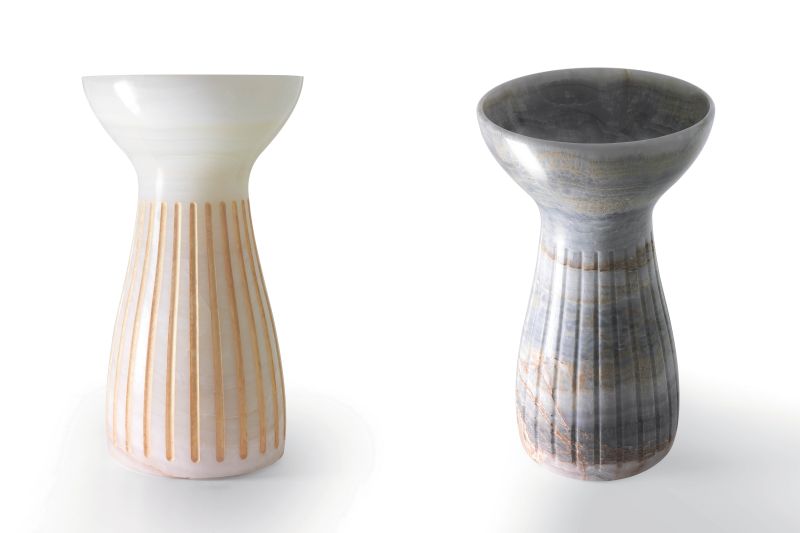 Tao washbasin by Marco Piva
Inspired by the "Yin and Yang" Taoist philosophy, the Tao washbasin is a marble monolith, elegant and harmonious. This freestanding or countertop washbasin is characterized by metal inserts that emphasize its cylindrical shape. The partitioning of washbasin allows using small blocks of marble in its construction.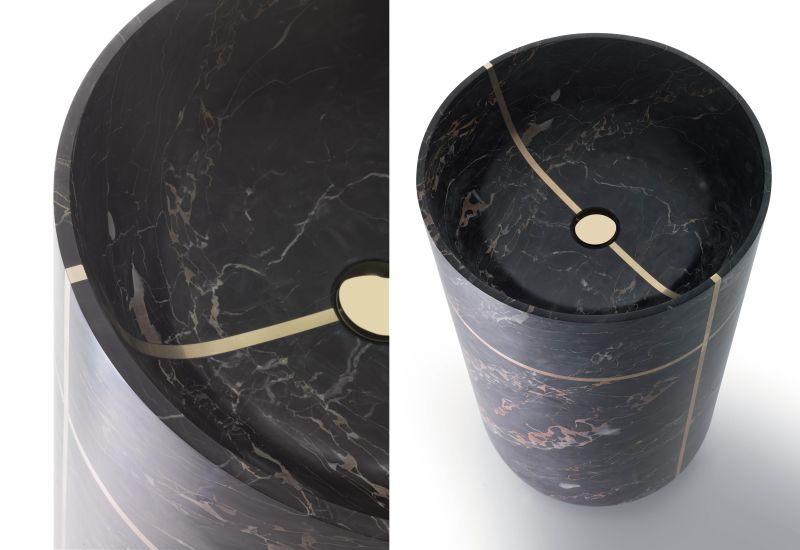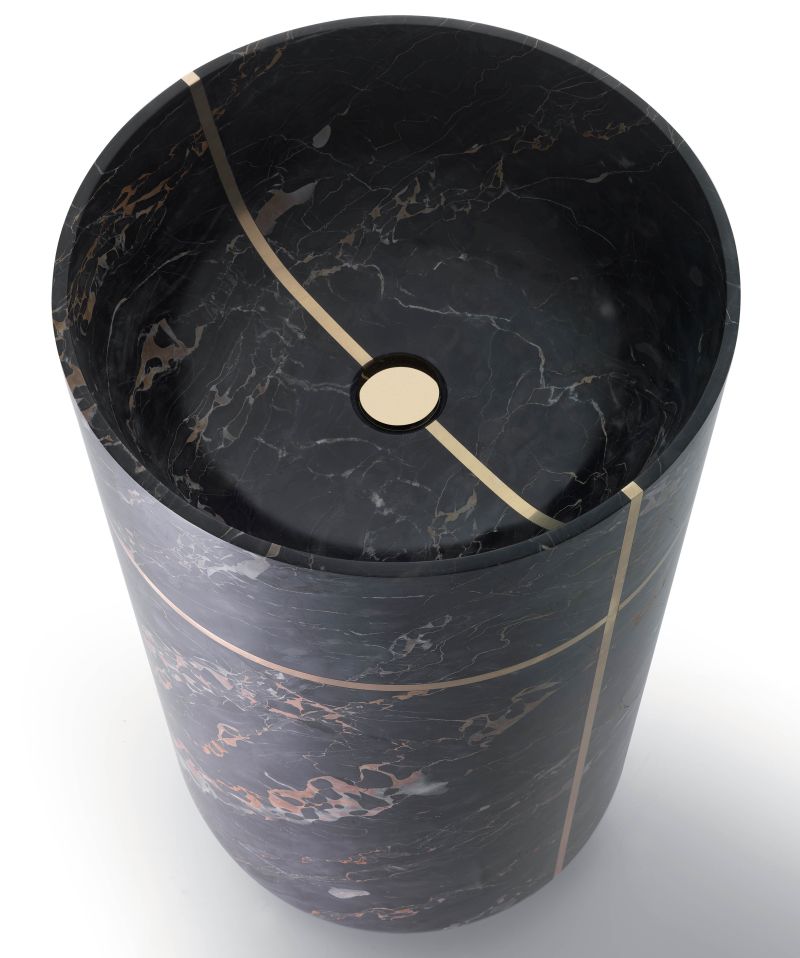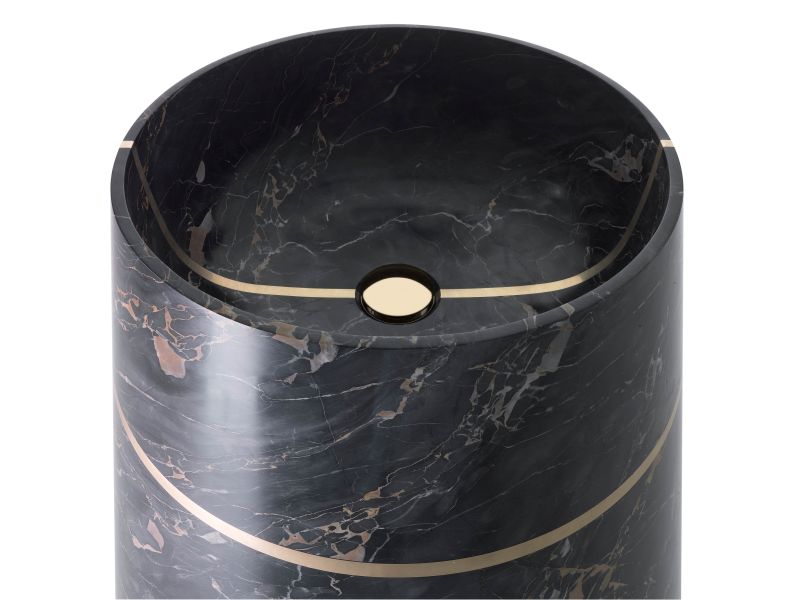 Kalypso bathtub by Enzo Berti
Inspired by the ancient classical forms, Kalypso is a unique bathtub made from a single block of marble. It is designed to be a functional and sculptural object, with an essential yet soft shape, enriched by the unique variation of marble veins. Its soft undulating lines, in combination with thoughtful ergonomics, create a welcoming space for people to get in contact with water.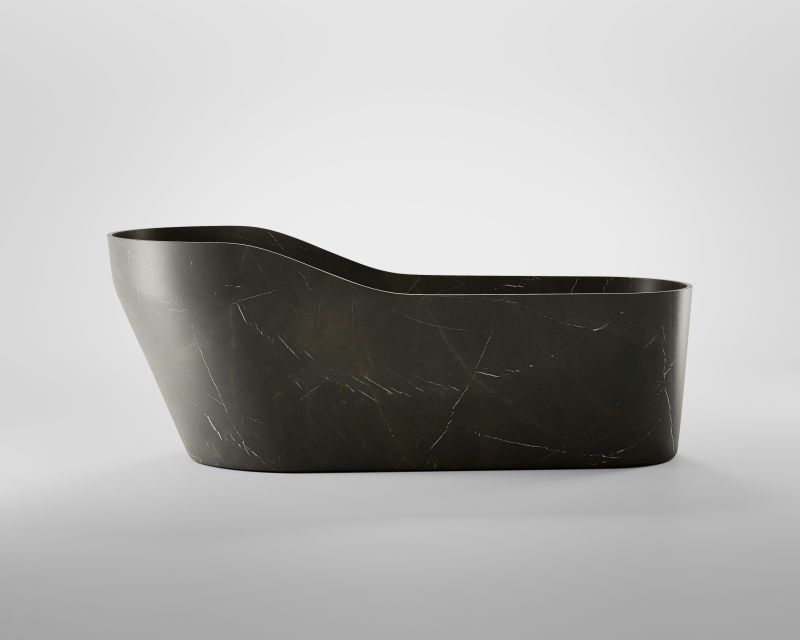 Dora coffee tables by Enzo Berti
The Dora coffee table collection consists of three models, each with marble or stone top sitting on a brass base. All tables of the Dora collection are characterized by a roundish marble top, coupled with an open circular brass base. In the collection, the barrel shape of the traditional Japanese Doramu drum is coupled with the conical shape of the West African Djembè and its system formed by ropes and circles.