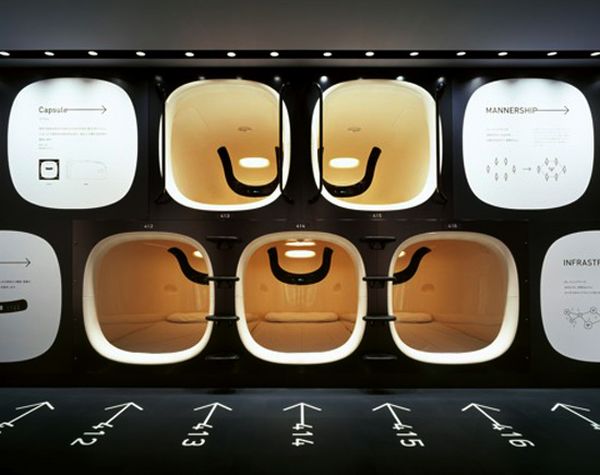 Capsule hotels are pretty much the accommodation counterparts to sushi; both help us foreigners in appreciating the prevalent essence of 'minimalism' present in Japanese culture. In that regard, we have come across the starkly conceived sci-fi wonderland of the Nine Hours hotel in Kyoto. Created as a luxury space (by Japanese Design-Studio S) with minimum amenities, the subdued nature of the entire scope is somewhat akin to the theme of Ridley Scott's Prometheus. In fact, we can very well imagine the sonorous (and sometimes ominous) sound effects accompanying the namesake sleeping capsules that are arrayed symmetrically across an expansive space.
The essence of futurism is not just related to any singular factor in the  Nine Hours hotel. It is rather prevalent in every component and spatial system exhibited by the establishment, summarized by the monochromatic decor and the nigh austere imagery.
Interestingly, this aesthetic ambit doesn't infringe upon the quality of accommodation provided by the Nine Hours hotel, which again is nonchalantly exhibited by the assortment of technologies integrated in the capsules. For example, each of the pods have Panasonic's computerized lighting systems that not only provides ambient illumination but also automatically lights up when you need to wake. Furthermore, the accompanying bed goes by a high quality of four star hotels, thus improving upon your 'personalized' comfort level.
Finally, as for the hospitality side of affairs, the regular time (per night) a guest can spend in the capsule equates to – 1 hour of shower, 7 hours of sleep and 1 hour of break; total of 'nine hours'. Guests can also opt for continuous 17 hours for a single stay, with each night stay costing ¥4900 (around $49).
Via: NineHours