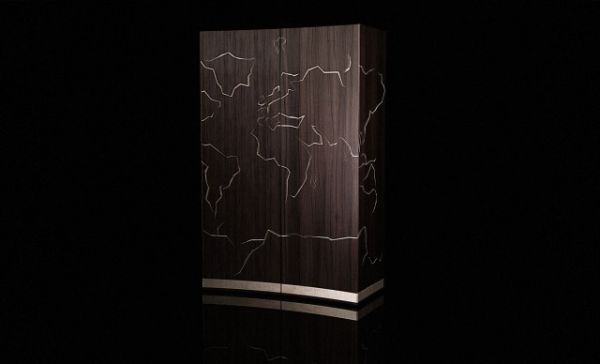 There are very few furniture/accessory brands that epitomize the British character as well as Linley. And, now the family owned company has crafted the 'Tectonic Bar', an exquisite bar design made from indigenous British walnut wood, and speckled with some essence of white gold leaf and nickel. However, the namesake 'Tectonic' comes from the deftly engraved 'cracks' on the surface of the wood that abstractly resemble the tectonic plates moving to form our great continents. These irregular lines reveal the shimmering metallic core of the bar's 'inside' structure, thus accentuating the subtle splendor of the conception.
Moving onto the interior of the Tectonic Bar, a secret button opens up the doors to this glorious arrangement. The inner scope showcases specialist Linley cocktail accessories with the apt, unobtrusive shelves. The interior also comprises of a hidden cigar humidor that emerges as a drawer and an additional fridge in the bottom section of the bar.
Anyhow, beyond the detailed arrangements, the aesthetics of the Tectonic Bar does hint at utter elegance. Lined with gold leaf that contrasts with the minimalist nature of the shelves, the inner space 'glows' with an ethereal effervescence. Certainly a case where opulence meets adroit craftsmanship!
Via: DavidLinley