California-based architect Matthew Hofmann of Hofmann Architecture has been developing luxury Airstream-like travel trailer called Living Vehicle (LV) for the last many years now. Moving forward, Living Vehicle has announced its three new models for 2020. Named CORE, MAX, and PRO.
These models, in addition to providing luxurious mobile living experience with all the comforts of home, are designed ground up for off-grid use. The main distinction between each of these variants is their ability to recharge and store electricity for off-grid use during travel on-the-road.
CORE is the basic model – a four-season capable living unit that can sleep up to four persons. If compared to the 2019 model, the Living Vehicle CORE configuration comes with over 200-percent more solar power capacity. It has a 1,320 watts lightweight solar power array and 8.7 kWh energy storage using nickel manganese cobalt battery packs, making it able to live completely off the main-grid for a long period of time.
2020 LV can run air conditioning solely from battery power charged through solar power. Its energy reserve is capable of running a low-power draw A/C unit to cool air inside. If the sun is adequate, the CORE can run the AC all day and into the evening. For night long air conditioning, you may want to opt for the MAX model that touts 24 kWh energy storage capacity.
The 2020 LV models come with many updated design features including a curved roof, aluminum cabinetry, and exterior compartments for increasing storage capacity. Other highlighting features are the fold-down deck, 4K HDTV and SONOS audio system, solar refrigerator, hidden floor-to-ceiling shelving in the hallway, and a residential size shower. Each LV model is configured with stunning features and products to maintain a luxurious lifestyle.
Bigger the model more power and energy-efficient it is. MAX LV increases the energy capacity by nearly 300-percent while the PRO model with a whopping 47.66 kWh with 3,080 watts of solar, is 540-percent powerful than the CORE model. Price for the Living Vehicle starts at $199,995 and it can be configured with features according to particular needs to make it a dream tiny house on wheels.
Also Read: Living Vehicle is Off-grid Travel Trailer with Smart Features  
We had the pleasure do discuss their journey at Living Vehicle with founders Joanna & Matthew Hofmann. Read on to know what they had to tell us.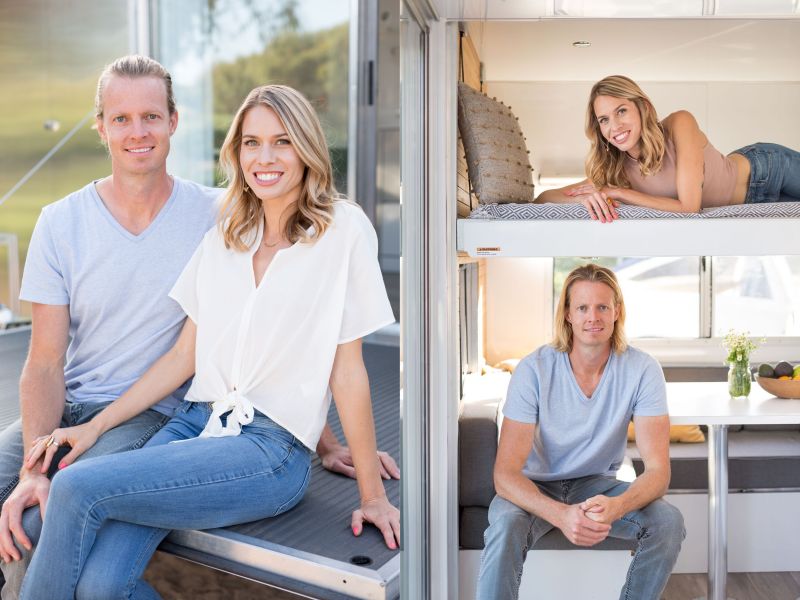 Homecrux (HC): Living Vehicle is a very beautiful creation. It is famous across the world. How did the idea come to your mind?
Matthew: Living Vehicle has been over a decade in the making. We have a longstanding background in designing and living in mobile spaces. I am a licensed architect and have done over 400+ custom mobile renovations since 2009. Each project started with an existing structure that I came to find was very limiting. We started to really take a deeper look into what new options were available on the market and we kept coming up short. Joanna and I started to prototype our ideal mobile living space and think about what capabilities we wanted to improve upon and see how we could make this freedom-driven lifestyle a reality.
Joanna: It really was an evolution of our design and lifestyle experience. Matthew and I had been living a mobile lifestyle and literally tried out everything on the market – vans, buses, motorhomes, both new and renovated trailers, and even boats. We found we were always making compromises and sacrifices. We loved the lifestyle but there was no one product out on the market that met our needs and made this lifestyle sustainable for full-time living. So we decided to design our dream vehicle from the ground up purposely built for extended and full-time use for all aspects of life. There are so many considerations for a vehicle intended for full-time use: everyday living, traveling, working, cooking, withstanding extreme temperatures, exploring off-road, being dog-friendly for our pups, and ultimately having the freedom to do all of these things unplugged from the grid.
HC: Living Vehicle focuses heavily on design, function, and sustainability. How difficult is it to achieve all of these in tandem? Why do you put so much emphasis on it?
Matthew: To quote the great Frank Lloyd Wright, "Form follows function – that has been misunderstood. Form and function should be one, joined in a spiritual union."
At our core, we are designers and architects. We design spaces for people to call home. Since LV is designed to get you outside and is a mobile product, there are many real-life implications of design, function and sustainability coming together. You're traveling with your house on the freeway or going off-road, encountering extreme temperatures, enduring ever-changing conditions.
Sustainability is a by-product of achieving our goal of freedom. By definition, sustainability is the capacity to endure. Our goal is to create a home without compromise, remove the things that make the experience limited, and doing so in a way that doesn't put further strain on our planet and natural resources.
Joanna: People keep asking why quality is so important to us and I think it has a lot to do with how little it is typically focused on and discussed specifically when it comes to travel trailers. Starting with a strong and intentional foundation and making each decision based on quality translates to better user experience. In our case, that could mean being safe and warm inside your LV when it's 0 degrees outside and you're caught in a storm or having enough energy supply to sustain unexpected off-grid use for weeks at a time.
HC: Do you receive orders from outside California? If yes, where is your major clientele located outside California? 
Matthew: Yes, we have customers throughout the U.S. and Canada.
HC: You say LV is not for everyone, and so we refuse to make compromises to fit the mold. Are all your models custom-built?
Matthew: We are unapologetic on our choices to put quality first and lead the industry in innovation. We ultimately care about the integrity of our product and the future of our planet, and not to please everyone. Living Vehicle was created for a specific purpose and we have seen this niche that we've created for ourselves growing year after year. Each vehicle is hand-crafted and custom-built to order. New for 2020 we are offering three models, all defined by energy, as well as a host of custom option packages.
Joanna: Our goal with LV is capabilities and mission-based, not in hitting production quotas. Innovation, R&D and quality,  this is our focus, and ultimately hitting our net-zero goal. Low production allows us to test and pivot quickly yet thoughtfully. It allows us to provide better service across the board. That doesn't come from mass production. We take pride in our brand and family name. It's special when we find other people that share the same values as we do; it keeps our passion growing and drives us to be better every day.
HC: How's Living Vehicle different from Airstream? Why Living Vehicle, and not Airstream?
Matthew: The difference is quite simple. Airstream is fundamentally a recreational product, a camper designed for short vacations and weekend trips. Living Vehicle is designed to be lived in for extended and full-time off-grid use. Before starting Living Vehicle, I renovated over 400+ Airstreams and lived in several. They are not designed to be lived in, but they were the best option out there.
Joanna: The capabilities and structural design of something purposefully built for short term camping vs. living is the big difference. Living Vehicle does everything an Airstream can do plus so much more. Off-grid capability and 4-Season performance is where LV really shines. Our PRO model can power both AC's off-grid with full sun and supports extended off-grid use from 0˚F to 110˚F and -10˚F to 120˚F while connected to shore power.  The storage capacity available on the PRO is a whopping 47.66 kWh with 3,080 watts of solar. The 2020 Airstream Classic includes 270 watts of solar. The 2020 CORE Living Vehicle comes standard with 1,320 watts.
If you are just looking for a travel trailer to take vacations in, Living Vehicle is undoubtedly the most capable travel trailer on the market. If you're looking to live in something full-time and want to be able to thrive in extreme conditions, that's what LV was made for; It's the best of both worlds.
HC: Your most memorable road journey(s) you would like to share with our readers?
Matthew: I grew up in a small ski-town, in the High Sierras of CA. We really love exploring our own state of California and enjoy skiing and snowboarding during the winter and enjoying the desert in the warmer months.
Joanna: From a functional lifestyle perspective, we have learned how to satisfy both of our needs. I can't stand being cold and Matthew grew up in a ski town. The increased insulation allows us to go to cold places like Mammoth so Matt can ski and I can stay inside and be warm and cozy. My morning (hot) shower is an important ritual that gets my day started on the right foot. The luxury of being able to take a hot shower off-grid while it's snowing outside is the ultimate win for me. Probably the most memorable trip was camping on BLM land near Mammoth and waking up to our first snow. We woke up to the ground and mountains being covered with beautiful fresh snow and made coffee and walked over to take a morning dip in the natural hot springs. It was a magical experience and I was happy even though it was only 6˚ F outside.
HC: How has trailer design changed over the years?
Matthew: Frankly it really hasn't changed much over the past 80 or so odd years travel trailers have been around.  This is an industry that has done a great job at staying the same.  This is why we created LV.  People are asking for more capabilities and the use has expanded across different markets yet the majority of the products being pumped out are the same.
Joanna: If anything, quality is getting worse as volume and demand increases. The RV industry has seen extreme growth over the past decade and the industry's answer seems to be more: produce more, quicker and cheaper. We're committed to sticking to our low production model which allows us to innovate quickly, make quality our number one focus and provide better service to our customers.
HC: Is the present situation (Coronavirus outbreak) affecting your life and business? If yes, in what ways?
Joanna: Demand has gone up. The desire to be independent of the grid and keep our distance from others is shouting at us all loud and clear. People are going to be itching to get outside after the worst phase is over. Personally, I don't see ourselves jumping on a plane or staying in a hotel anytime soon. And have you seen the gas prices lately? We're grateful to have LV as a safe solution to allow us to enjoy the outdoors.
Matthew: Not much has changed from a business operations standpoint. We literally founded the company from a completely remote business model – out of our own Living Vehicle. We're used to working remotely and still running our business normally within the guidelines of the stay at home orders. We've been set up to run our company remotely from day 1.
HC: Any suggestions for fellow designers and others?
Matthew: We see a real opportunity for growth and progressive change now more than ever before. Things usually are done the same way until something happens that forces change. Well, it's here and we must respond to it by evolving. Our philosophy on technology and innovation is to enhance a customer's experience and respond to and plan ahead for change. We don't innovate for innovation's sake.
Joanna: I'm a former chef so I'll use a food analogy. No amount of seasoning will make a difference if you're starting with poor quality ingredients.
HC: Any architect or designer you appreciate a lot?
Matthew: Frank Lloyd Wright, of course. Also Kengo Kuma and Peter Zumthor for their honest use of materials. I believe in using natural materials and working with their inherent properties to arrive at the most authentic solution. Kuma and Zumthor both do this very well.
Joanna: Matthew did his senior architectural thesis on the healing properties of nature and was really inspired by Zumthor's thermal baths in Vals, Switzerland.
HC: How will the present situation shape the future of mobile living/RV industry?
Joanna: I think people will start to really understand the importance of off-grid capability and see it as an absolute necessity, not a nice-to-have luxury. We're seeing all these people living in RV's being displaced from developed campgrounds and scrambling because they rely on being hooked up. If you're living in your trailer full time, there are certain needs and realities that must be addressed and accounted for.
Matthew: Not only off-grid capability but also true 4-season and off-road performance. I don't think we've ever seen the importance of being self-sufficient and not reliant on the grid as we have with the current pandemic. I think we'll see an increase in domestic travel within our own country and respective states. Social distancing and the desire to access more remote areas will continue. I always joke that the most beautiful places can't be accessed right off the freeway. This is true, but you need a capable vehicle that can not only get you to those beautiful places but really make it a sustainable experience by meeting all your needs not just for a day or two.
Joanna: I think we'll start to see new market segments arise with people not previously considering this lifestyle now looking to mobile living as a viable option. We've already seen this with our own customers that have lost their homes to natural disasters like fires and hurricanes. Our focus on creating a net-zero vehicle transcends the buzz word and puts the focus on a way of living that will allow people to thrive in extreme and unforeseen conditions.
Some shots of Living Vehicle's new models for 2020.