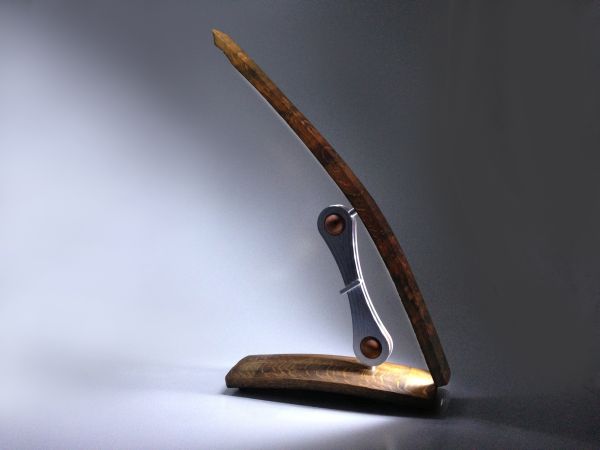 Our tryst with recycled wine barrels and LED lighting started out with the utterly elegant LUMI Wine Wall. And now, California-based wine maker Dale Rorabaugh is back with another one of his unique creations in the form of the Lumia. While the LUMI was a gorgeous 'showpiece' conforming to the word's true essence, the Lumia is more in line with a functional art piece that impresses on a personal level. The conception is made from retired wine barrels and sculpted milled aluminum, complemented by a LED lamp with an adjustable pivot arm. So, in a nutshell, it is a usable design that marries the conscientious scope of recycling with the aesthetic ambit of beauty.
According to the designer, a whopping 200,000 wine barrels are retired each year in California alone. Judging by this startlingly high figure, we would presume that the raw material (the wine barrels) was not that hard to come by. However, as always, true innovation is always in low supply, and that is where the Lumia LED lamp really shines (no pun intended!).
In this regard, the working scope of the lamp entails 24 super bright LEDs that are fixed as a strip beneath the curved top stave. This top stave in turn is affixed to the base stave via a dual pivot arm crafted from precision sculpted milled aluminum. In fact, in many ways, this aluminum piece serves as the focal point of the design with its glistening form further accentuated by the LEDs.
Now, beyond just the visual glory, the pivot arms also act as practical members of the Lumia set-up. They incorporate a special wire coil that allows the light to move in various angles without too much strain or stretching. There is also an adjustment knob that helps the users to hold the lamp securely in one place after they have adjusted it.
Finally, since we have brought up practicality, the Lumia lamp set includes some convenient features, like – a touch off/on dimmer switch, a 12V Transformer and hidden battery pack. The designer has also touted its portable feature, as the lamp eschews the need for a wall-based power outlet. You can just charge the Lumia and then exhibit it as a classy decor piece/lighting mechanism upon your work desks, shelves or even cupboards.
Thanks, Lorraine Rorabaugh (for more info, refer to this Kickstarter link).