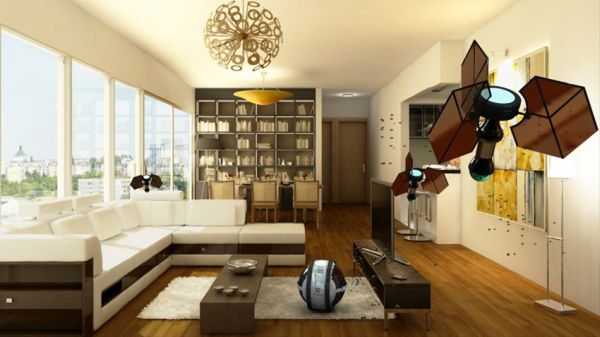 When it comes to automated cleaning, our current technology is limited to those smart vacuum cleaners. However, Colombian industrial design student Adrian Perez Zapata has conceptualized the Mab, an advanced home cleaning system that incorporates a 'robotic' side to the whole scheme. In other words, as opposed to vacuum cleaners that are depended on our remote controlling, the Mab will be a fully autonomous system where flying mini-robots integrated with fluids would help in cleaning up our rooms. This seriously bold concept was thought of as an entry to the 2013 version of Electrolux Design Lab competition.
The working scope of the Mab entails a central control and storage unit. This spherical housing will have all the water and cleaning solutions (stored by the user), which will be distributed evenly to around 908 flying robots. These robots in turn will have propellers to fly, while their sensors would scan the room and then proceed to clean the 'affected' surfaces with drops of the cleaning fluid. Dirt can also accumulated by these robots and shifted back to the central unit, thus making it similar to the scope of vacuum cleaners.
Now, as far as usability of the ambit is concerned, the robots will produce their own energy to fly with integrated solar panels along their wings (which saves conventional electricity). According to the designer, the Mab could also be scheduled for cleaning cycles as well as for specific cleaning tasks. Moreover, Mab will be able to connect with your mobile devices to provide the user with notifications about the cleaning process and even system info.
Via: ElectroluxDesignLab