From the time of the Cro-Magnon era, men have escaped to their caves for shelter. Today's men are no different. However, with all the modern comforts now available, men are looking for a high-end cave to retreat to when they need some downtime from a long day at work. How popular is the man cave trend? These days, nearly 40 percent of homes include some kind of man cave, a reference to a space solely dedicated to the man of the house.
The possibilities are endless if you're thinking of creating your man cave. Man caves can be anything from a garden shed to the home garage, a bonus room in the attic, or even a more dedicated space in your home. Here are 10 amazing man cave ideas to inspire you – ideas that you might not have considered – including a gadget-filled garage, the ultimate game room, a secret screening room, an outdoor grilling center, and more!
Go-Go Gadget Garage
Is there a man in your life that likes gadgets? Then he probably needs all the tools (or thinks he does). Set him up for success with a garage that includes a workbench, a rolling drafting chair, wall and cabinet storage, good lighting, and a heater for those chilly days. Whether he likes to tinker around the house or goes full-on with home renovations, having a spot where he can drill and hammer to his heart's content will be the best kind of escape for him.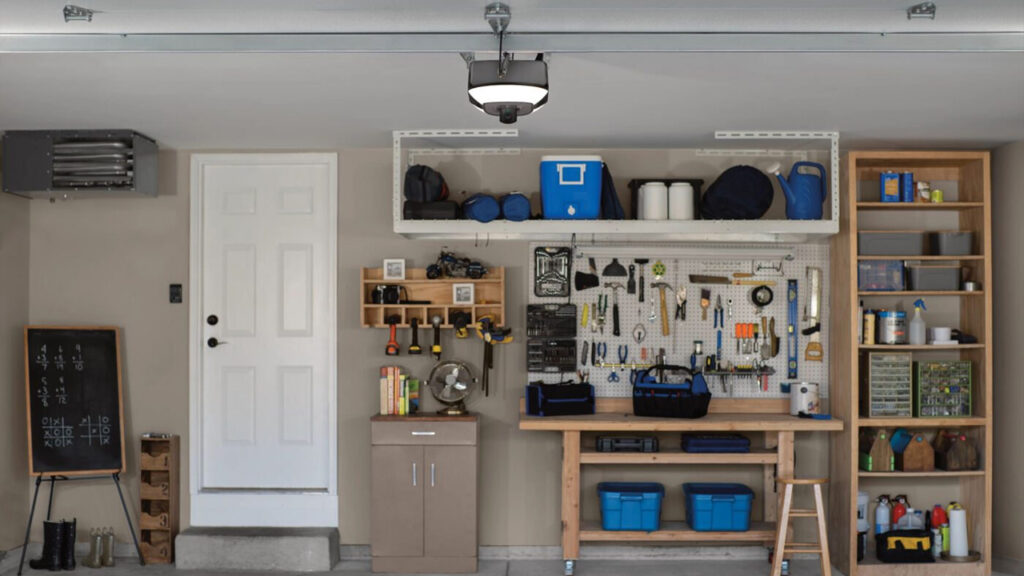 Have your electrician wire the space for both floor and mid-wall-level outlets, so your handyman can plug in gadgets near the workbench or the place of his choice. If you have the budget for it, consider having the garage sheetrocked and finished, so you can paint the walls a bright, reflecting white.
Go the extra mile and have your garage floors coated with an epoxy coating. Then finish it off with a digital assistant like Alexa playing upbeat tunes or chatting with others inside the house to help him relax and feel connected.
Game Room of Glory
You've heard of GNO (girls' night out)? How about a GNI (a guy's night in)? Create the ultimate gaming room with desks for multiple screens and CPUs. Get comfortable with gaming chairs, headsets, and mounted televisions for game consoles at each gaming station. Keep snacks handy in a small kitchenette located near the center of the action, so players can quickly fill up before the next round. Dark paint and unique lighting can add to the vibe of this ultra-cool setup.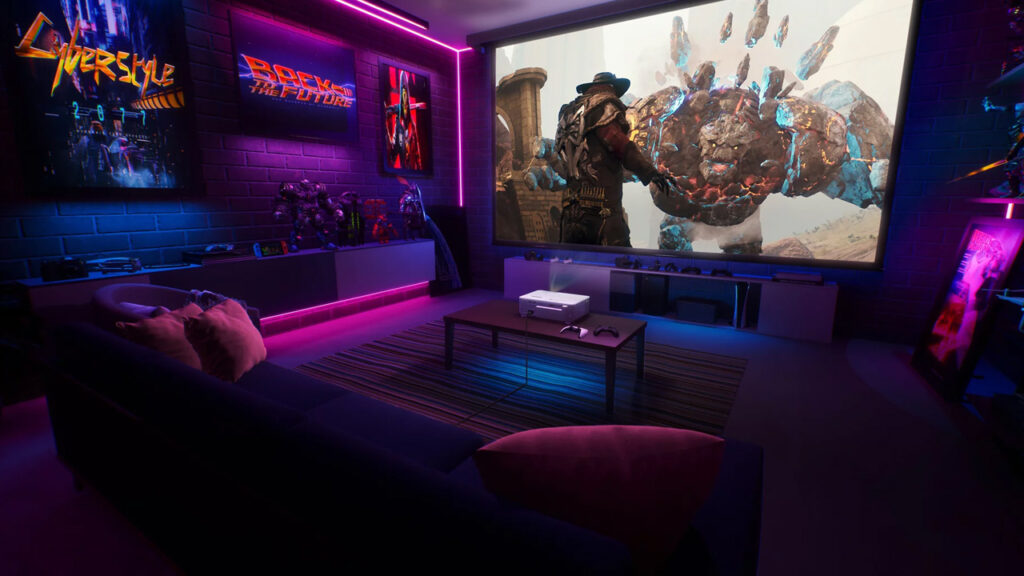 Want to keep the noise down for the rest of the housemates? Install quality soundproofing! And make sure you have the space specifically wired for gameplay (consider high-speed fiber internet connectivity) so your network can handle some serious, hard-core gaming. It is one of the coolest man cave ideas.
Secret Screening Room
Forgo the inconvenience of going out to see a movie and instead create a cozy and inviting theater room with all the amenities of a typical screening room. Install a large projector screen, a high-end surround-sound system, and water-resistant recliners for viewers (in case of an occasional spill). If you want a secret hideaway, consider placing this space behind a hidden door where only the invited can enter.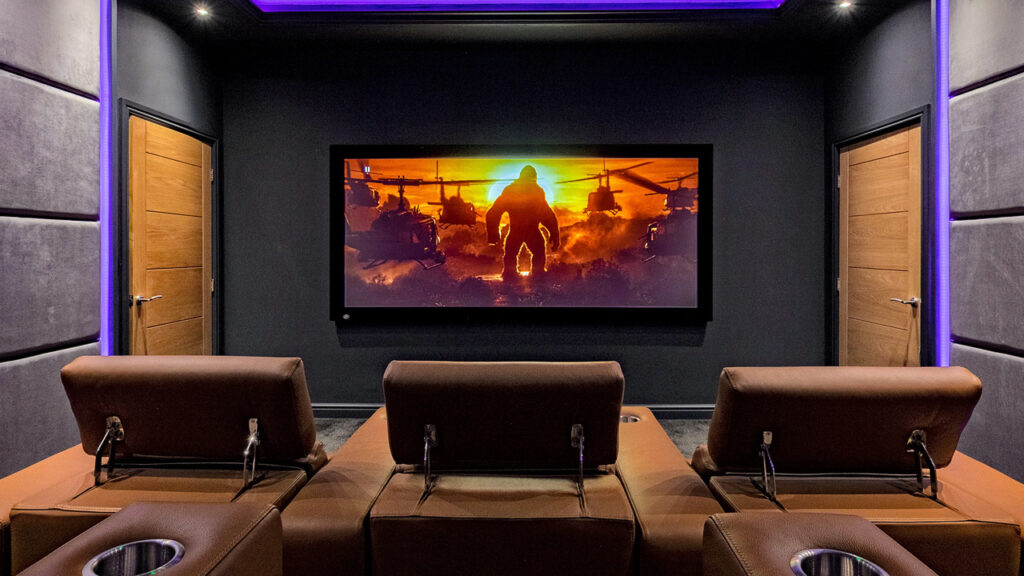 Design the space around a popular movie storyline or a theme, or give it a high-tech designer look with stepped levels for the best seats in the house. Go a step further and include a soda machine, snack storage, and of course a popcorn maker. If dad's feeling generous, perhaps he might even share the space for a special family movie night.
Grill Master Getaway
Can a man cave exist outdoors? Absolutely! Some guys love to chill out by cooking up something delicious on the grill. Go all out with an outdoor cooking center designed for the grill master in your life. One of the best man cave ideas, you should consider running a gas line from the house to your gas grill. Or invest in a smoker that gives meat that delicious smoky taste that's all the rage these days.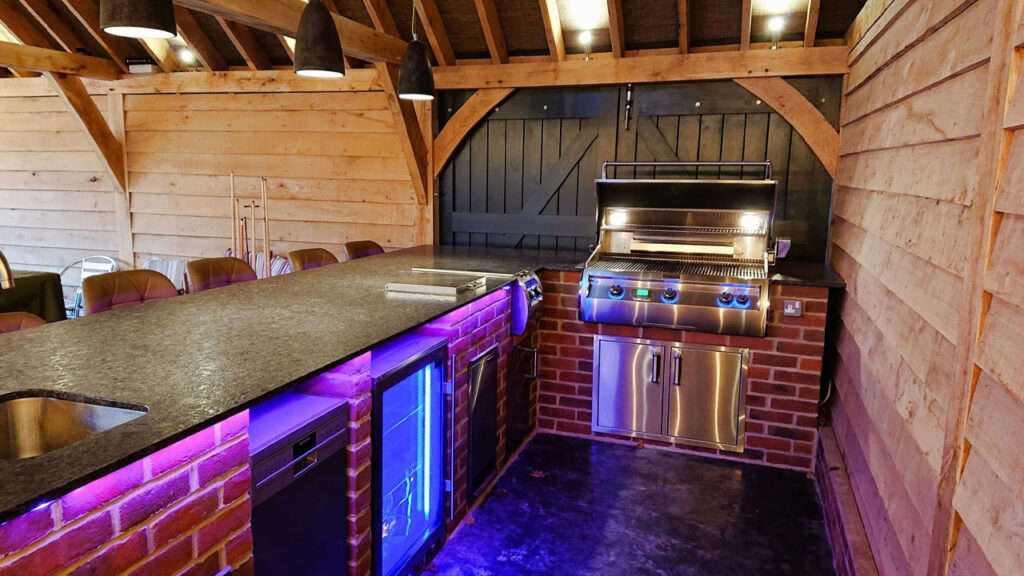 For shelter, protect your man from the elements with a covered deck or patio so they can grill in any condition. Additional amenities you might consider include a sink or prep station, an outdoor fridge to keep beverages cool, comfortable seating, and a TV, so your guy can watch his favorite game while getting his grill on.
Also Read: What Should a James Bond Man Cave Have?
Workout Room Wonder
While some guys like to wind down after a long day, others enjoy working out. Have some space for an in-home gym? Get pumped with these cool ideas for setting up a great workout space. Add a wine fridge to hold chilled bottled water. Install a wall of mirrors, so he can track his health progress. Use a wall-mounted TV arm that can be turned to watch streaming workouts in different stations within the room (like the treadmill). Get organized with shelves and cabinets that can hold weights, workout towels, stretch bands, gloves, and more.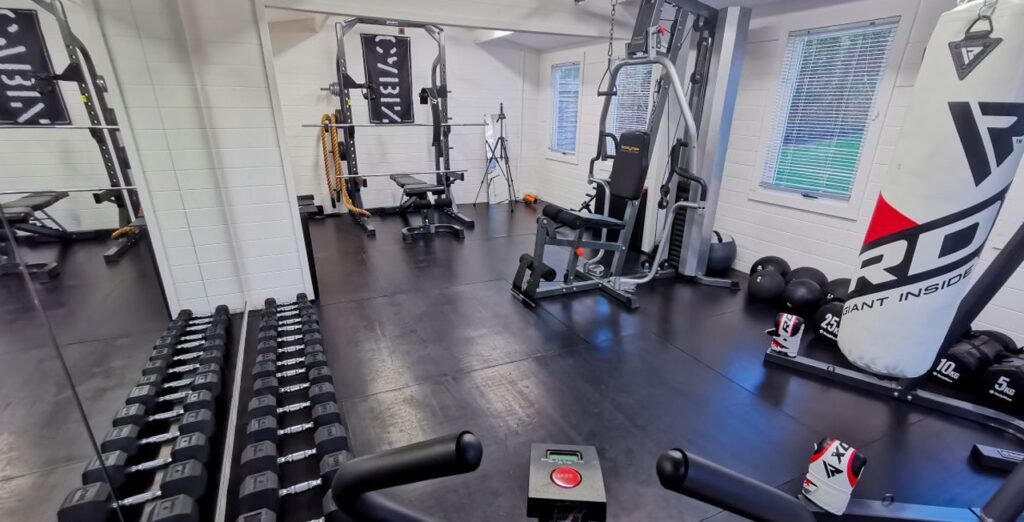 A side room or hallway can make a great workout extension, especially when matches the rest of the decor in your home. You don't always have to hide the man cave from the rest of the house. If proximity gets him into the space and working out, it's the right place for your family!
Woodworker's Workstation
Carve out space to work on woodworking projects either in the garage or in a stand-alone shed. Outfit it with all the tools he'll need to make the magic happen. Spaces like these can be less formalized and include shelving for scrap wood pieces; heavy-duty tables for woodworking equipment, and great ventilation for the sawdust he'll be kicking up.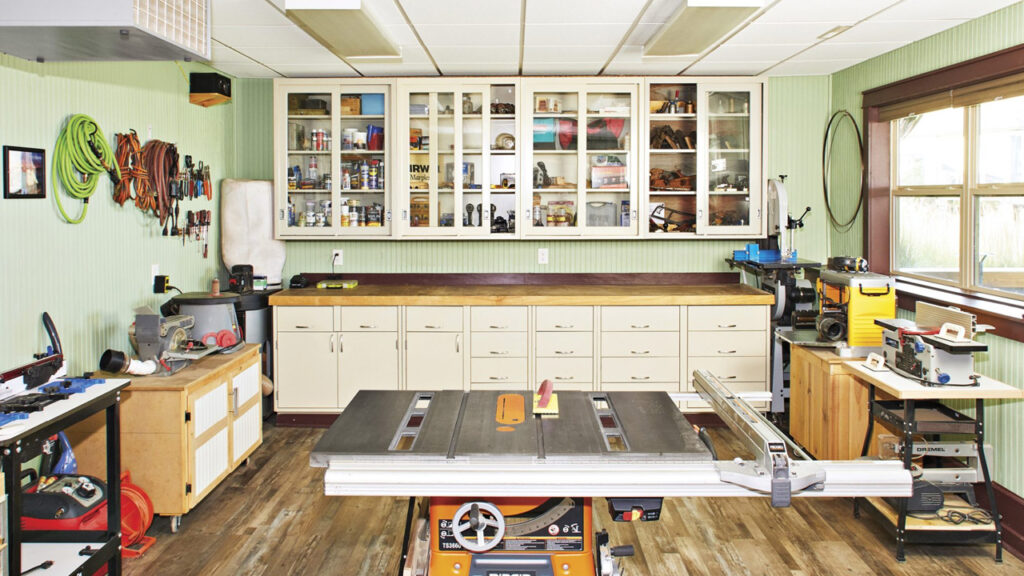 Use magnetic wall strips to mount smaller tools, and make sure the area is well-lit with natural light where possible and supporting light for those late-night projects. If you're worried about the sound, this is another space you might want to consider soundproofing from the rest of the house. No one wants to be awakened to the sound of a buzz saw, so plan ahead when creating this type of man cave.
Home Luxe Library
Have some voracious readers? They love the escapism he'll achieve in a cozy, luxe home library. Built-in or stand-alone bookshelves with adjustable shelves can house books in various shapes and sizes. Illuminate your shelves with clip-on lights or under-mount options. For a dust-free option, consider bookshelves with glass doors.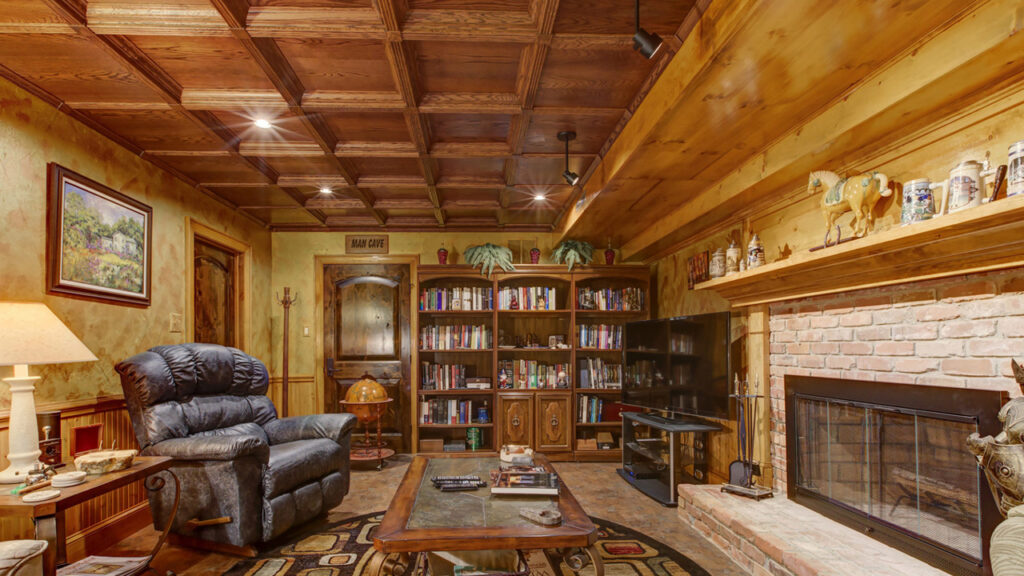 Cozy up the space with a comfortable reading chair, a stool nearby for reading glasses, or a warm drink. A reading lamp placed near the armchair will brighten the space. Consider a chaise rather than a chair for even greater comfort (and the occasional nap after a good read). Live plants will add warmth to the space and enliven the surroundings.
Potting Shed Paradise
Have a man with a green thumb? A potting shed can give him the space to get his hands dirty. Include a potting bench for transplanting plants. Access to a hose will help with cleaning up. Gardening tools can be stored on the wall, in an organizational system, or in stand-alone organizational options. Install a heater for the colder months, and wire the shed for lighting. A window can provide additional light where possible.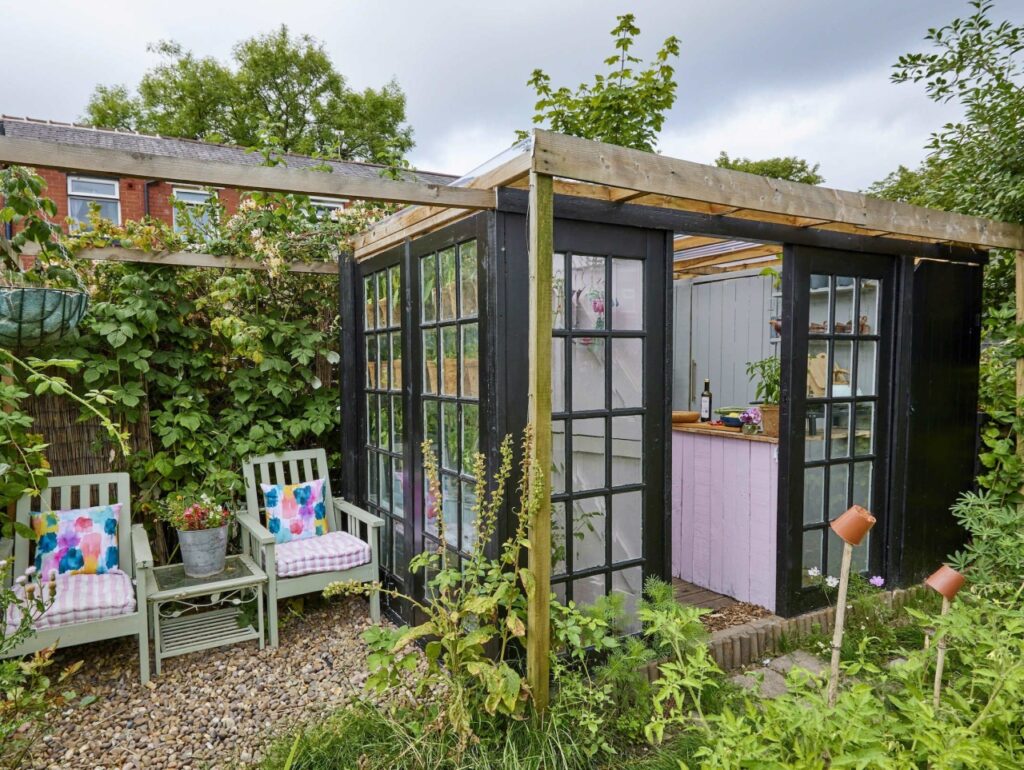 If you don't have a dedicated shed, consider carving out part of the garage for the perfect potter's paradise. Having a space specifically for gardening tasks will make tasks easier and contain the mess in one location. Rubber gardening boots he can store outside the house will ensure mud stays outdoors and not on your freshly cleaned floors.
Rock n' Roll Hall of Fame
One of the best man cave ideas, jam sessions will get a lot cooler with a room dedicated to your rockstar and his band. If he's getting the band back together, design a room that's as cool as they are. Start with an aesthetic that fits his style, whether that's an 80s rocker, an EDM artist, or a country music sensation. Give him a place to store and show off his collection of vinyl records, concert posters, and venue tickets.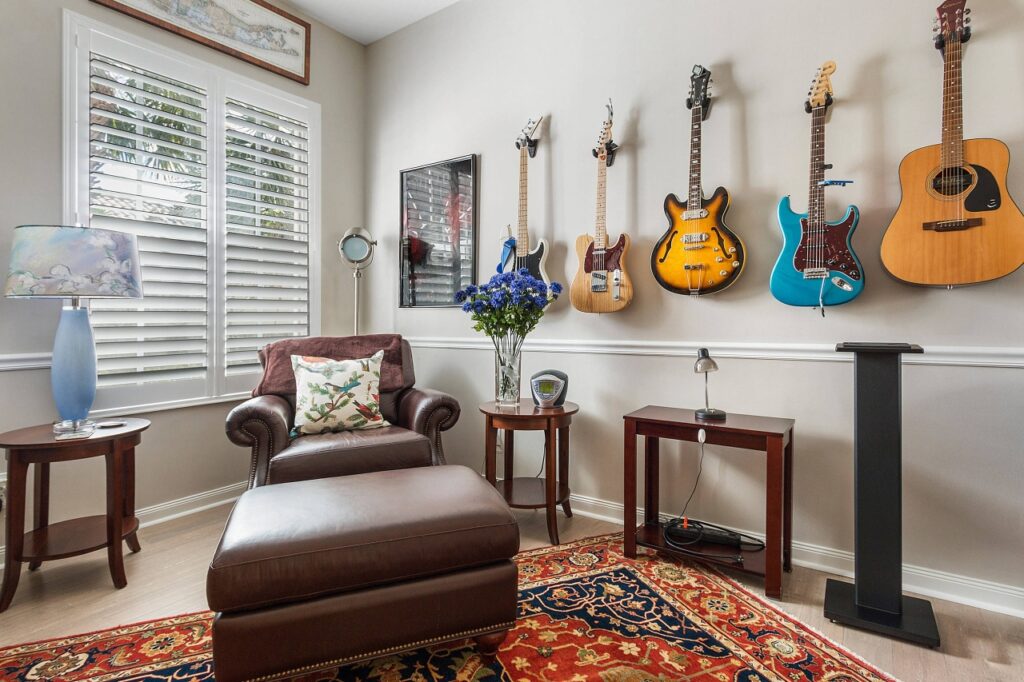 Make music the center of the space. Display guitars on the wall. Shine a light on an awesome drum set. Or carve out a corner for a mini grand piano. Consider seating that is lower for a more comfortable position or taller like a stool for a standing option. Have the room wired with enough outlets for amps, mics, and any audio production equipment he might need. A "RECORDING" light on the outside of the room will help visitors know when not to interrupt an important session.
Perfect Painting Corner
For the artist in your life, find a well-lit corner in your home and fill it with all the art supplies he'll need for their next great masterpiece. Wood flooring is a great option for a space like this, so you can wipe paint spills easily. Natural light is best, but any light with 5000k will give off a warm glow to your paint colors and best mimic sunlight. An adjustable height stool will allow them to get as close to their artwork as they need, and an easel will help prop up their work. Spaces near a sink for cleaning up make mess-making easier.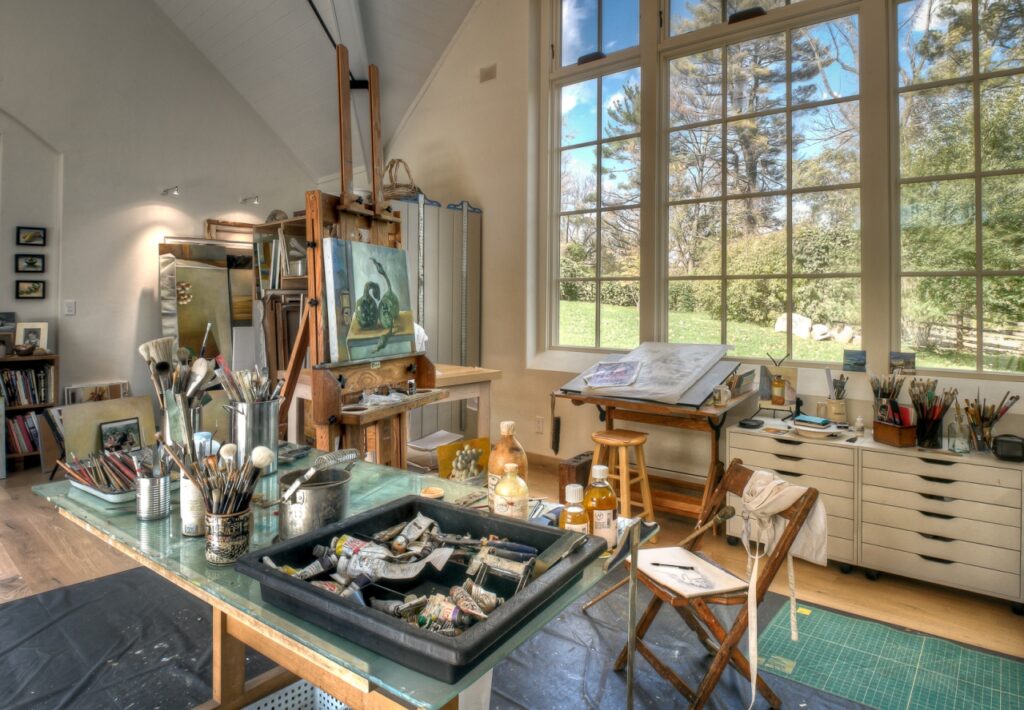 Store paintbrushes, extra canvases, cleaning cloths, and paint palettes on a nearby table or shelf. Organizational options can be formal or as simple as an old paint can. Weathered items look especially cool in an artistic space like this. Once your man completes his next work of art, consider displaying it in various rooms throughout the show to truly showcase his talent.
Conclusion
If one-third of the population of the world feels stressed out, then it's no wonder we're all looking for a way to detox after a long day. These man cave ideas are the space guys go to unwind, and we all know a hard-working guy that likely deserves a place dedicated just to him. Do you have a man in your life who needs a place to unwind? Try one of these amazing man cave ideas and create a man cave where he can tinker, game, work out, grill, or relax in the way he loves best.