Oscar-winning American actor, producer Matthew McConaughey has collaborated with Kentucky-based bourbon whiskey brand Wild Turkey to design a luxurious off-grid vacation cabin in Australia. It is called The Reserve cabin and is located in a woody place on the Central Coast of New South Wales.
As part of the brand's With Thanks initiative, the cabin encourages Aussies to connect with nature and also perceive an environmentally conscious viewpoint. The eco cabin is made in collaboration with Unyoked, an Australian tiny house builder and travel start-up.
Unyoked states;
While designed like all our family to help you get nice and unyoked, this one's a bit special. We handcrafted The Reserve with Wild Turkey's Creative Director Matthew McConaughey. Over some banter, and just a bit of bourbon, we found out we're sharing the same vibes, we're all on a mission to help people disconnect and get back in touch with the benefits of the wild.
The cabin is made from sustainable materials and is designed to blend with the natural setting. It has solar rooftop panels and a hidden bar, but there is no provision for Wi-Fi so that guests can spend more time enjoying the surrounding wilderness without any distraction.
Matthew has been involved in the designing and construction of the cabin. He has ensured that the cabin is built according to eco-friendly standards.
On the inside, everything including the kitchen and bedroom are nicely done in wood. Matthew has added vintage books, cassettes, and a stereo system for his personal touch. Furthermore, there is a wooden patio in front of the cabin. Interestingly, you can also bring your pet along for a nature getaway.
Also Read: Unyoked's Miguel tiny house can be rented for US$190/night
The Reserve eco cabin will be available for rent starting in December for anything between $290-$350.
Proceeds from stays and from sales of Wild Turkey Longbranch will be donated to Unyoked's charity partner, Foundation for National Parks & Wildlife, a non-government organization that aims to protect Australia's wildlife and wilderness.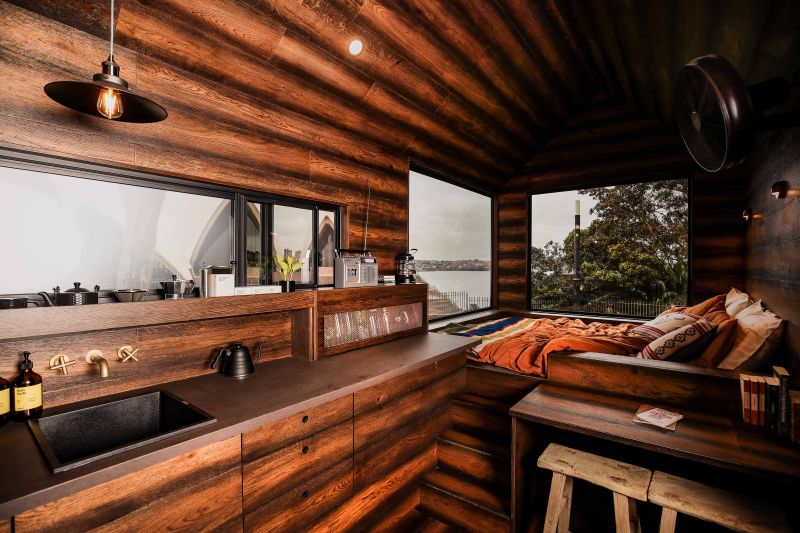 Via: People | Top image courtesy Wild Turkey + Unyoked