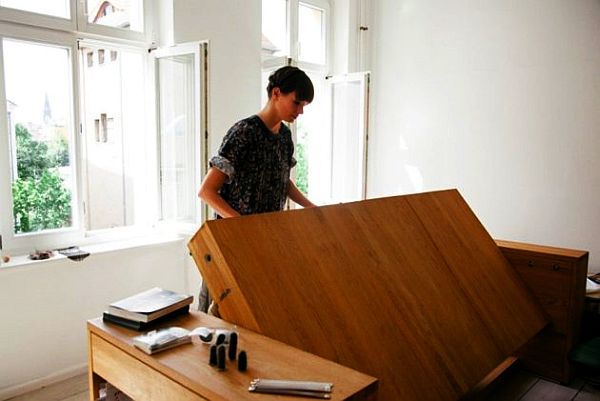 The very scope of combining a work space and a resting bed does have the potential to benefit employees and work culture as a whole; as we found out in the case of Fold Inn. Well, German designer Mira Schroder from experimental studio BLESS takes things to a more 'personal' level by creating the Workbed. As the name suggests, this contrivance fuses a work desk and a bed into a singular conception. And, the surprise doesn't actually come from this essence of multi-functionality. Rather, the innovation lies in the simple way with which one could access this bed by easily flipping over the work desk surface.
In terms of design, the multi-purpose Workbed alludes to the contemporary trend of spatial efficiency. This mode of efficiency plays its crucial role in cramped apartments, housing units and offices. However, the form factor of the Workbed doesn't sacrifice on the functional space available for the user. In other words, the desk or the converted bed exhibits substantial 'usable area' which can be utilized in a comfortable manner (pertaining to work or rest).
This is achieved by the large surface area constituting the central part of the furniture. The expansive section is furnished with a rotating mechanism, thus allowing the work desk to be easily transformed into a full fledged bed. The structural advantage is further accompanied by the flanking storage space, which comprises of two shelves, a cabinet and a drawer.
So, at the end of the day, the ambit is all about flexibility of usage. In fact, this intentional design aim not only makes the Workbed a habitable extension of offices, but also make it implicitly applicable in other scenarios, like student dormitories, teenager bedrooms or even as an apartment's extra bed.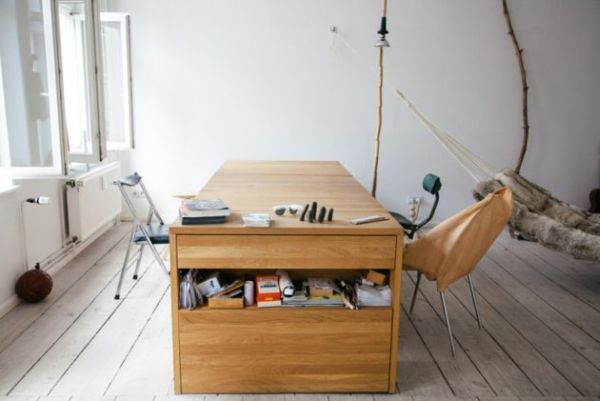 The Workbed is a part of the BLESS HOME. You can find more about the designer by following her interview at Freunde von Freunden.