Festivities always bring joy and people together. Take San Jose's Jimenez house for instance that is attracting many people in Willow Glen neighborhood. Shelley Jimenez here has created an evil clown carnival display in her front yard so her terminally ill son can enjoy the Halloween festivities with fervor at home.
It took six weeks to complete this display with more than 40 props and dozens of clowns. There is one clown in particular that people thought to be the scariest. It stands 6 ft. tall with bright red hair and a blood-stained smile and it is motion activated.
Shelley has built this elaborate Halloween display for her terminally ill son, Christopher Jimenez.
Shelley gave birth to premature twins in 1995, at just 26 weeks and both of her children have been suffering from various diseases their whole life. 24-year-old Christopher is ailing from brain damage, cerebral palsy, lung disease and now he is losing his eyesight.
Also Read: DIY Pumpkin Fairy Garden for Halloween Display This Year
Owing to his sickness, it's not possible for the family to go out and celebrate the festivities so they opened their front yard with a carnival display so Christopher could enjoy Halloween in high spirit.
The company of the neighbors, the laughter, and the bright props are keeping him happy and gay. Although he might not be able to see things properly, he is able to touch the props and feel them too.
The whole community has come together to celebrate Halloween at the Jimenez house. The people, who have visited Jimenez house, said that the efforts Shelley has put in for her son's happiness are really admirable and depict the unconditional love of a parent for a child.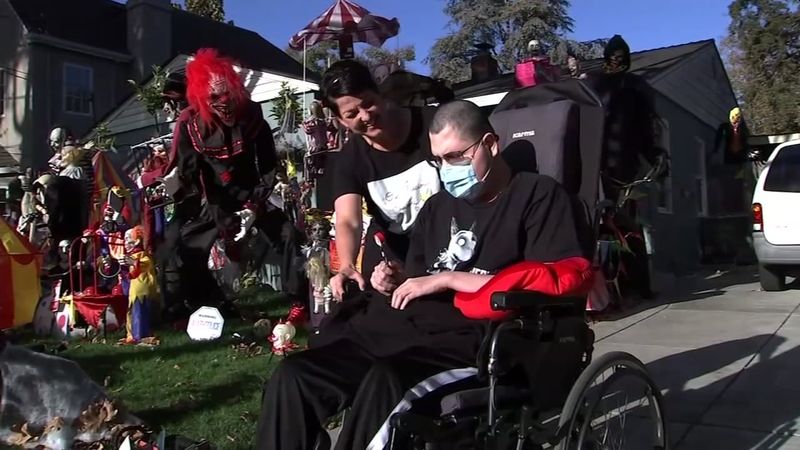 The display is free to see and will be up through Halloween night. Jimenez family is also handing out candies to the kids visiting them every day until Halloween. On October 31, they will hand out the traditional carnival goodies to those collecting candies.