So far, we have seen plenty of house on wheels created by people from across the globe. All of them are motivated by the sheer desire to live freely on the road, with destination unknown when the Sun sets down. Some are draped in comfort, while other promote simplistic living. However, this one developed in Russia beats them all for its all-terrain goodness. As robust as it looks from the outside, on the inside it is a haven for people who crave luxury and high tech living.
Ural Next is what it's called, and it would not be wrong to say that it is fit for any zombie apocalypse (if it ever happens) or widespread calamity which forces people to move out of their loved dwellings. The ATV is based on Russian KUNG wagons which is primarily used as a wagon for military personnel.
The vehicle is equipped with state-of-the-art defense technology, galvanized sheet steel coated in plastic powder for added protection and an added layer of plywood. On the inside Ural is draped in real leather, linoleum and carpet for the floor.
To ensure the occupants are comfortable inside, there is a kitchen, bar, double bed folding table, dressing room, washroom and wardrobe. As I earlier said there could be an eminent zombie apocalypse in the future, so the home on wheels has a safe deposit box for weapons too.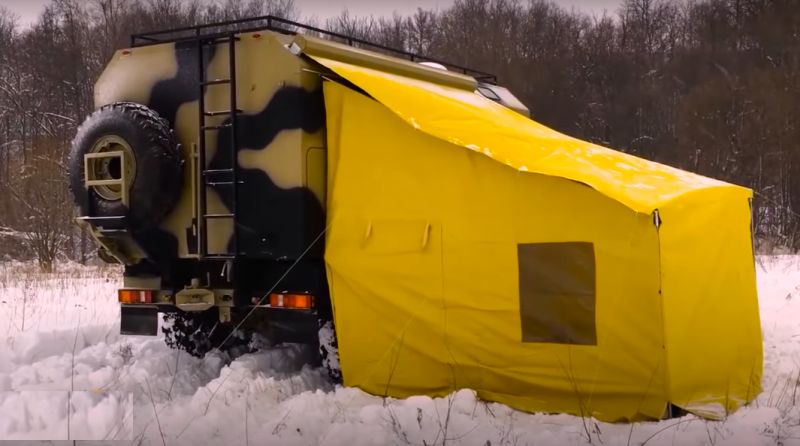 To meet with the added power needs to light-up the interiors and power-up all the fancy appliances, there is a generator. Just in case you are in the mood of star-gazing or camping, there is a hatchback tent.
Overall, this home on wheels is just what an adventure seeker would dream of.
Via: SputnikNews