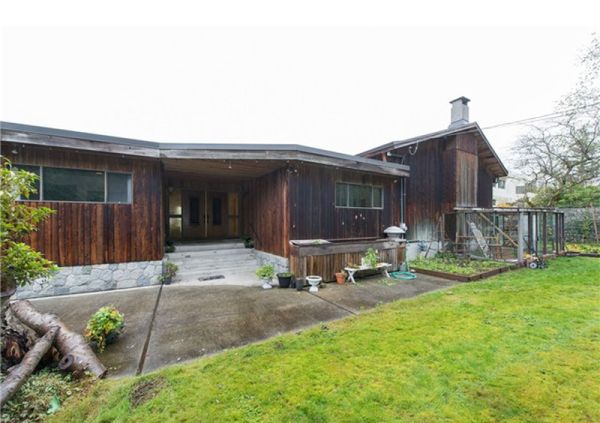 If it has ocean views, it will surely fetch millions in the market. Well, that seems to be the sole dictum followed by the real estate people in the case of the above pictured $10,980,000 residence. The ocean front property of 4855 Fannin Avenue is situated in the prestigious West Point Grey Area, Vancouver. However, that's all it has – prestige! In purely aesthetic and architectural terms, the oddly designed house might just qualify short of a disaster. The shoddy essence is rather accentuated by the discolored (or plainly decrepit) wooden facades draping the external skin. The interiors of the house also doesn't do much to alleviate the 'eye sore' nature, with whimsical furnishings harking back to some abandoned 60's model home.
The layout of the residence is pretty expansive, especially when we consider the structure's area covering 10,413 sq ft. These spatial scope includes four bedrooms and five bathrooms, accompanied by balconies, patios, indoor swimming pool and a special roof top deck. Additionally, the plot and the gorgeous setting of the ocean does some justice to a high real estate value.
But the 42 year old house in itself does not really stand out as a building with a $11 million price tag. The block-like assembly of the dilapidated facades give way to some really plebeian decor arrangements. In fact, the level of shabbiness is summarized by the lime green carpeting that sort of matches with the outdoor grass lawn (instead of interior decor). Furthermore, the spatial zones 'boast' of some really weird furniture/art pieces, like the leaf-less tree like structure bedecking the corner of the living room.
So, at the end of the day, the question still remains – is just location paramount to a building's success, or does architecture bring its own set of values to a project?
Via: JudhithaDamick