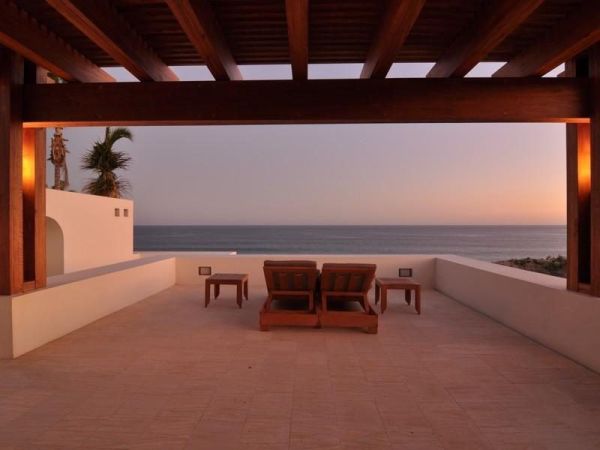 If watching over the 'rolling waves kissed by the tepid amber orb setting down the horizon' from the comfort of your expansive retreat is a part of your vacation reverie, then Casa Oliver's new hacienda might strike a chord with you. Envisaged as a part of a gated golf course community in San José del Cabo, Mexico, the ocean front retreat constitutes 15,000 sq ft of sheer opulence with five bedrooms and a separate guest room. And, the best part about the scope for us ordinary folk is – you don't actually have to buy the property; you can use it as your personal vacation spot for just $10,000 a night (okay, we were joking about the 'ordinary folks' part).
In terms of spatial zones, the single family 'estate' is basically a much upgraded version of the neighboring beach houses found in the area. It comprises of some exquisitely bedecked areas, ranging from the aforementioned guest house, private terraces to a large fireplace, ocean front patio and arguably the piece de resistance of the setting – an infinity pool nigh 'flowing' into the ocean.
The upscale credentials of the exterior features are equally matched by the ritzy quotient of the interior zones. The expansive area comprises of a gargantuan dining hall with multiple seating arrangements,semi private lounge section, a fully furnished gym and an entire entertainment room dedicated to watching movies.
For pure visual pleasure, do gleefully gawk at the images in the gallery. And, if you are seriously interested in renting the property, follow this link.