Don't like to use shared bathrooms in hotels and other places you travel? Well, now you can carry your entire bathroom along while traveling. This is possible all thanks to the 'My Bag' vanity designed by Italian sanitaryware manufacturer Olympia. My Bag is an amazing concept that follows the minimalist suitcase-theme as it comes in the shape of a foldable luggage box for carrying all necessary bathroom items.
When closed it seems like a regular small luggage bag with a handle that doubles as a towel holder. On opening, you can see a sink with faucet, mirror and storage compartment on its side- along with a circular space to hold brush, toothpaste, mouthwash, etc. There is also a leather compartment that can be placed on its right side to store other accessories such as face wash, lotions, and moisturizers.
The suitcase vanity can be rested on a foldable wooden base that includes storage space to keep extra towels. This inventive bathroom vanity is ideal for those who often travel from one place to another. It comes in a variety of playful colors- yellow, green, cream and faux wood.
My Bag can be ordered directly contacting the designer.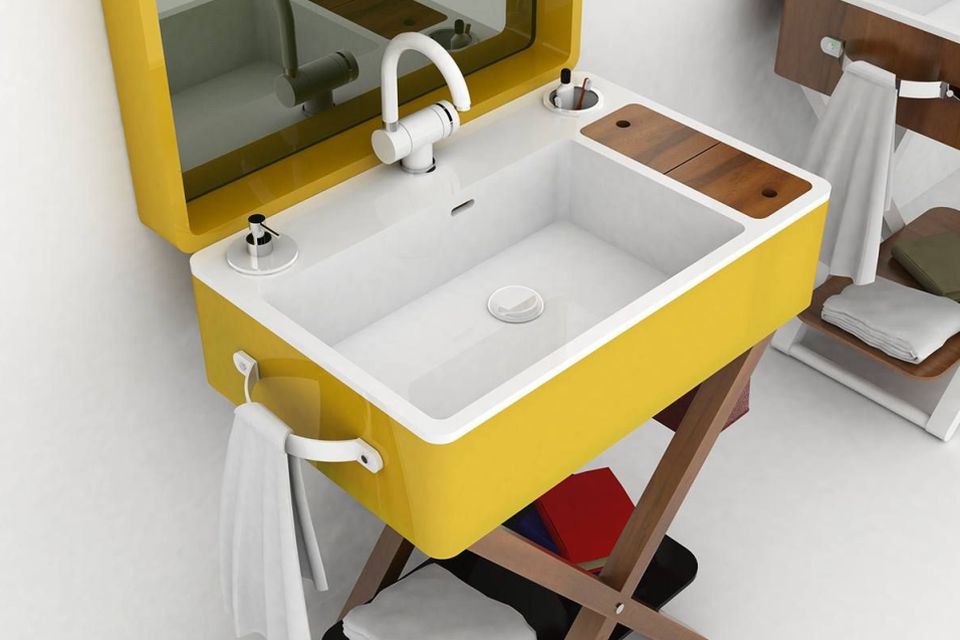 Has a sink with faucet, mirror and storage compartment on its side