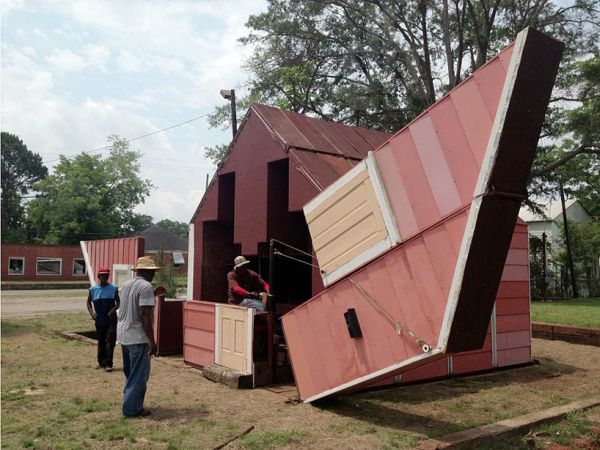 We have had the fortune of covering many classy house designs, ranging from modernist glass wonderlands to even sci-fi UFO mimicking pads. However, we daresay this is the first time we have come across an innovative house design that literally transforms into an open theater! The fruit of the collaborative project of artist Matthew Mazzotta, the Coleman Center for the Arts and the residents of York, Alabama, the aptly named Open House was created from of an abandoned building. This old residence was already a forlorn legacy of the dilapidated buildings within the area, and as such the Open House physically as well as symbolically represents the 'regeneration' of the urban community by virtue of some ingenious architectural techniques.
The project entailed the usage of credible materials from the old building, and thus the new Open House evolved into a smaller footprint of the original house. As for the transformation, the new house's roofs and walls fold down with the help of hand winches to complete the entire metamorphosis into an open theater. The design in this regard comprises of railroad ties that represent the solid foundation of the theater. These ties act as the collective anchoring mechanism for custom fabricated industrial hinges and the stadium seats (extending to five rows).
As for the scope of the transformation process, according to the designers – it takes around four people and one and half hours to completely assemble the open theater (from the house). More importantly, the location of the design is strategic in the sense that it is situated in the town's busy circulation area between the grocery store and post office. This zonal attribute gives more 'exposure' to the transforming house/community theater, thus cementing its credentials as a recreational public zone that boasts of various shows, plays, movies and events.
Via: MatthewMazzotta