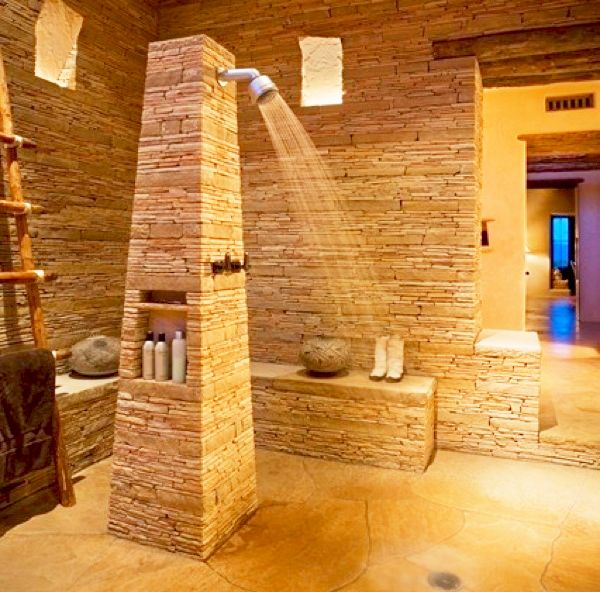 Some people want their bath to be simple and straight, but some look for a stylish and extraordinary bathing experience. How about an open shower that will turn this everyday ritual into a spa experience. If you are thinking to go with the open shower concept and even want to add a unique style to it, then you must take a look at this flamboyant open shower that was spotted at the 37 Rancho Alegre in Santa Fe, New Mexico – a gorgeous mansion listed for sale at an eye-popping $9,990,000 at Sotheby's international realty division. The breathtaking open shower lay below the exposed log ceilings. Along with a pair of these open showers there is a Roman bathtub to complement the bathroom space.
The cavernous space also features a grand menorah and a cascading water wall incorporating a beautiful sculpture by a famous artist Michael Naranjo who was also the favorite of one of the late homeowners. You can also see a wood-burning fireplace in this extremely large bathroom so that you won't feel cold standing under the 20'x 15' shower.
Rancho Alegre extends over an area of 175 acres of Southwestern ranchland in Santa Fe, New Mexico. Famous architect William F. Tull constructed this brilliant mansion for the late R. Michael Kammerer, Jr. to reflect his love for southwestern art and architecture.