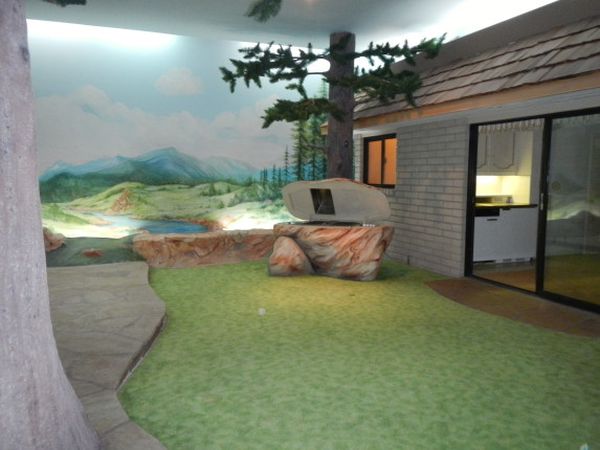 Remember the Brendan Fraser and Christopher Walken starring movie 'Blast from the Past'? Well, in reality, a man named Girard "Jerry" B. Henderson seriously opted for an underground shelter in 1978, fearing for the end of the world from the Cold War. Situated in 3970 Spencer St, Las Vegas, the  'bunker' is now remarkably on sale for a sum of $1.7 million. However, given the spatial and circulation credentials of this fascinating shelter, it would be a bit unfair of us to call it a mere bunker. Why so? Well, the unit situated a whopping 25 ft below ground level boasts of 5,000 sq ft of living space divided into two bedrooms and three bath houses. These primary user zones are further accompanied by a bevy of other luxurious spaces, including a pool, spa, barbecue, sauna and even putting green for a friendly game of golf.
Now, many of you might be thinking – what about the lighting and ventilation? The opulent underground shelter takes care of them by having hidden vents and air-conditioning units that inconspicuously run up to the surface. As a consequence, the unit is surprisingly well-lit with integrated lighting that aptly reflects the different times of the day.
Additionally, is also an attached garage and a caretaker's house/guest house situated atop (on the surface) the 5,000 sq ft labyrinth. In fact, residents can access the shelter in a special elevator that is positioned inside this expansive guest house. Moreover, the guest house also works as a conventional living unit, in case the residents want to go up for a whiff of fresh air.
For more details, please check out the Zillow link.