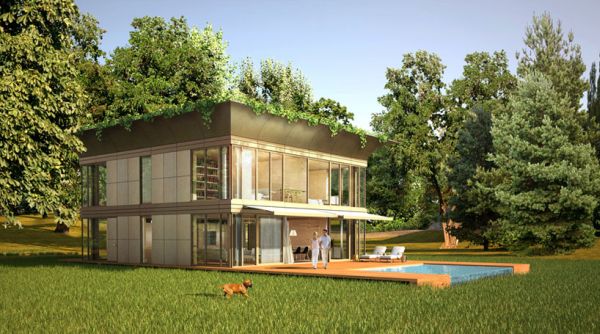 French designer Philippe Starck does have a penchant for combining practical utility with simple aesthetics. We have seen this trademark essence in his minimalist furniture collection and USB connected sofas. And, now we have come across his P.A.T.H or Prefabricated Accessible Technological Homes, which is a collaborative effort with Riko. Comprising of a line of industrially manufactured houses, the P.A.T.H entails 34 different house models to cater to different tastes of people around the globe. These variant types of models allow the user to choose from a slew of interior spaces, finishes and fixtures, thus resulting in the ultimate customized home.
We did mentioned the pre-fabricated credentials of P.A.T.H, and in this regard, the exterior and interior components including walls, panels, ceilings, roofs, insulation elements and frames are all constructed with high quality materials. And since, the industrial houses are assembled on-site, it takes only around 2 months for the complete installation (including electrical components) of the structure, which is far lesser than that of conventionalyy designed homes.
Finally, coming down to the user oriented attributes of the P.A.T.H, the primary material used for the design is the 'natural and renewable' wood. It is complemented by other materials like floor-to-ceiling aluminum panels and high glass facades for induction of natural light. The circulation pattern of each house differs considerably as per the user made choice in living area, floors and furnishing. However, all of the house typologies are integrated with a myriad of green features, like – solar panels, heat pumps, wind turbines and even rain water collectors. These core energy-efficient components are further accentuated by passive architectural techniques that encompass the maintenance of optimized micro-climate, humidity along with mitigation of harmful weather and gases.
All images are courtesy of Philippe Starck and Riko.
Via: DesignBoom