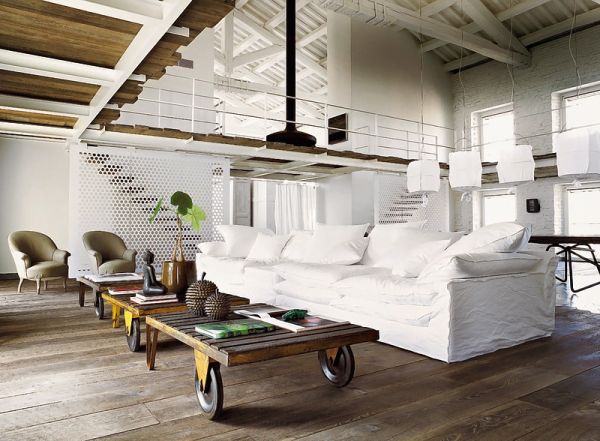 Italian designer Paola Navone transformed a 200-year old silk factory into a beautiful white loft with a touch of industrial and vintage style in Spello, Italy. The two-story apartment has about 52 windows for ventilation and bring in the natural daylight to light up the entire house. White dominates the interior with bricks painted in white color and contemporary furnishing for an elegant outlook. This industrial home includes a large living area, a dining area, a bedroom, a kitchen and a bathroom.
Some of the aesthetics of the old factory are maintained to remind the owner about factory's original existence. In bedroom, an iron framed bed is kept on which huge swaths of Indian cotton drapes are flaunted, giving it a vintage styled look. A wardrobe area is also made next to the living room and it accommodates two double-height large cabinets to safely keep all wardrobe accessories. Living area includes a comfortable white couch to relax and a unique upcycled trolley used as a coffee table.
The dining area accommodates a massive 39-feet long dining table designed by Mario Botta made up of traditional kauri wood and sits on an intricate design of grey and white tiles. A sleek wooden staircase is also made, which leads to the upper level where a sitting area is made with cozy couches.
Navone has created a commendable fully functional home with necessary facilities for the owner. At first look, one can never figure out that the apartment was once a former silk farm.
Via: Arq4Design