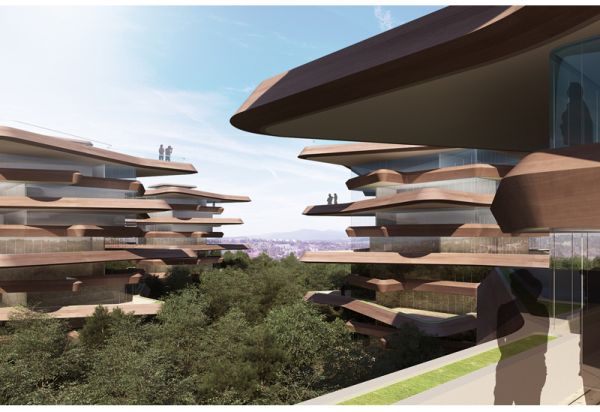 Residential complexes are generally built on sites which have the advantages of their naturally unobtrusive position and a relatively stable gradient. However, the above pictured 'Paper Mill Towers' project has been intentionally envisaged inside the periphery of a forest so as to replicate the 'habitable potential' of nature. To be constructed in a forested region on the outskirts of Barcelona, Spain, the group housing scope will include seven separate tower-like entities. The housing units themselves would be composed of duplexes with their own privately accessible terraces.
Structurally, the form of a Paper Mill Tower is a bit haphazard, with pointed squares of variant angles representing the different floors. This 'expansive' positioning was done to induct direct sunlight on all levels along with a comprehensive view of the lush green surroundings. In a more micro-level, each housing unit comprises of two floors (as in a duplex), with the lower floor being attached (and accessible) to a large terrace. This arrangement creates a separate 'eco-system' for the inhabitants of each unit. As for circulation, the tower organization is based on a pedestrian axis that connects all the floors and even an underground parking space.
Finally, coming to the Paper Mill Tower's macro-credentials, vegetation and landscaping are integrated in the towers (presumably along the open terraces). Moreover, the common areas are situated along the decks, thus minimizing the structural volume at the ground level. This sort of architectural design alludes to the low synthetic effect on the natural site, especially when the location is an 'unspoiled' green area on the fringes of a well known urban-scape.
All images are courtesy of Mario Echigo.
Via: ON-A