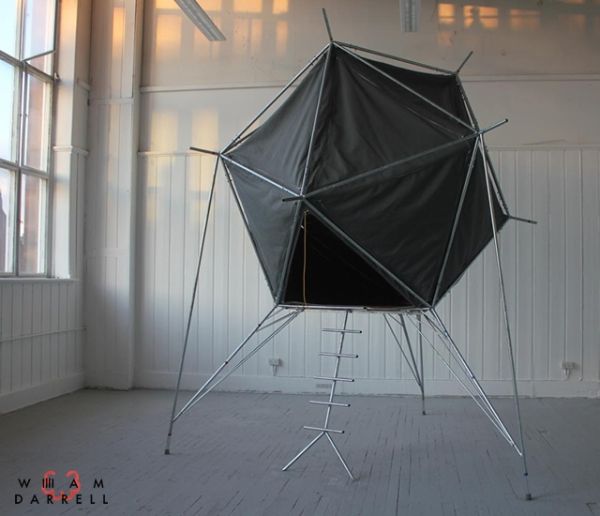 Portable dwellings is the hottest trend especially among people who love to travel and live in wilderness.  The Pod dwelling discussed here is a prototype of such dwellings that is designed and created by William Darell, a British artist and designer. Pod is a pop up structure that is created in a geodesic form following the principles of geodesics. The material used for covering the steel structure is a waterproof waxed fabric. Because of the nature of geodesic shape, the cell or the structure is incredibly durable and employs minimal material for the setup.
The structure can be easily assembled by using tubular elements that are constructed out of galvanized steel and then curtained with the fabric. The tripod stilt legs make the Pod raise it above the ground to a height of about 4 meters and also provide a stable support for it. When fully assembled, it looks like the pod is floating over the ground. To access inside the cell, there is an entrance in the shape of a triangular hole at the bottom of the Pod. The bottom was chosen for the entrance so that the geometry of the rest of the structure remains intact and one could easily enter inside through the triangular hole using steel stairs.
It's very simple to assemble as well as dissemble this transportable home. You can carry it with yourself  to any place and assemble a sturdy, private, and comfortable space for relaxing without worrying about the weather conditions. Take a look at the video below to see its practicality.

Via: TheMag