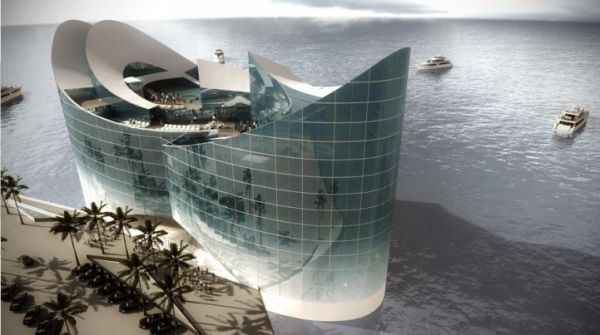 The football fever is still high, with the inimitable Brazil showing their dominance in the Confederation Cup. However, a very few of us football fanatics would have guessed FIFA's decision of choosing the tiny Arabian state of Qatar as the venue for the 2022 version of the Football Word Cup. Beyond just surprise, many critics are skeptical about the logistical situation that can arise from the vast hordes of fans invading Doha during the incredibly hot summer months. However, as a definitive yet bold solution, Finish architectural firm Sigge has collaborated with Global Accommodation Management (GAM) to construct five huge floating hotels with integrated cooling systems.
The nigh audacious endeavor not only encompasses five imposing floating hotels, but also a luxury villa along with a water park. And, to have a rough idea about the scale of the imposing project, the structures at their finished state will have the capacity to house 25,000 people!
Corresponding to their floating nature, the hotels will based off the mainland, with their very own self-sustaining systems. These unique systems will contain a sewage treatment plant, recycling facilities and sustainable power generators for low carbon energy. The buildings will also have their own set of commuting credentials with private boats, ferries and water taxis to carry the guests to the mainland venues.
Of course, with such a big project, the time for completion is estimated to be around seven to eight years. However, if successful, the 'heroic' architectural endeavor is sure to silence many a critic along with accommodating a slew of football fans.
Via: MyModernMet