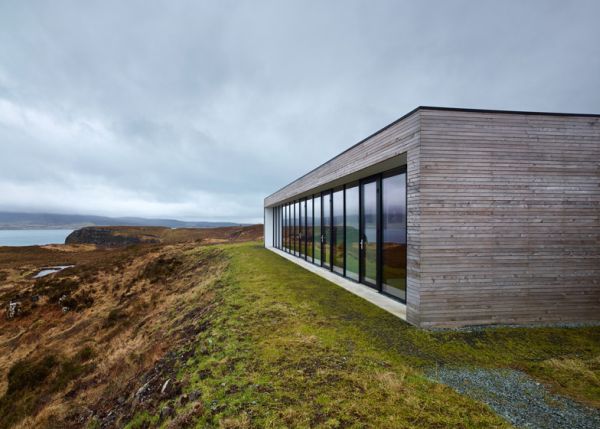 Scottish firm Dualchas Architects has designed a single-story house on cliff of Isle of Skye, Scotland. The architecture of this building is quite simple and connects two cubic volumes together- one is against the rugged terrain, and another part opens up to panoramic views of the surrounding landscape. One cubic volume includes a main living area, two bedrooms separated by a short corridor and a kitchen. Whereas, the other volume contains bathrooms and storage accommodations near entrance of the house.
The traditional Scottish stone and silvery larch wood are used to form robust structure of the building, which blends with the surroundings. On entrance sliding glass doors are attached which brings in natural daylight and also lets the owner to gaze at the beautiful sights all around. Interior of the house is painted white and has a polished concrete floor in all the rooms.
Furnishing of this simple yet elegant Cliffside home is done with latest designed furniture and décor objects to create perfect urban dwelling for a stylish lifestyle. This rectangular wooden house is created to provide shelter and privacy to the owner in the lap of nature.
Via: Mocoloco