Everyone is a fan of warm and fuzzy Russian architecture. From Saint Basil's Cathedral to Scarlet Sails, Russian architecture never fails to amaze us. Carrying the golden legacy of the nation forward, designer Sergey Kuznetsov in collaboration with KROST has designed a 'Russian Quintessential' which literally suspends in mid-air.
Russian Quintessential is a pipe-shaped structure that will be brought to use for residential purposes. The structure is designed in a manner that it reflects the surrounding landscape leaving people in absolute awe of the structure. The techniques used in ship building were brought to use while making this design. The frame of the building is formed from the body of a ship as well.
Russian Quintessential was opened at the Archstoyanie festival held in Nikola-Lenivets, which happens to be the largest art park in Europe. Nikola-Lenivets is 650 hectares of land open for creative experiments around the Kaluga region. One can stay inside, cook, and take a shower as the structure is equipped with all the basic needs a home offers.
The main feature of the project is the seamless cladding made of a 4mm stainless steel sheet. Underneath the structure there is a system for diverting the drum sound of rain. The interior of the structure is adorned with modern style wood and metal furnishing making your stay comfy. Because of the structure being placed in a sloppy terrain the structure hangs in mid-air.
Also Read: Feature-Packed Piwakawaka Tiny house is Based on Double-Axle Trailer
An optimal temperature is maintained throughout the year due to the polyurethane foam insulation that is placed inside the pavilion. The KROST Company is responsible for the technical implementation of the project.
Russian Quintessential measures around 12meter in length and has a diameter of around 3.5 meters. The structure weighs around twelve tons and is poised by six bolts that keep the balance of the building intact.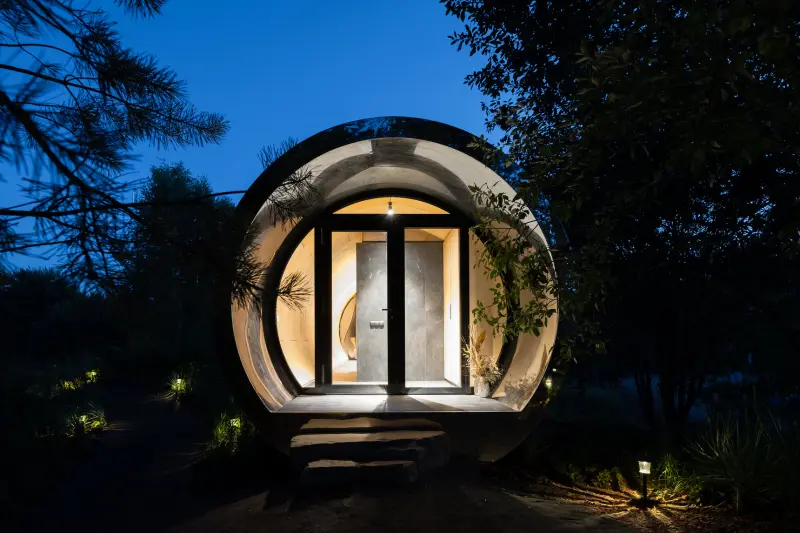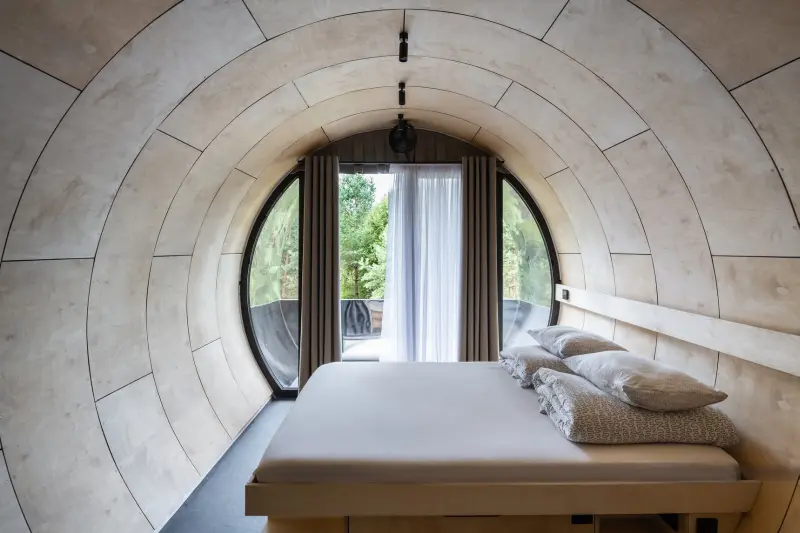 Via: designboom