The annual Shed of the Year competition, sponsored by Cuprinol, gives an opportunity to amateur shed builders in the UK to showcase their builds and win a £1,000 cash prize. The competition attracted 2,500 entries this year, including the army lorry conversion by Tom Duckworth, recycled pallet wood shed by Andrius Simaska, A-frame cabin by Tom Prior, and budget-friendly shack by Justin.
The main categories featured at the competition include Cabin, Pub, Workshop, Historical, Budget, Unexpected, International, Nature's Haven and Unique sheds. A total of 21 sheds were shortlisted as finalists, from which the final winner will be decided on the basis of a public vote.
If living-small and thinking big is something that attracts you, take a look at some of these works of art below:
Woody Willow
This A-frame shed by Tom Prior features two stories and a cantilevered nook with pulley wheel. There are full height windows on both levels to maximize views. Its exterior walls are clad in wooden shingles.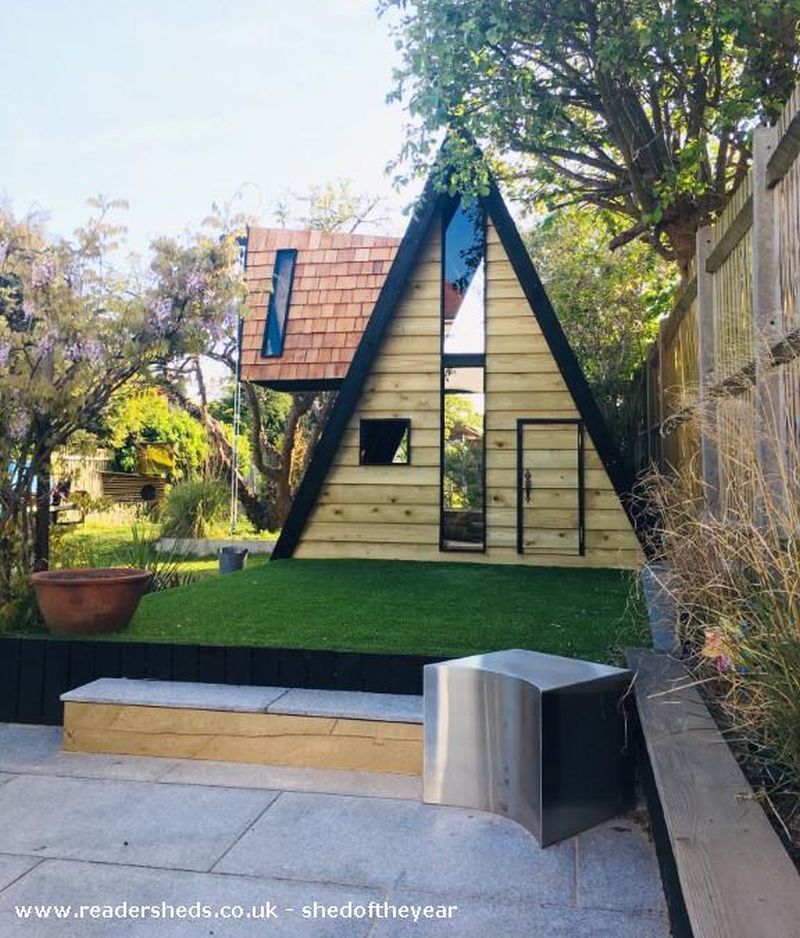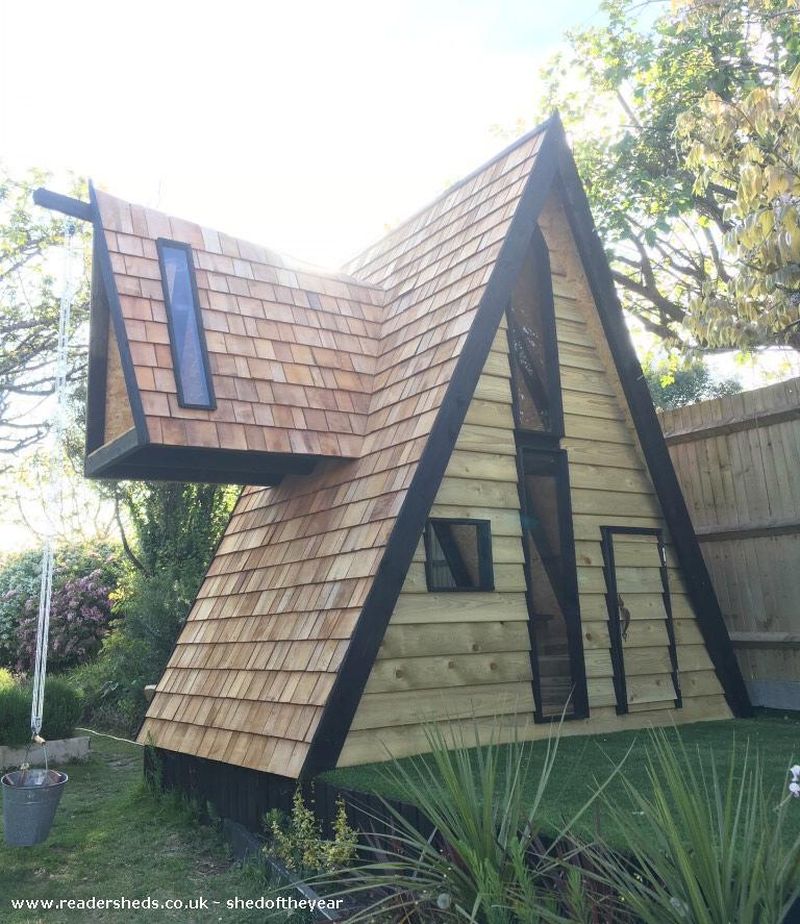 Artistintheshed
This tiny garden shed featuring exterior walls painted with beautiful nature-inspired murals by artist Mary Price is a cool entry in the competition. She uses the Artisitintheshed as a studio to paint her artworks.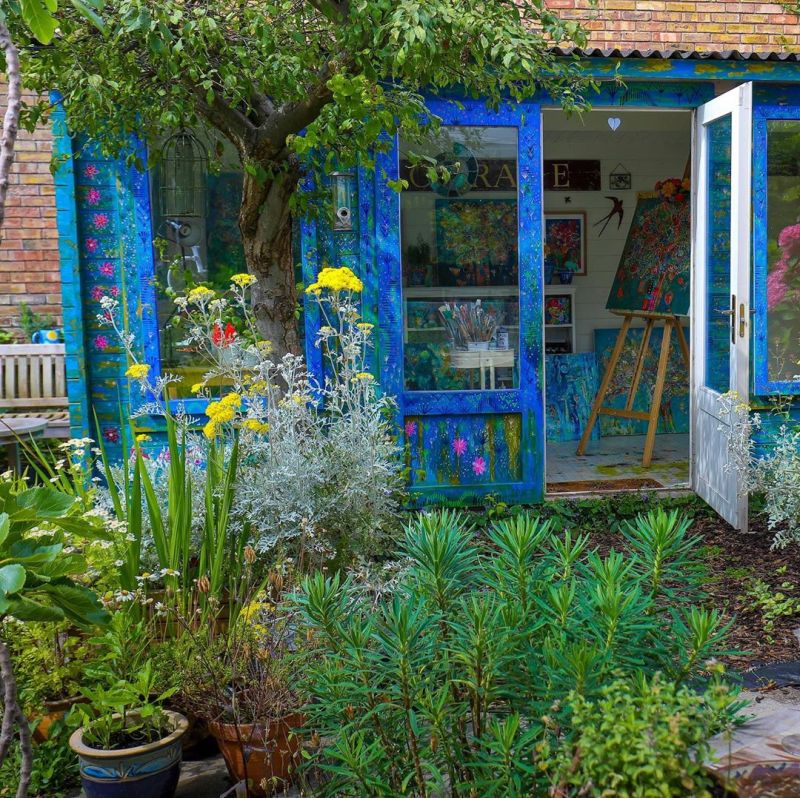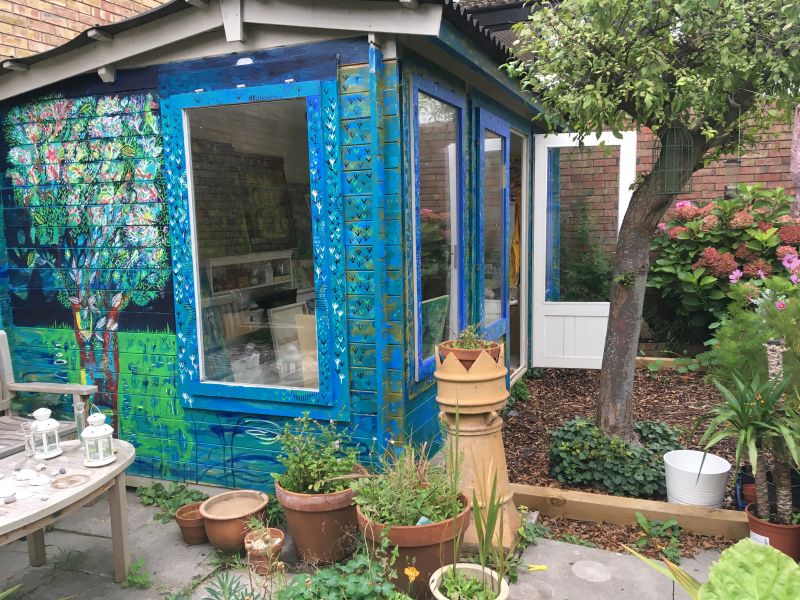 The Ark
Inspired by Stimson bow-roof shed, The Ark is conceived by Scotland-based furniture maker Stuart Campbell. It features shingled exteriors and an open plan interior with a small seating corner for playing guitar. It took him almost 3 years to complete the Ark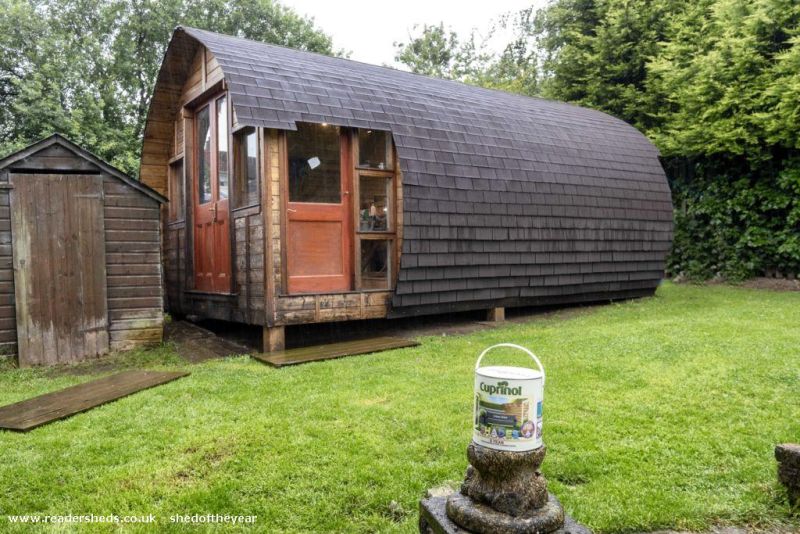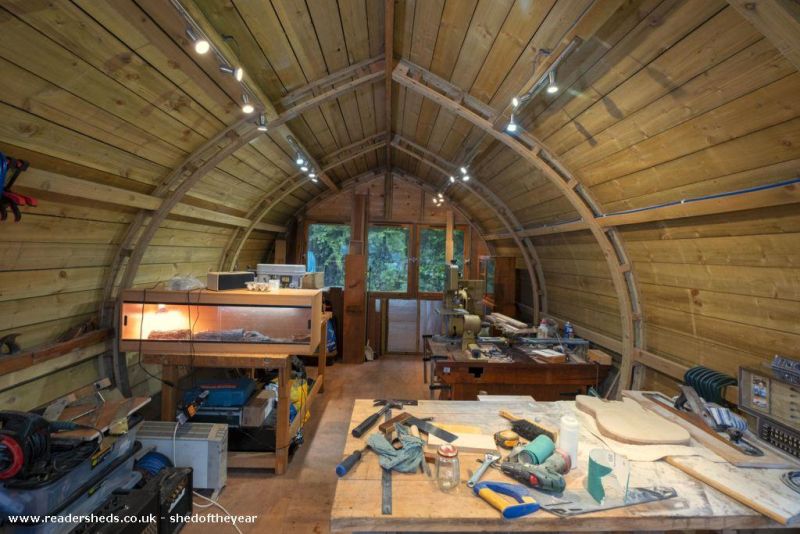 Hunters Bothy
Inspired by American log cabins, this shed is built by Ian McMorran with the help of his neighbors. The main material used to deck its exterior is wood branches, which are also used even as a door handle. Inside, there is a working log burner, hunting equipment, and creative wooden log furniture.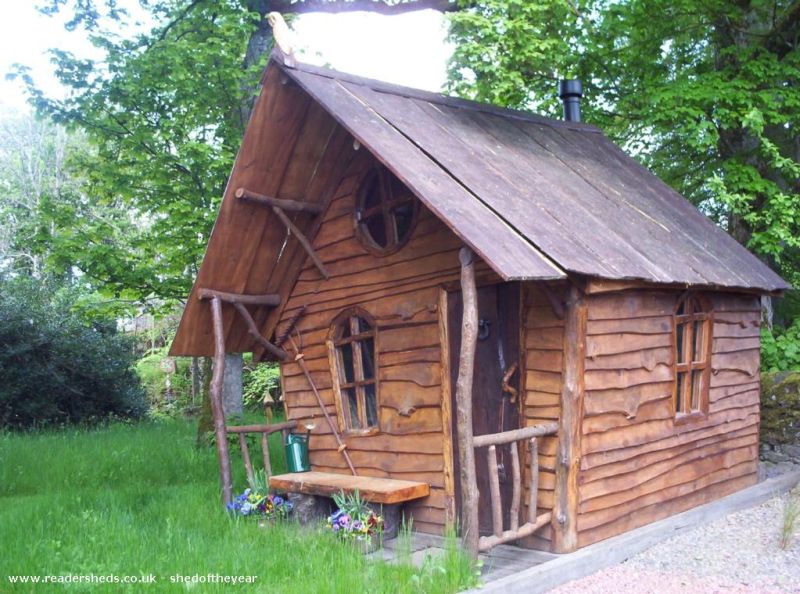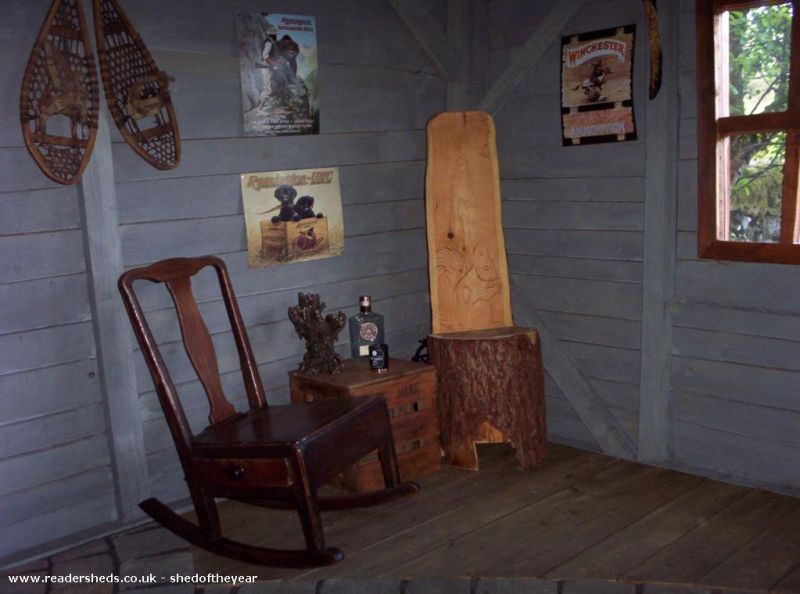 Also Read: Futuristic Products from IMM Cologne's Pure Talents Contest 2019
Shack Attack
Built from recycled materials, it looks small from the outside but it houses a living room with fireplace, kitchen, multiple sleeping areas, and a bathtub with views. The cost of construction is a little more than £500, which makes it a special build. The tiny home is located at an excellent location surrounded by a pond, orchard, log piles, rough pasture and a lot of plantation.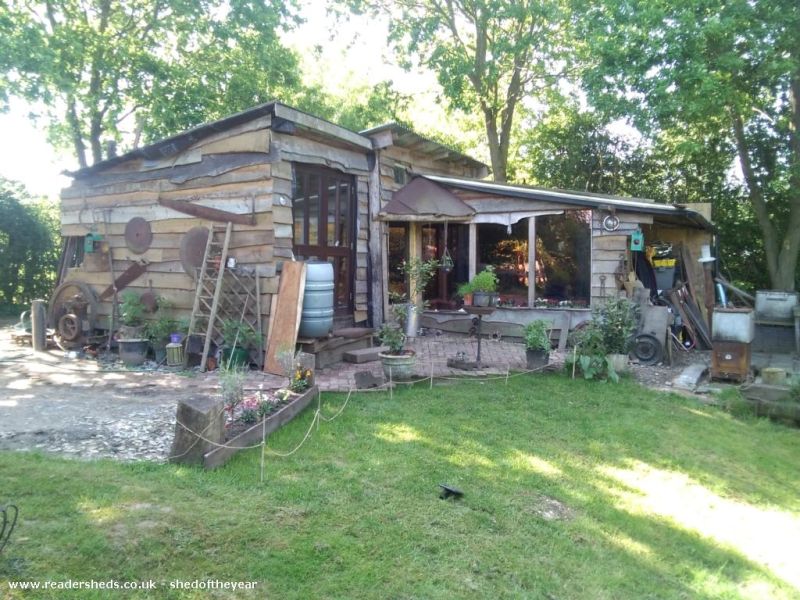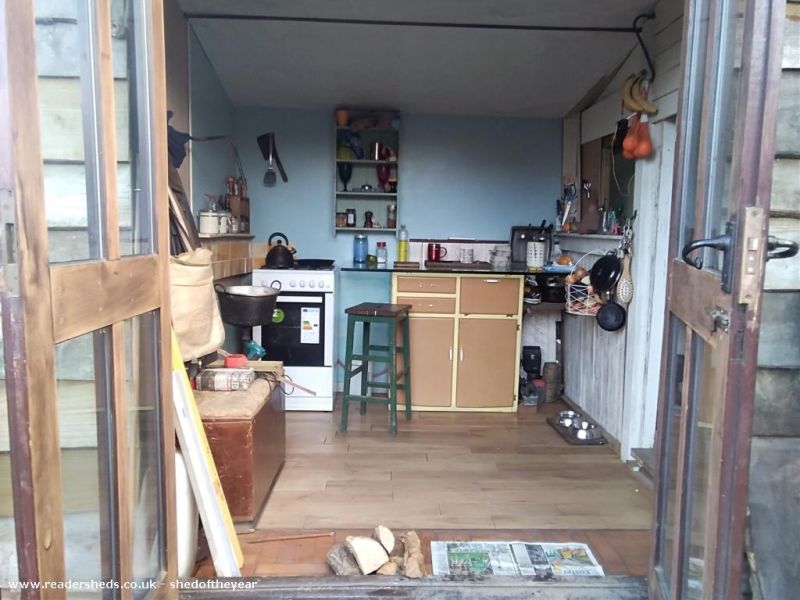 The Vintage Tea Shed
Made by Anne Hindle, this tiny tea shed is shortlisted in the budget category, since it's built for about £100. It is a space where she can escape from her busy family life. Inside, there is seating and storage for her vintage cups and other accessories.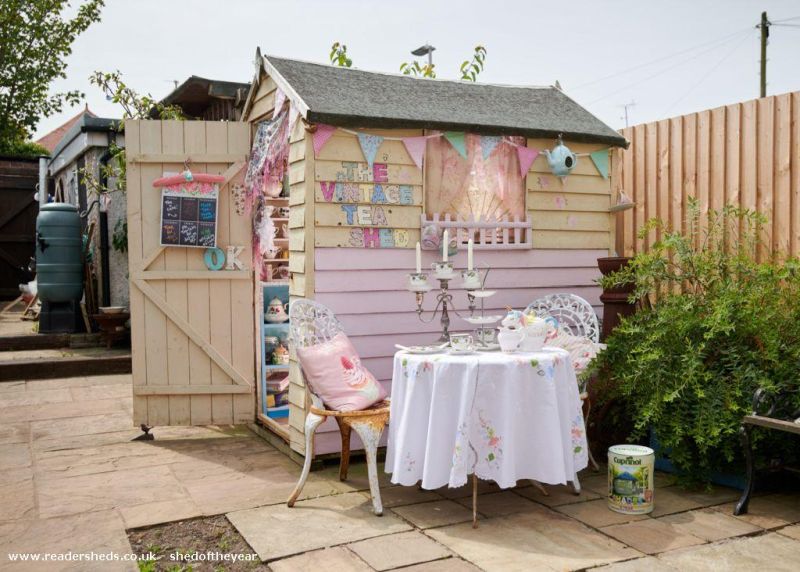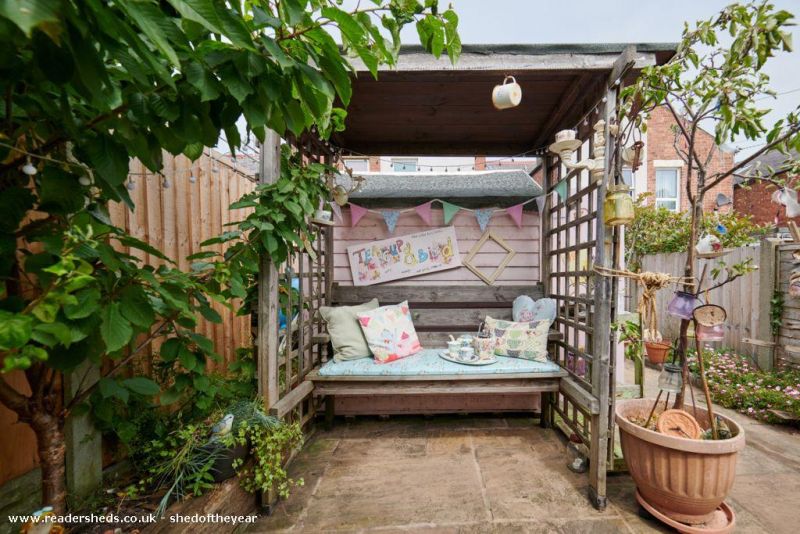 The Reef Cavern
As Mirror noted, this tropical style tiki hut with cocktail bar and an ocean view, is built by Chris Smith from Northamptonshire. Spending over 24 months and about £35,000; he has built it to sprout up holiday feeling in his back garden. Its exteriors are decorated with bamboo while interiors are packed with countertop and shelves for various drinks and glassware.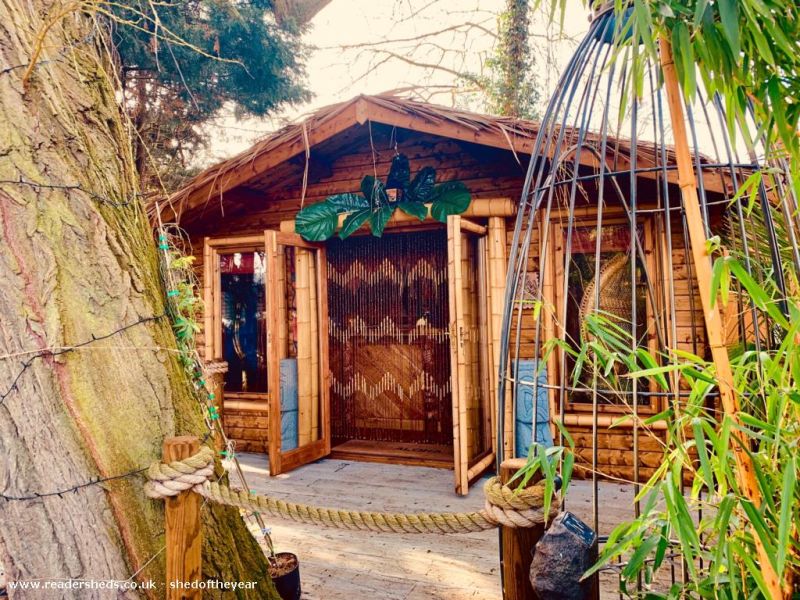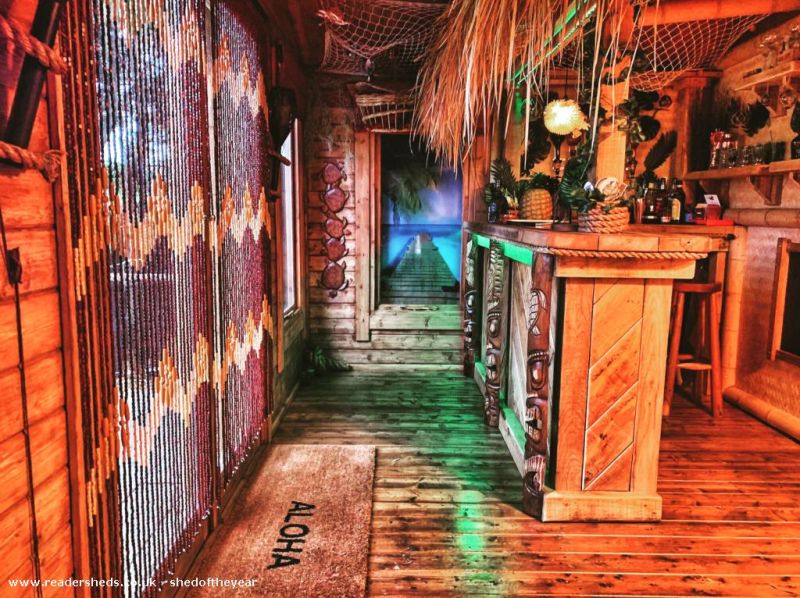 Shed Of Two Halves
Clad in wood slats, this Bohemian style shed is constructed in two halves. The main area comprises a bar while the other half has a children treehouse accessed with its own steps. The floor-to-ceiling glass front door in the bar allows a lot of natural light inside.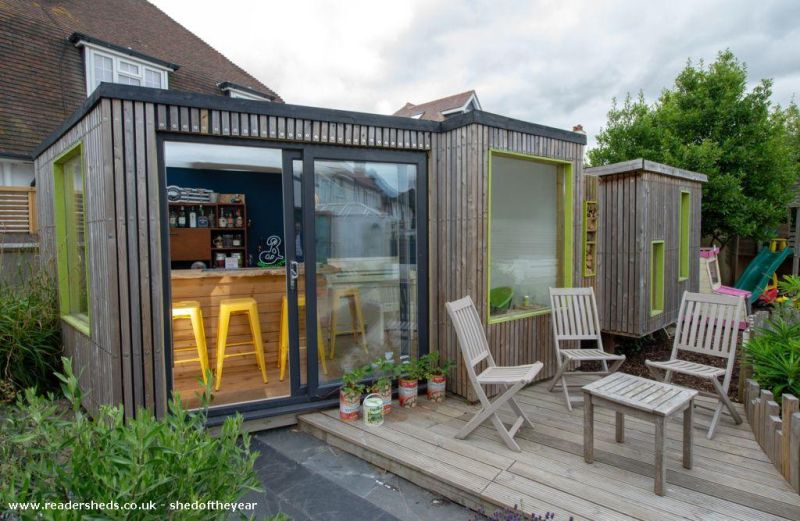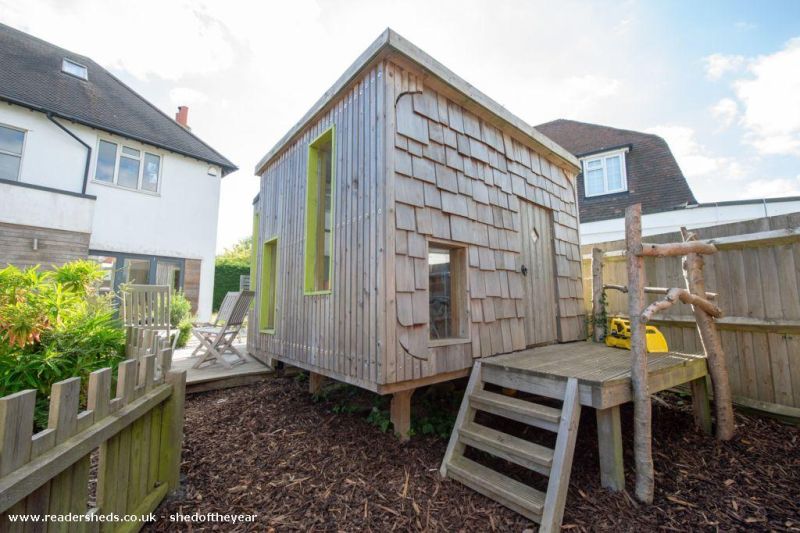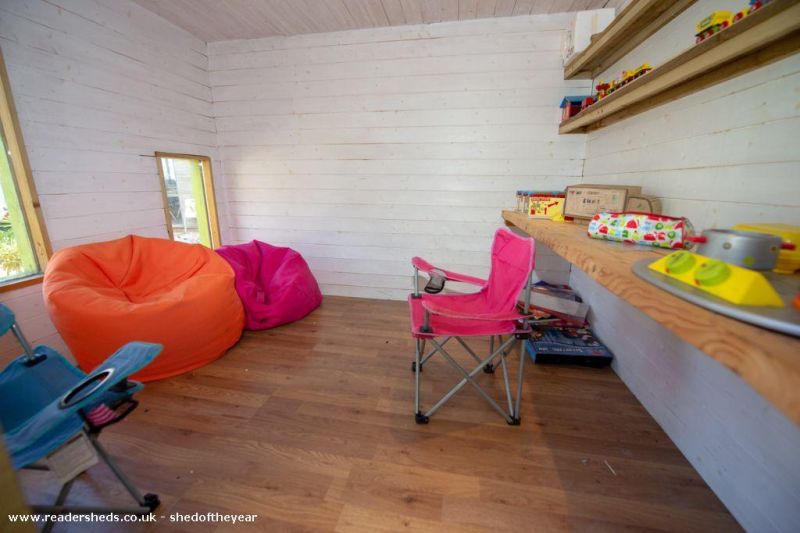 Space Shed
Originally a garden shed, this mobile shed is designed by Jon Spooner in collaboration with his long-term design partner Rhys Jarman and built by stage set builders Q Division in Leeds. Equipped with hydraulics, it opens up to reveal a mini stage with a fully programmable LED lighting rig, a big screen, and a sound system. It started as a way of telling stories about science to children and he is continuing it in the most fascinating manner, his audience now also includes elders.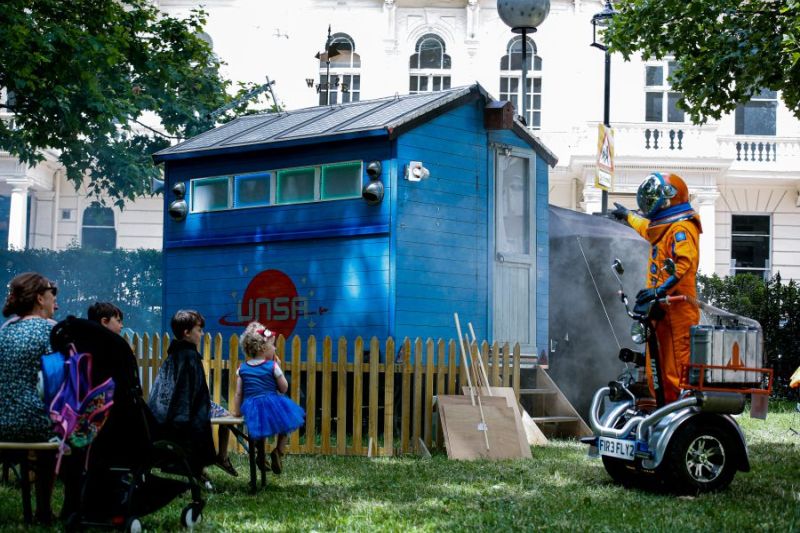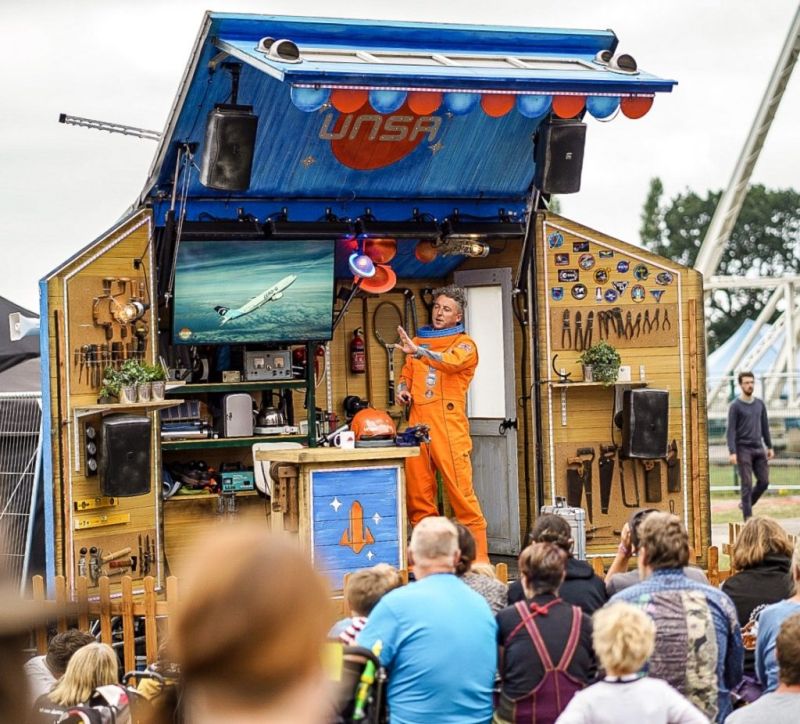 The Wagon
This full-sized replica of the 80s North Eastern Railway Wagon is built by Jim and Becky Mills of North East Lincolnshire from scrap metal and other recycled materials in approximately three months. Its exteriors are light grey while interiors boast wooden, dark grey and pink details. There are shelves, fireplace and seating inside.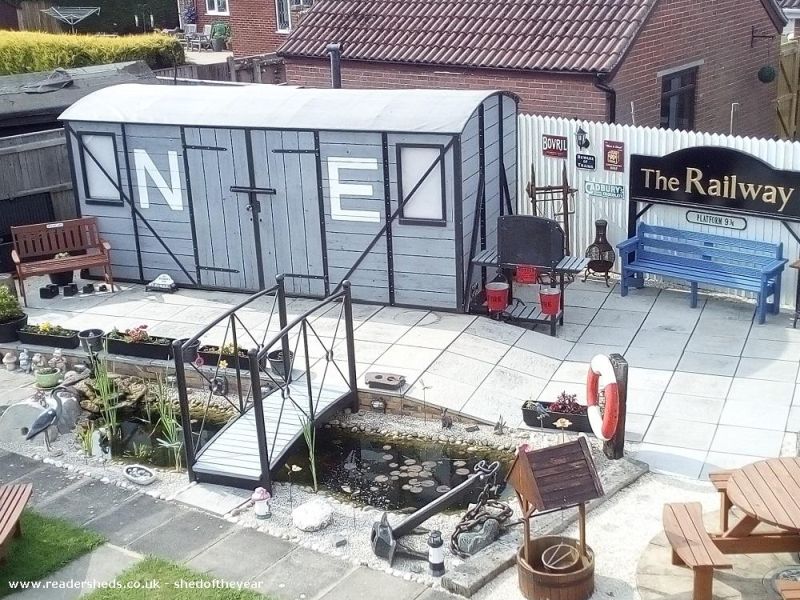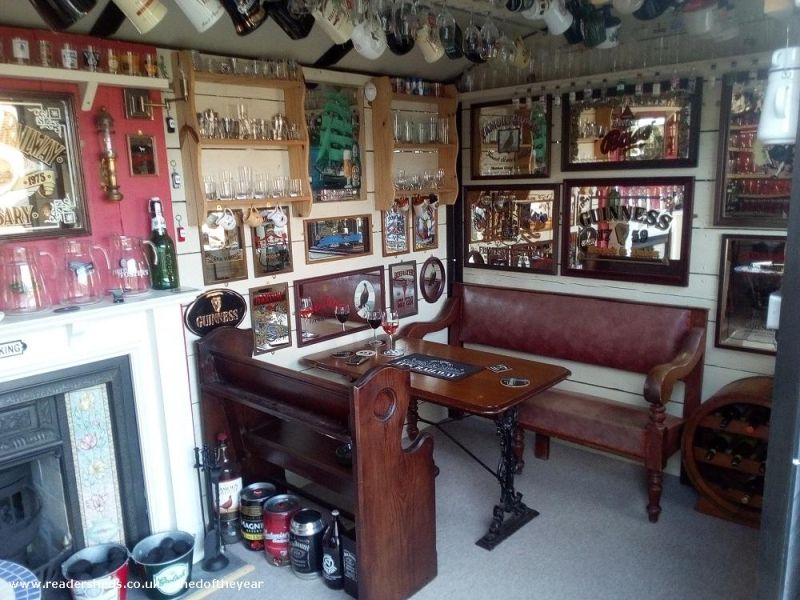 Allotment Recycled Pallet Eco Shed
This tiny eco shed featuring a green living roof is built by Andrius Simaska using recycled pallet wood. There are wooden benches and table for sitting outdoors. Inside, there are shelves for storing garden produce and tools.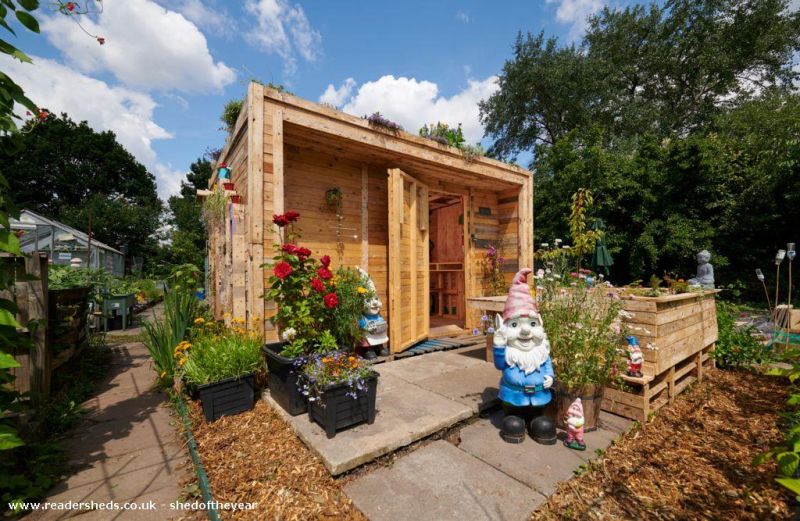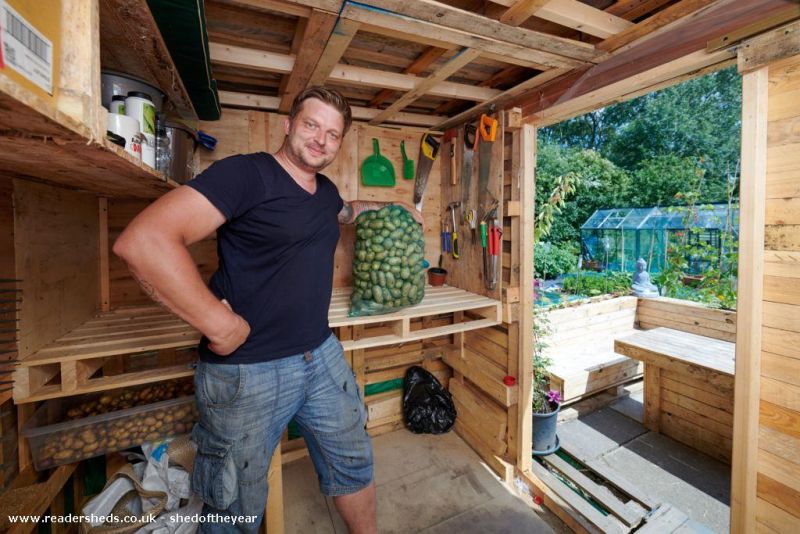 Bux End
Featuring a round front door and green roof, this hobbit house-inspired shed is built by Chris Hield as his hobby workshop for making armors and chain mail. White walls with wooden details make an interesting aesthetic inside. It has cozy seating along with a fireplace and plenty of shelves for storing his tools.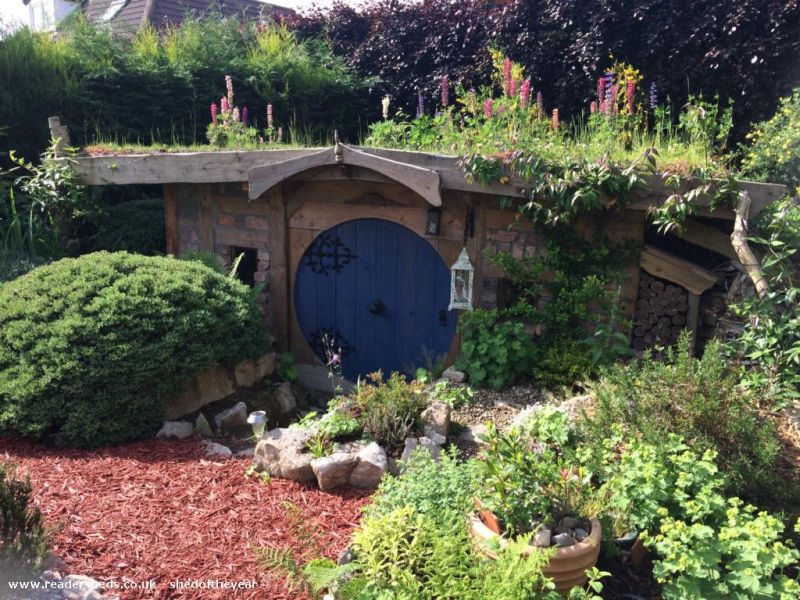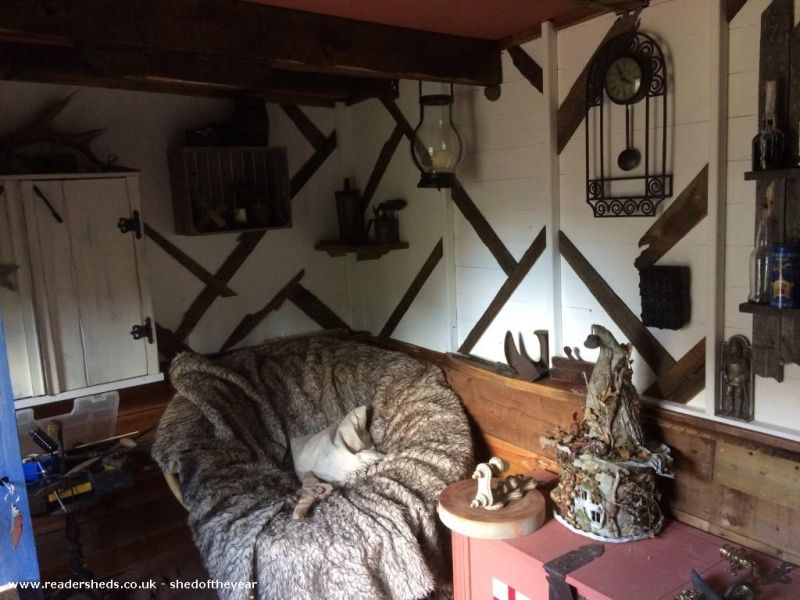 The Lorry Life
Tom Duckworth has converted a 1982 Bedford MJ ex-army truck into a mini house on wheels in which he is living full time since 2017. It has a custom-built sofa with storage drawers, a kitchenette, a ceiling bed, and tiled bathroom complete with shower.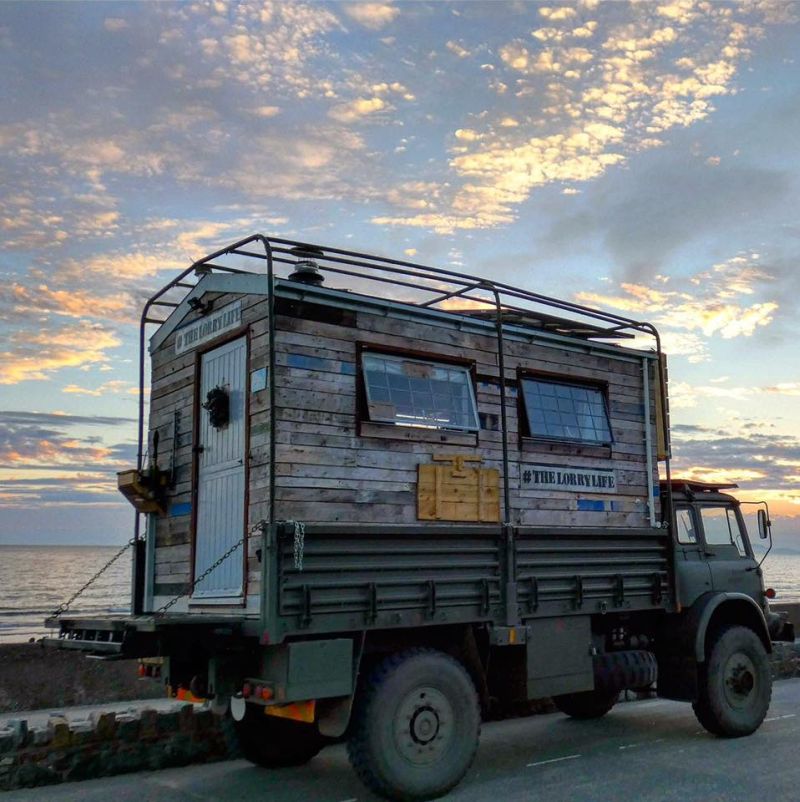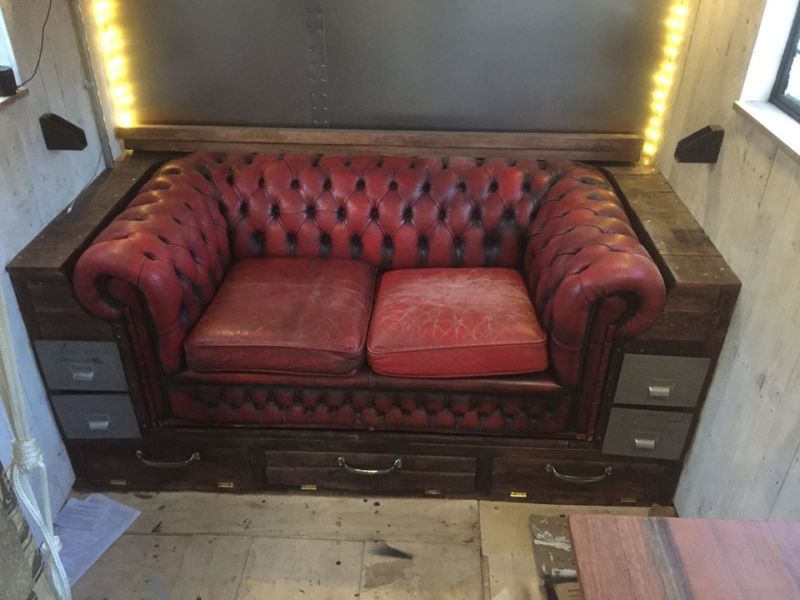 The Retro Retreat
This garden shed is owned by Louise Mayoh from Devon. It features a retro bar and vintage-inspired patterned wallpaper on interior walls. It took him about 60 hours to put up the main structure. There are cozy seating nooks and paintings all around the inside of the shed.