Shipping container architecture is not new, in fact, it has been in existence for a long time now. When it comes to providing affordable housing, shipping containers are one of the best choices. Today, we bring to you a unique piece of shipping container rental that has become popular for its unique design, location and space-saving features. This Quebec-based rental holiday cabin, named Shiship, can accommodate two guests at a time and is priced at $142 per night.
It is simply a shipping container that has been converted into a seasonal cabin amidst the woods. An eco-resort operator named Repère Boréal based in Quebec has built this modern-looking cabin with plenty of wood to top off the shipping container and give it an appealing rustic look.
This vacation rental is named SHISHIP, which means duck in the Innu language. The cabin measures 31 feet long and 8 feet wide. It features cedar wood cladding on its gray-colored corrugated wall exterior to give it a natural look and blend in with its surroundings. The inside of the cabin is loaded with smart space-saving furniture customized for the space.
With an open floor plan, the tiny rental space feels quite spacious. The door has been placed on one side, which opens into the living area. The living room has a built-in sofa made from thick foam pieces to allow its repositioning in different situations. The sofa also has a slide-out drawer that creates a room for storage of folding chairs or blankets. The multipurpose sofa creates a comfy lounging space and can also be converted into a bed.
There is a kitchen on the other side of the living room, which boasts a modern look with black laminated plywood and stainless steel countertop. The theme is extended to the built-in granite sink and backsplash that runs throughout the countertop. There are several drawers to store groceries, cutlery, and other cooking essentials.
There is a two-burner cooktop, a small refrigerator, and a customized table opposite the cooking area for dining. To use the tabletop you just need to pull it out and unfold the other half. There are folding chairs stored under the sofa. All of this furniture is sturdy and space-savvy. The appliances such as the convection oven and toaster can be stored inside the drawers which will help lessen the clutter.
Also Read: Shipping Container Homes That You'll Want to Own
Next to the kitchen is a queen-sized bed with an inset window, pouring plenty of natural light in and allowing gorgeous views of the wilderness to be enjoyed. A wine rack works as the partition between the bed and kitchen and even doubles as a table. There is LED strip lighting integrated into the upper portion of the bed to help in nighttime reading, along with charging ports to be used by the guests.
The entire layout is open, except for the wall that closes off the bathroom. It is just behind the living room and features a sink and flush toilet with a septic hookup. It also has a glass-walled shower with a tall window. The cabin also has an energy-efficient heat pump to regulate the inside temperature.
This repurposed shipping container cabin in the woods looks like an amazing place to be for a holiday, especially for folks who love living close to nature once in a while. Away from hustle and bustle of city life, the cabin follows the idea of living in less space while enjoying just the basic amenities of a home.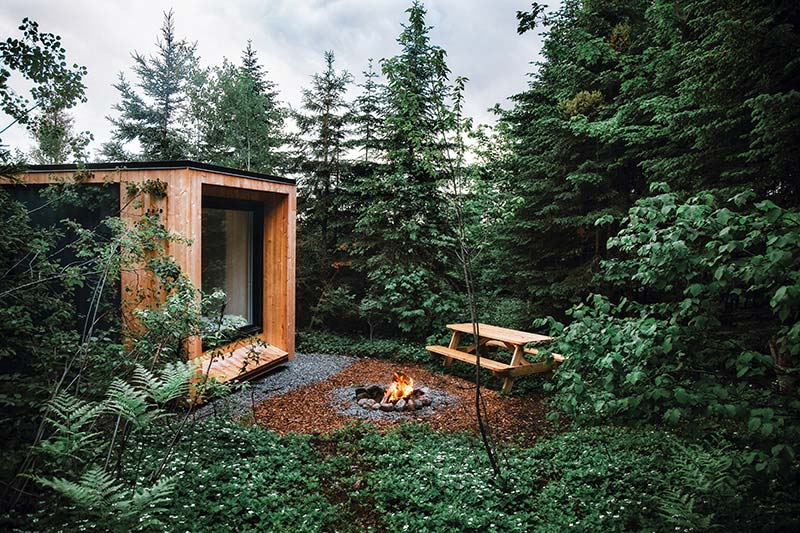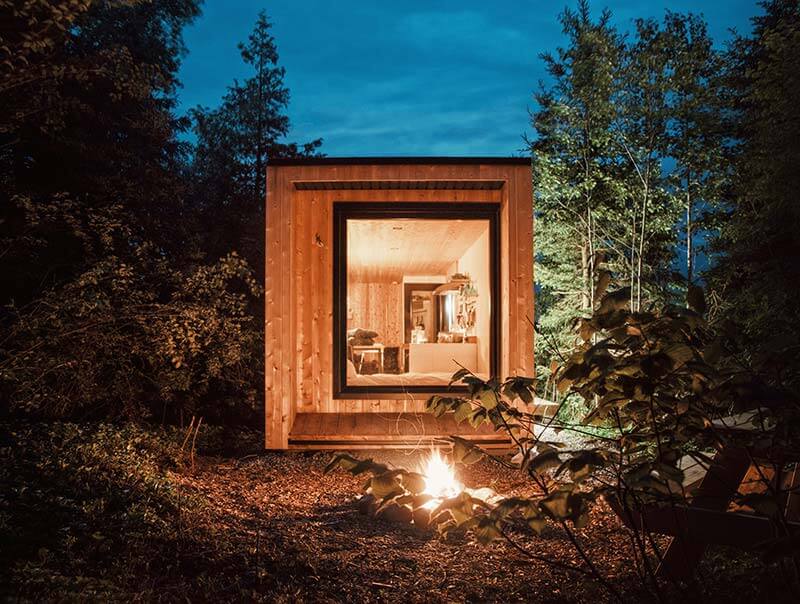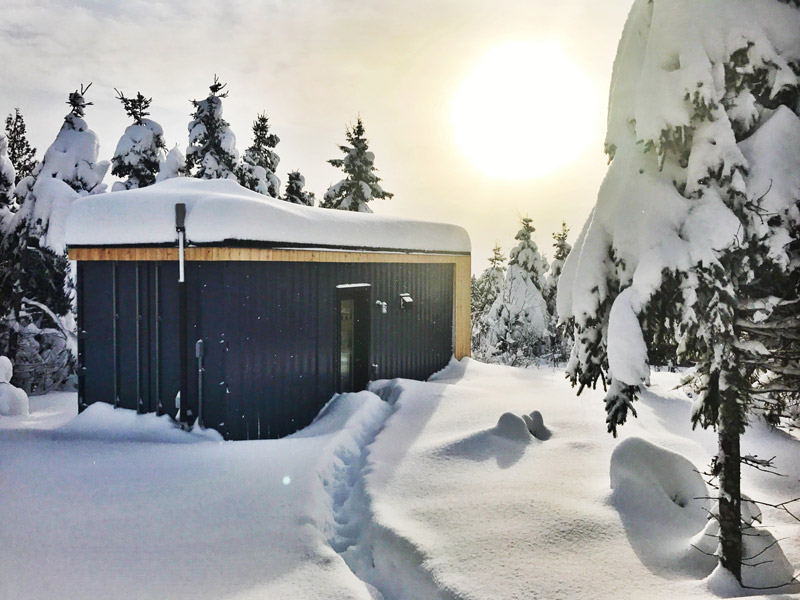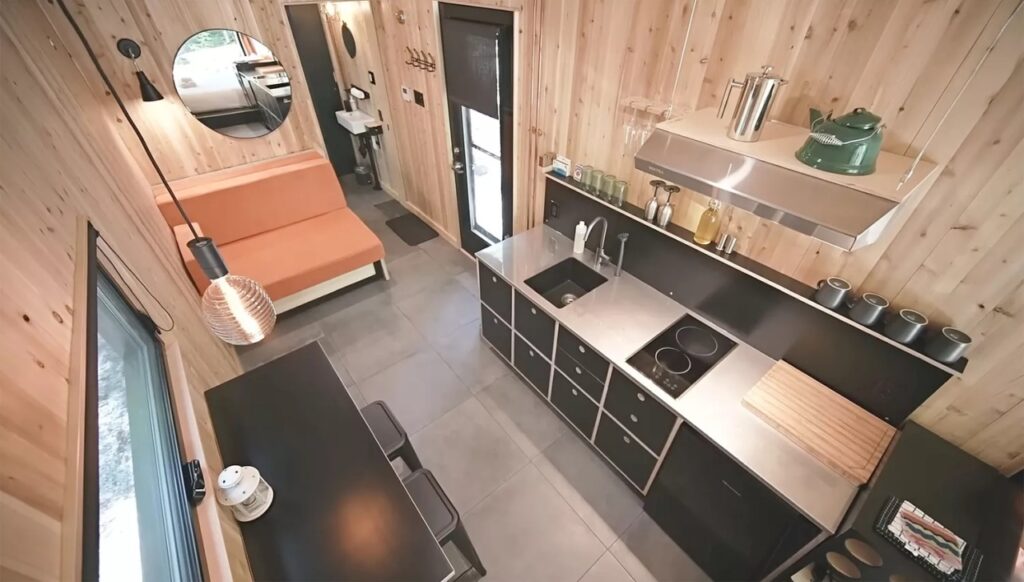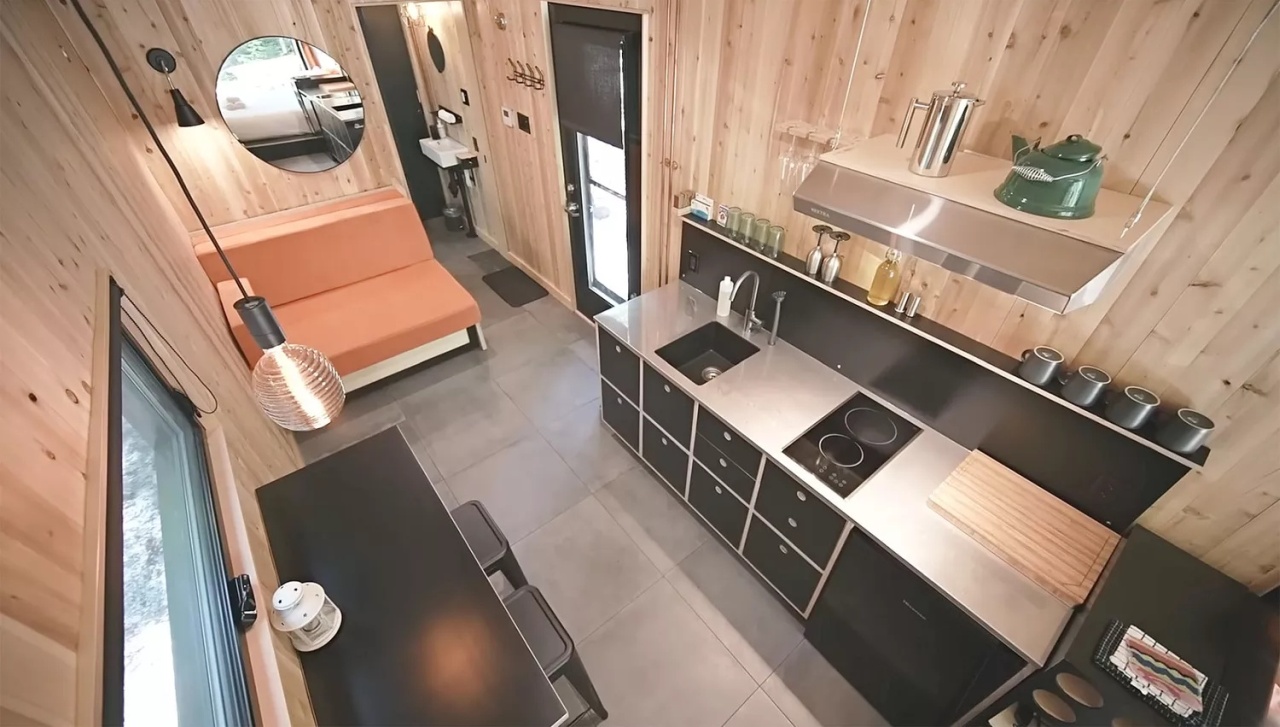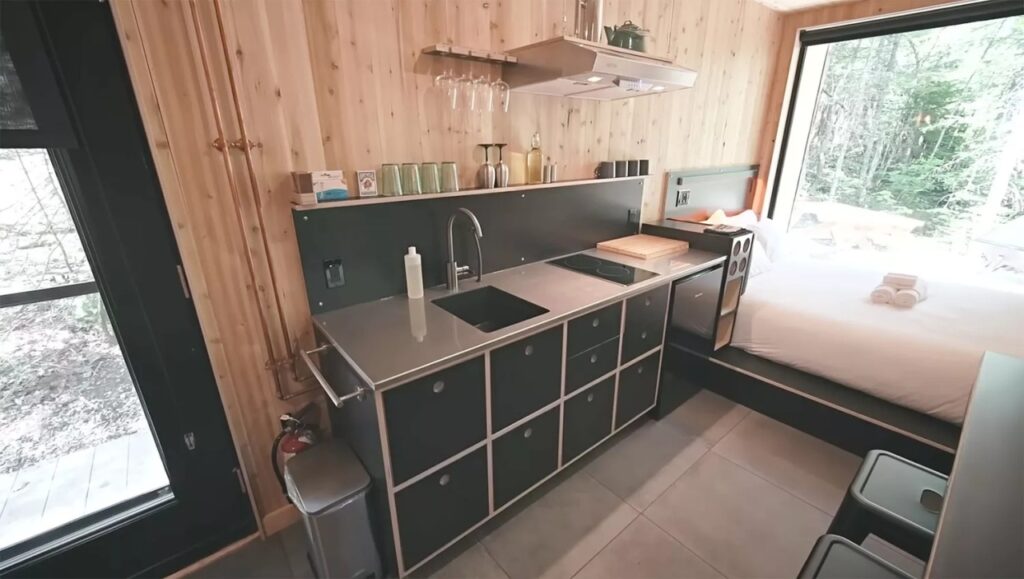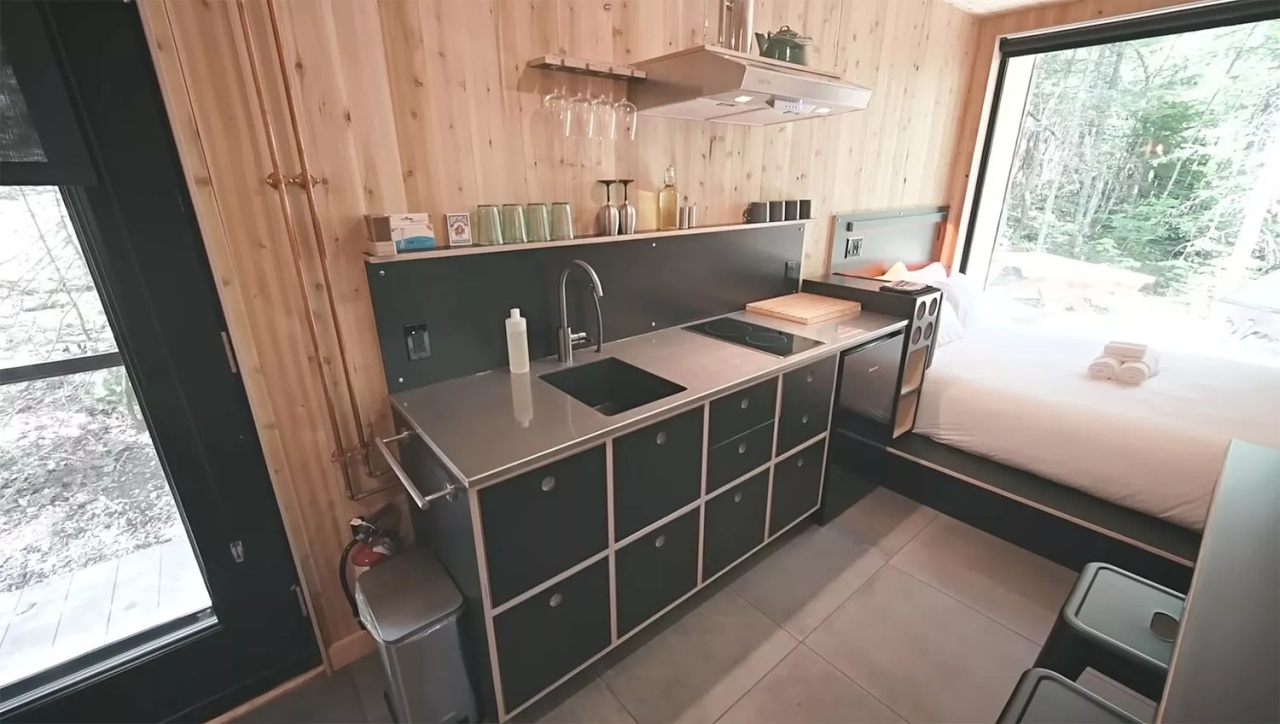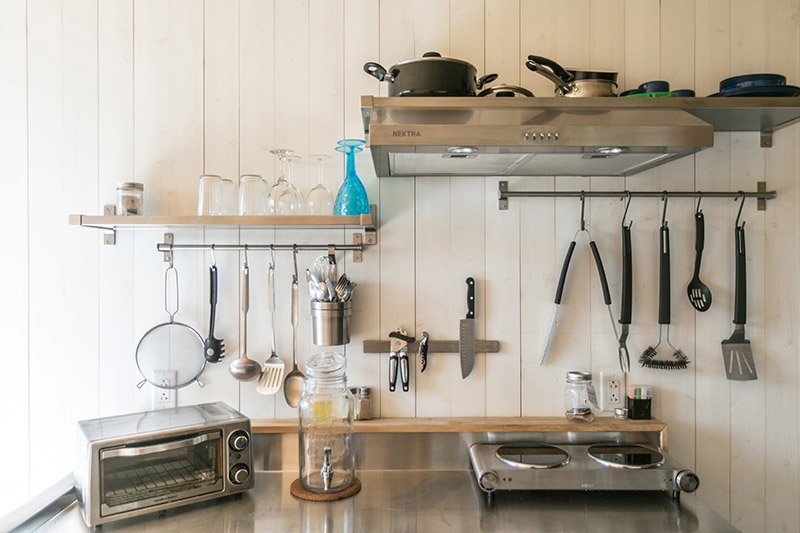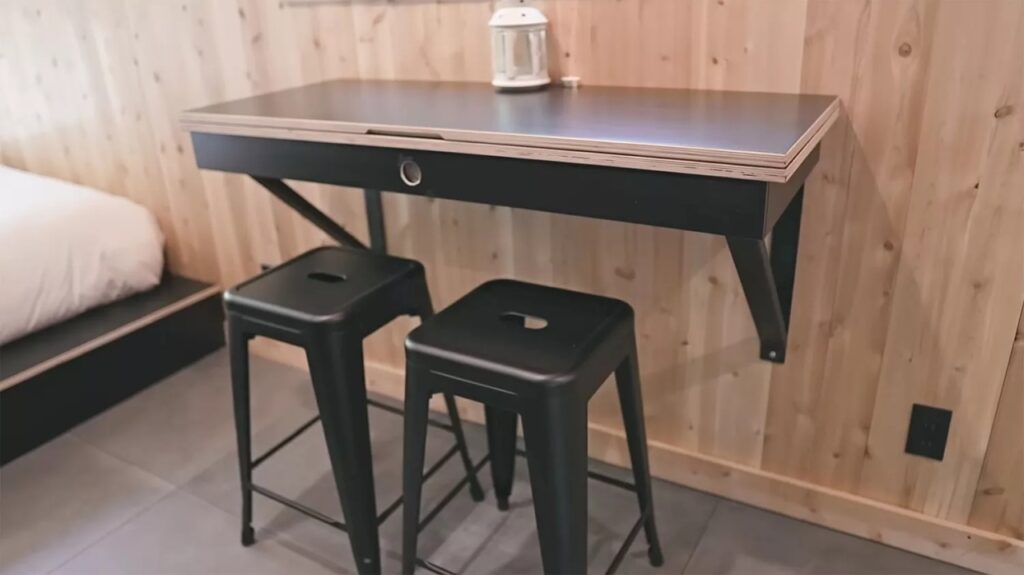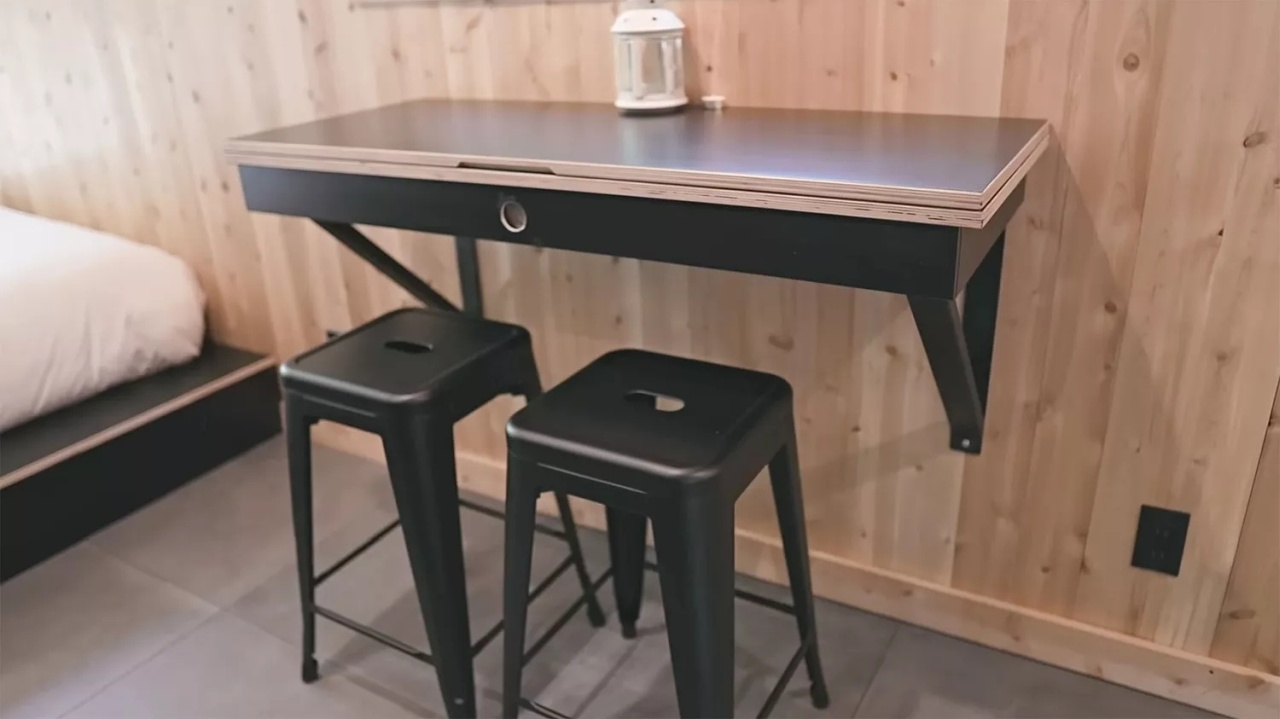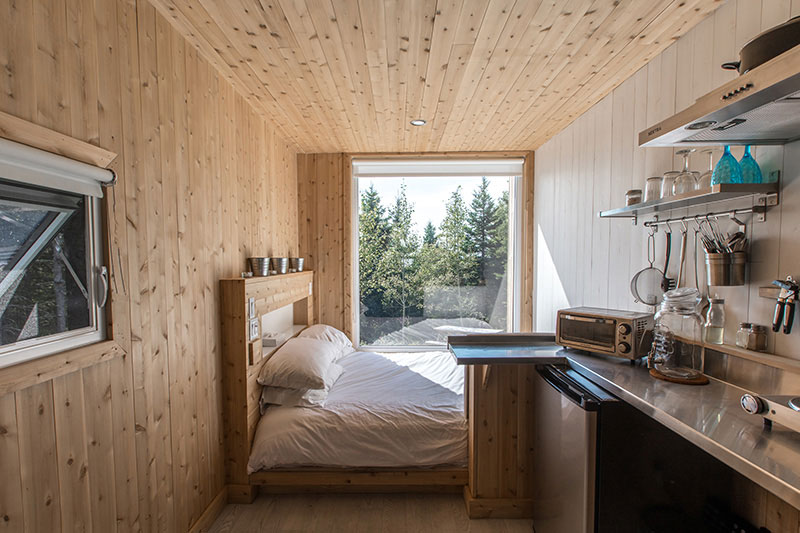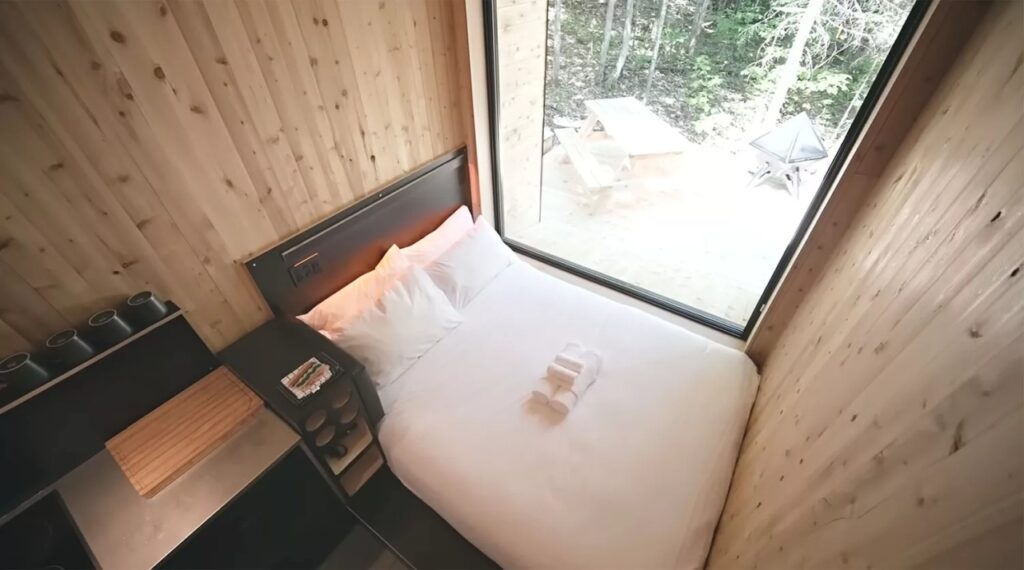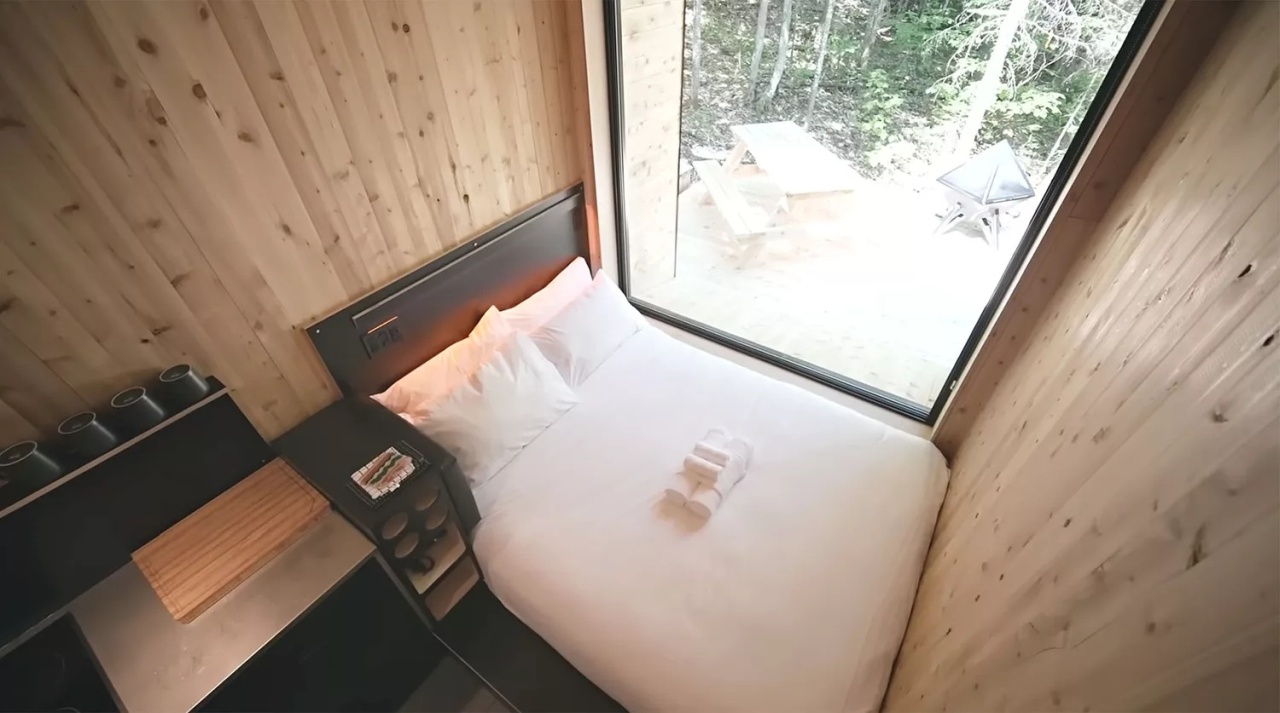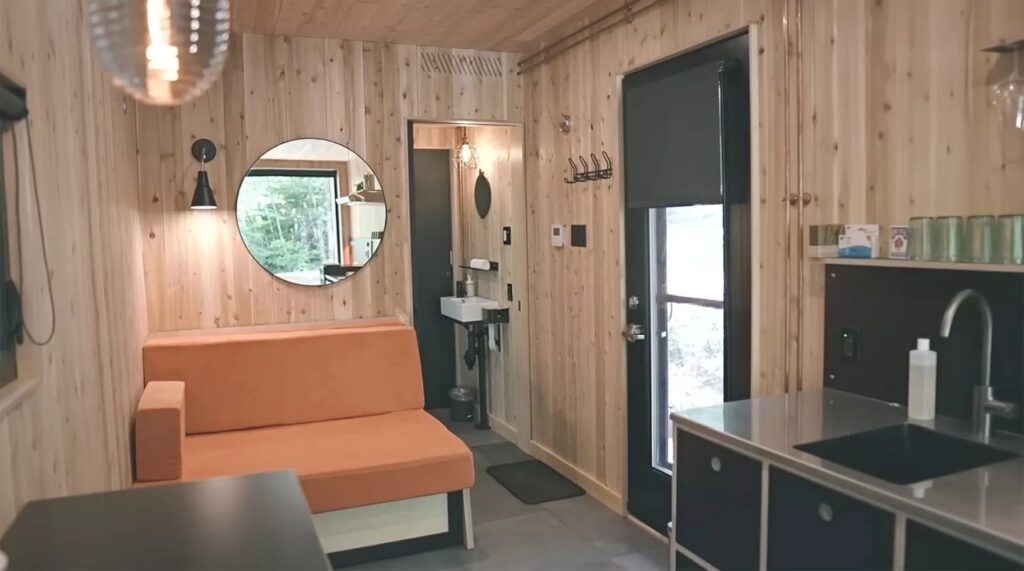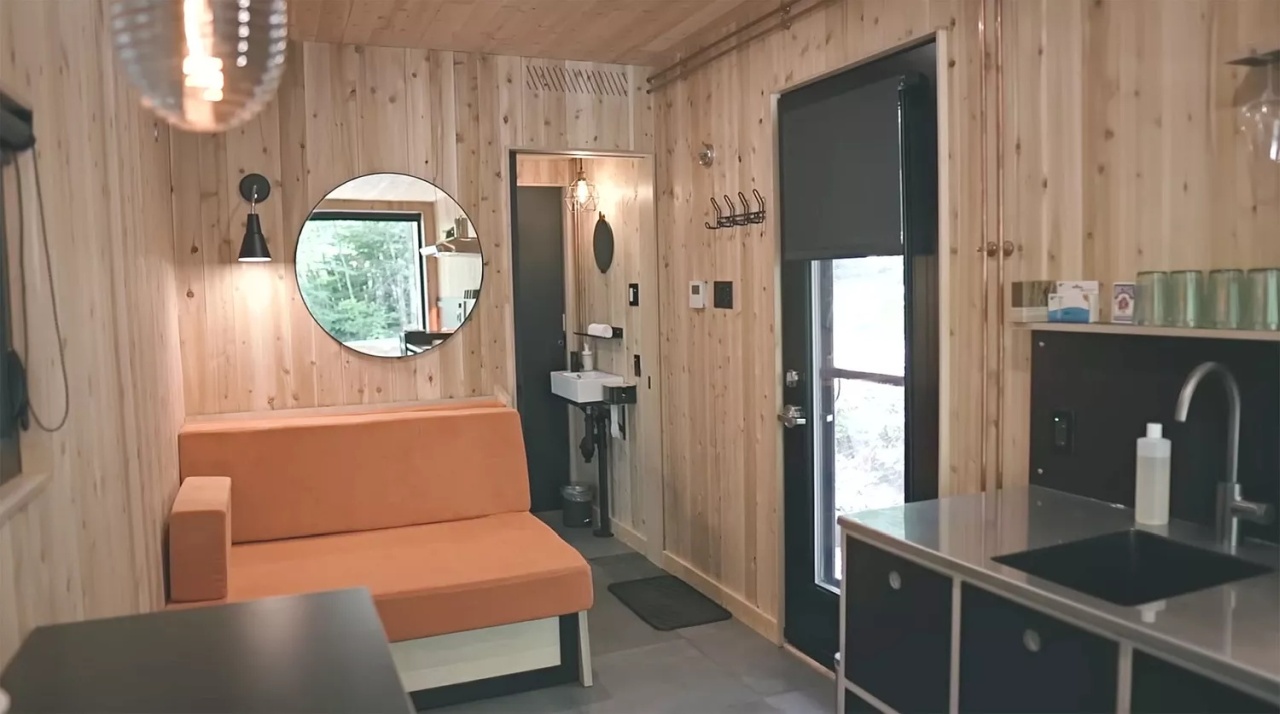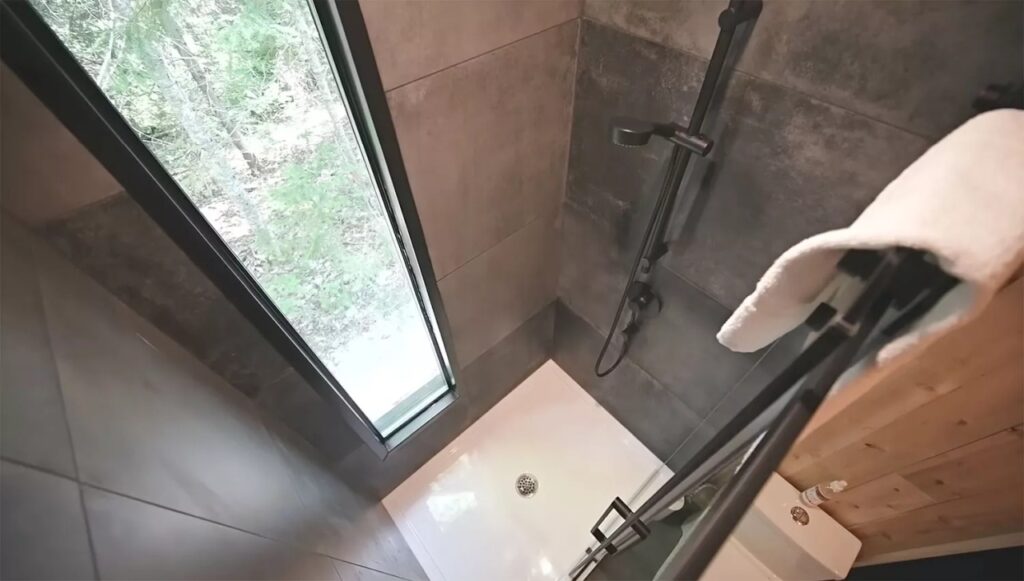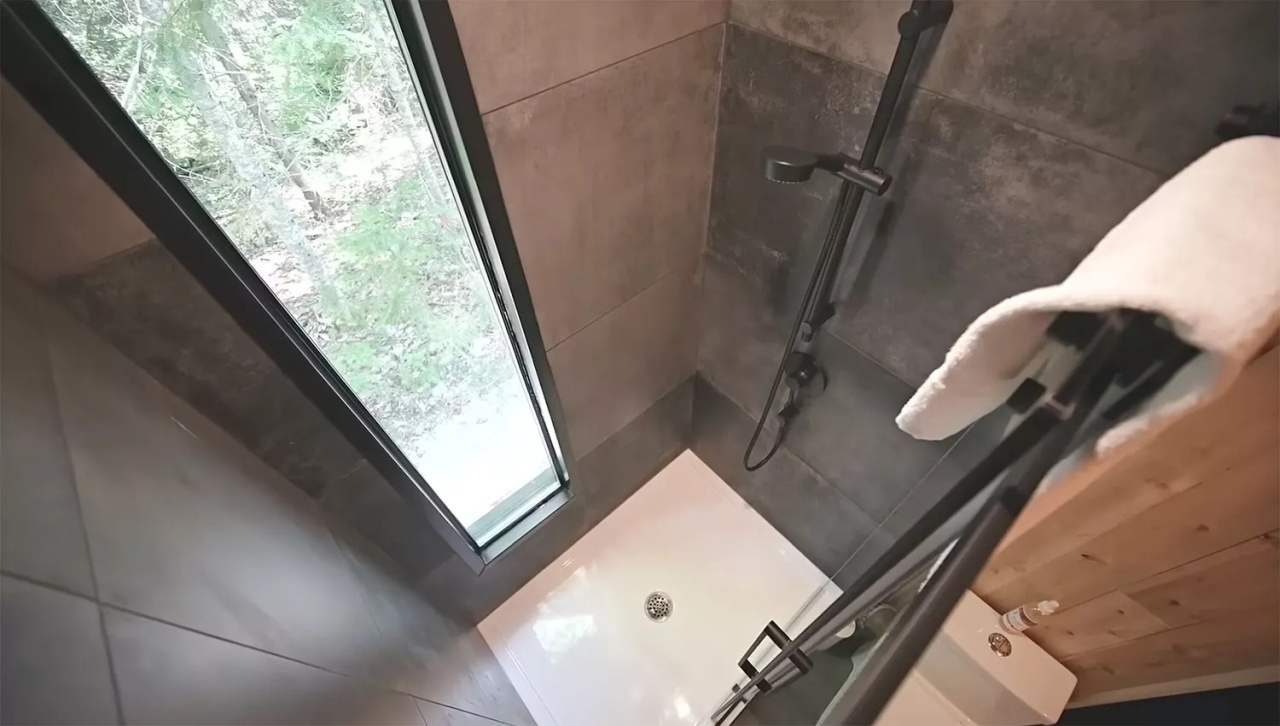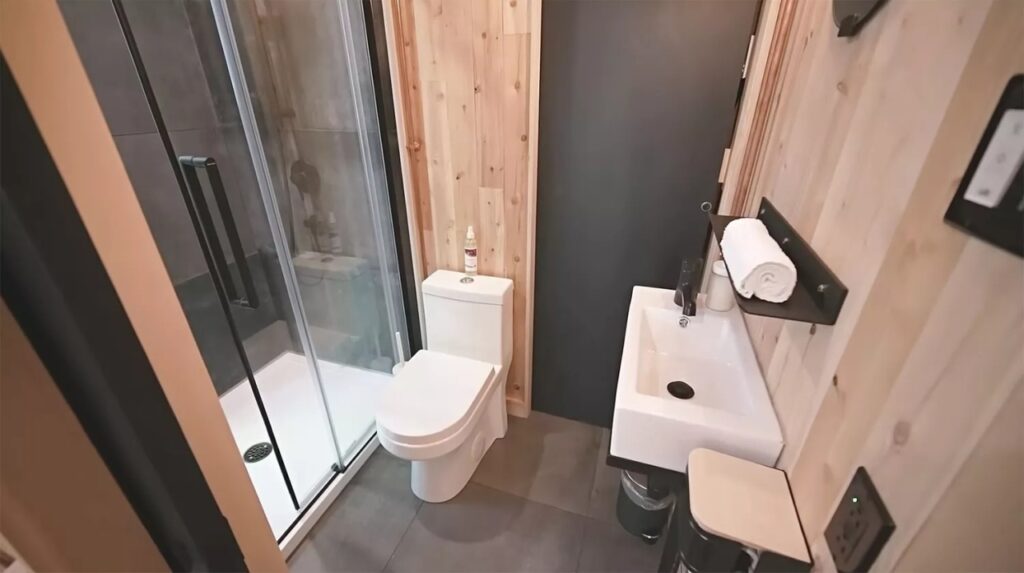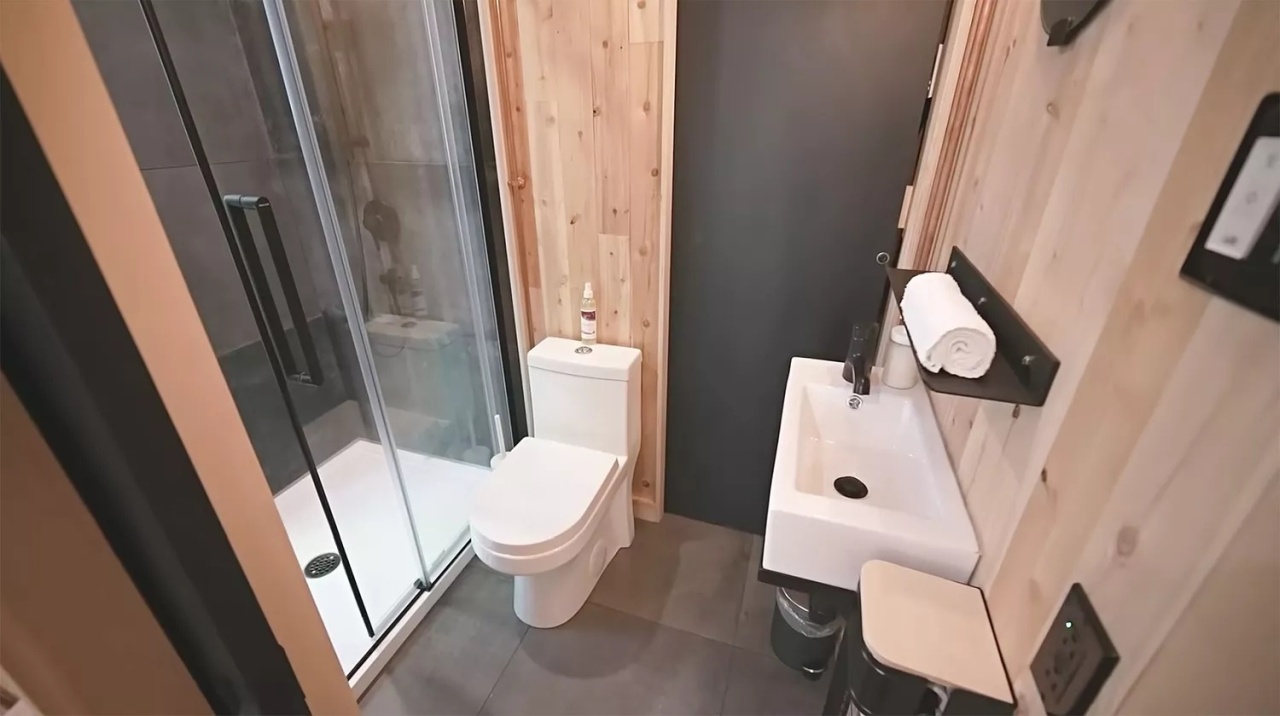 Via: Treehugger