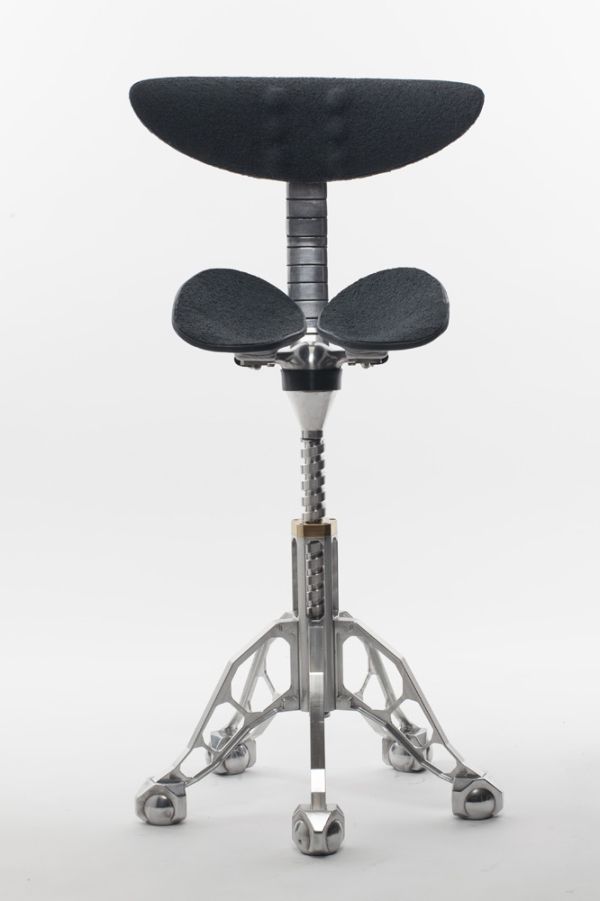 While Kinetic Smart Desk improves upon your standing experience, the newly announced FreedMan Chair totally eschews those desperate exercising sessions in the office. After undergoing a design process of 15 years, the chair contrived by professional osteopath Simon Freedman replicates your standing posture even when you are comfortably sitting on it. The solution was actually conceived as a necessity for people whose posture problems seem to flare up from prolonged sitting in conventional chairs. According to the designer, this was mainly because such chair designs do not harness – 'the strength of the body's inherent anatomical structures'.  The FreedMan Chair on the other hand exhibits a unique arrangement which is achieved by maintaining the natural curvature of the spine.
In terms of simple statistics, around a whopping 90 percent of the human population showcase disparity of length in their pair of legs. The spine over-compensates for this difference in height with its side to side curve. However, the true 'natural' curvature of our spine can actually managed by a mathematical of figure of 27 degrees of our thigh angle from the horizontal plane. The core design credentials of the FreedMan Chair strives to maintain this 'golden' angle, without sacrificing sitting comfort.
The end result is a 'chair maintained' natural curve supporting the bulk of the seated body without putting any additional strain on our muscles. And even from the perspective of usability, the FreedMan Chair possesses a small strategically placed back rest, which makes the conception more comfortable than its austere visuals suggest.
As for the commercial availability, the FreedMan height-adjustable chair will soon retail for a price of around $1,300 (per chair). Furthermore, Simon Freedman is also planning on a Kickstarter campaign which might bring down the price of a single chair to $560.
Via: FreedManChair