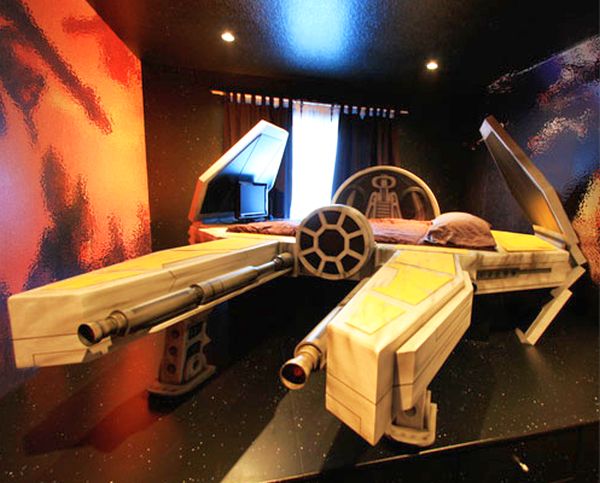 Star Wars is an epic space opera film series that was a mega hit in theaters decades ago. The Star Wars brand continues to gain impetus even though the movies grow older and older. Being motivated by various characters of Star Wars, you can find an endless array of toys, games, and other goodies. Since kids are bigger Star Wars fans than adults, therefore various furniture companies and some geeky parents have designed beds for kids taking inspiration from this sci-fi movie. If your kids are also avid admirers of Star Wars, then get one of these geeky beds for their room and create a galaxy that they can own. Take a closer look at six of them after the break.
1. Deep Space Fighter Bed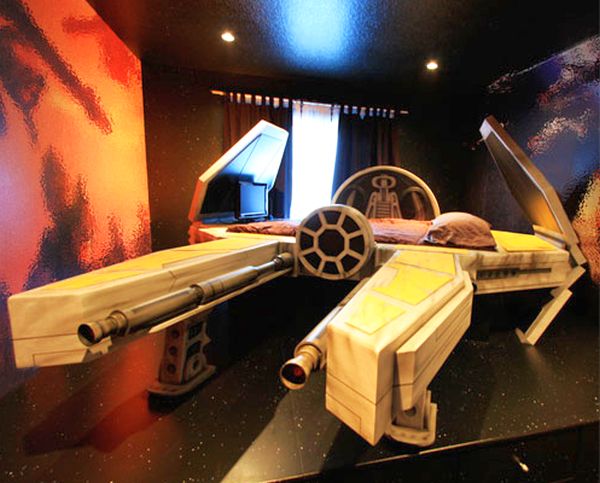 The Deep Space Fighter Bed will make your child's bedroom a space for intergalactic battle. This starship bed can be fully customized to your personal specifications and the wall mural can portray a huge army of elite soldiers ready for a battle or a squadron of space fighting cruisers. Manufactured by Richmond based company, Posh Tots, this bed ranges from $15,000 to $18,000. Buy one for your little kido and let him become the hero of his galaxy and cherish his cool bed for long.
2.

Landspeeder

Bed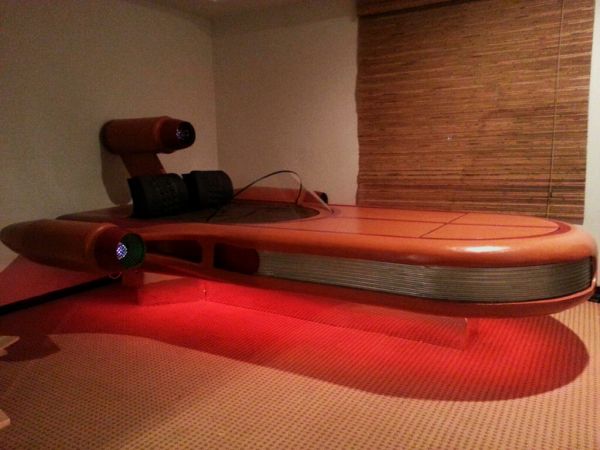 Here is yet another bed inspired by the Star Wars anti gravity fictional space craft, the Landspeeder. This awesome bed has two plasma lights which appear quite different. You can also add some PC fans and LED lights to the engine to make it look like a turbine. Also, add a comfortable mattress to the speeder to make your child's sleep cozy when he travels to the dream land at light speed.
3. X-Wing Bed

The X-Wings bed displayed in the picture above is created by taking inspiration from the X–wings of the Star Wars. These are fast and highly maneuverable fighter aircrafts used to intercept enemy craft during a space battle in the sci-fi series. This incredible bed is built by a geeky imgur user 'DarthDaddy42' for his little kid. The wings of the bed open and close to lock S-foils in attack position. It also includes an HDTV attached to a concealed Blu-ray player and an R2D2 look alike soda cooler.
4. Millennium Falcon Bed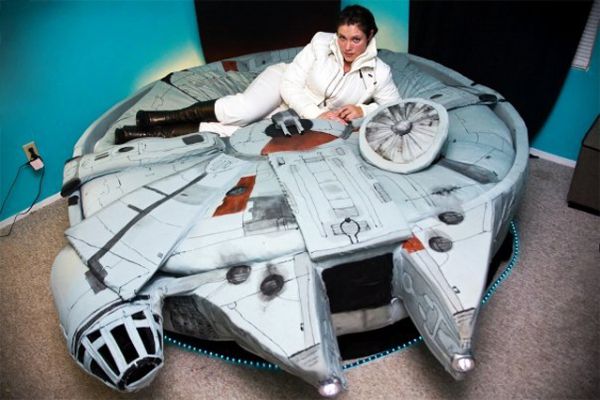 If starships like X-Wings and Y-Wings can inspire the geeks to design sci-fi beds for their kids, then how come the Millenium Falcon, which is the main ship of the Galactic Empire, stays behind. A primary school teacher, Kayla Kromer, who is also the inventor of hamburger bed, has designed the Millenium Falcon bed. The geek factor is clearly visible with the sparkling lights at the rear and lower end of the bed. The bed is completed with attached covers that look like the top facade armors and turret of this battle cruiser. One of the turbofan engines serves as the a storage space on the bed.
5. Y-Wing Bed

Just as the X-Wings has inspired one of the geeky fathers to build a dogfighter bed for his son, so has the Y-Wings. Well, the Y-Wings loft bed is just a part of the Star Wars themed bedroom hanging 10-feet above the ground. Your kid can climb into the cockpit of this super impressive bed and sit or sleep at the controls.
6. Three-Level Imperial Walker Bunk Bed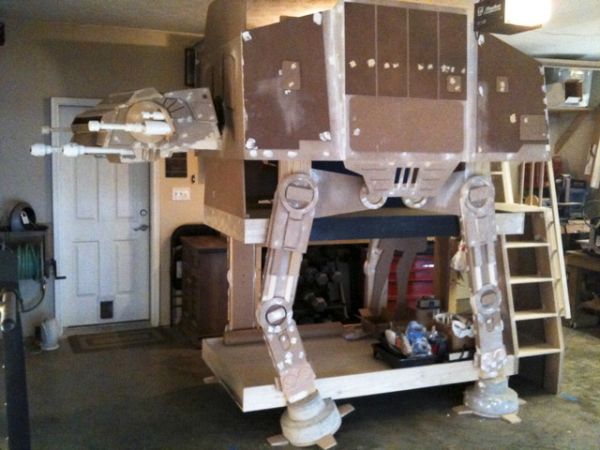 Indiana based Jonathan, who also happens to be a huge Star Wars fan, has designed a triple bunk bed for his son and nephews. For creating the Imperial Walker bunk bed, he took inspiration from the Imperial Walker, which is another vehicle from the fictional universe of star wars. He designed the bed to make it appear as if moving Walker. He also added a complete Hoth Lego display case, on the second level of the bed to keep the little kids entertained.