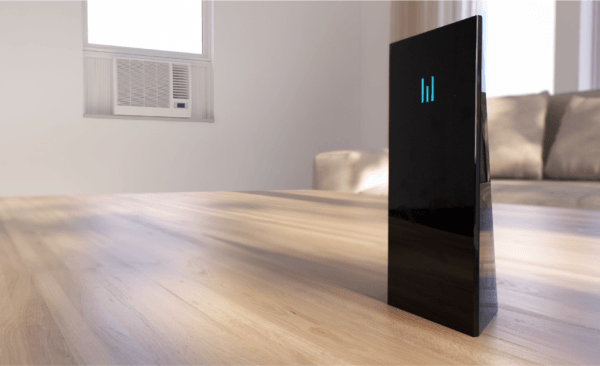 With smart technology in the air, ordinary AC units also have surpassed the 'ordinary' term and have prepared themselves to beat the summer heat in a smarter way. A week ago we came across the Sensibo, which is a small magnetic device that can stick on to any AC unit and make it smarter. Today, yet again we have a similar product with more advanced features, to cool off the heat. A Slovenian company has recently launched Monolyth, a device with the capability of turning your normal AC unit into a smarter one, on the crowdfunding platform Indiegogo.
 Just like the Sensibo, Monolyth can also track your daily schedule and your temperature preferences, optimize the performance of your AC according to your moments and adjusts the temperature according to your desires. However, the sleek black shell of this device packs within a plethora of sensors including motion sensors, luminosity sensors, sound detectors, temperature & humidity sensor, barometric air pressure sensor, air quality and VOC (Volatile organic compounds) level detector.
It detects your presence or absence in the home and will accordingly switch on or off the AC accordingly, thus saving enough on your energy bills. Because of its geofencing feature, it'll detect whenever you are arriving back to your home and will automatically flip the system on and adjust your home's temperature to make the surroundings cool and welcoming.
Monolyth is a clever retrofit that is compatible with a wide range of different AC types, including window-mounted units and those built into your walls giving any normal AC an Internet-connected brain. With this device installed in your home, you can control your home's AC from just about any place in the world with your smartphone. The device can be controlled via WiFi through iOS and Android application using the IR emitters for controlling your AC unit.
With Monolyth installed in your home, you would not have to run to the stores for purchasing expensive and fancy smart AC systems. Compared to the other competitors, this sleek device have added sensors, so it can monitor different other environmental factors. Above all, the system will have an open API so that you can customize it with your own choices.
For mass production, the design team is seeking for a total funding of $50K. If you are impressed with the device, you can secure one for yourself for just $119, and if you hurry up then you might even back up for $79. Watch the video below to see the Monolyth working.
Via: Digitaltrends