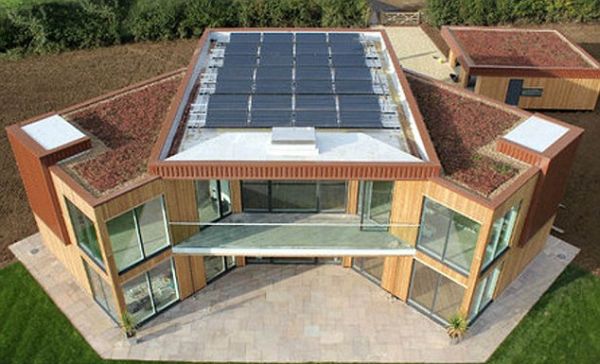 A few day ago, we talked about England's very first rated Passive House. And, we have come across Britain's very first fully solar powered residence. Situated in a 2-acre property in Great Glen, Leicestershire, the Solar House is touted to be entirely powered by sun's energy, thus not requiring any form of conventional energy source to function. In other words, the owners will blow their happy goodbye kisses to those monthly bills from the electricity board. And, what's more; since we have brought the owner part, you still have a chance to own this lovely piece of timber framed structure by just dishing out a fortune of around £1.2 million (or $1.95 million).
The solar credentials of the 5-bedroom Solar House are not the only green technologies used for the building. Other energy efficient features include – triple glazing of the windows for enhanced insulation and rainwater storage for sustainable water conservation. Even the solar powered scope has a two pronged function, as the panels account for both electrical and thermal energy. In this regard, the house is heated by a network of underground water-filled tubes that are warmed by the rooftop solar panels. This mechanism is further accompanied by Earth Energy Bank (EEB) which acts as a heat pump for storing heat during wintry conditions.
Finally, as for the ambit of usability, all of the aforementioned green technologies can be regulated by the user through a control system. This collective system not only regulates the energy generation by the solar panels, but also monitors various related factors, like the difference of outside and inside temperature and the heat levels of the Solar House.
All images are courtesy of Raymond Press.
Via: Solar-House