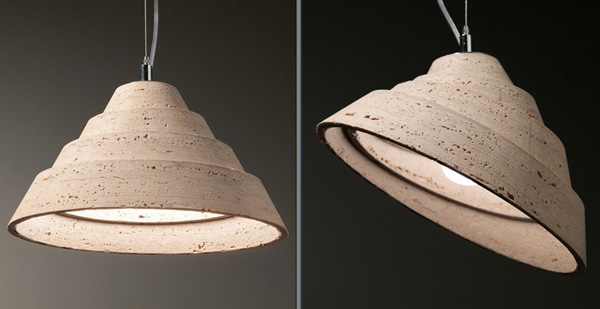 We have been discussing about unique lighting fixtures in our recent posts including the Foop Lamp and the Garlic Lamp. Here again we have come across the incredible Spiralitosa lamp made out of marble. This lamp pictured above is simply unique and marvelous in its design. The lamp has a fabulous style and unique material due to which it was exhibited at the 27th Edition of the International Biennial Lighting Exhibition, Euroluce 2013. The lamp, designed by Raffaello Galiotto, features a set of concentric rings made of marble and lava stone that can be separated. Although, the lighting fixture appears to be flat in shape, but once suspended, different-sized circles unfold into a beautiful bell-shaped lampshade. Also, because of the unraveled marble rings, the lamp can be bent in any direction to regulate the course of light.
The pendant lamp amalgamates a marvelous design with the expressive force of marble that is further accentuated by the natural finishes of the stone. By making use of travertine marble and lava stone the designer has tried to give a contemporary appeal to this suspension lighting, in which he has been successful. The Spiralitosa lamp is also exceptional, since its lampshade cavity is accomplished without eliminating any raw material and hence minimizing the wastage of marble. The lighting pendant is therefore processed under the banner of green manufacturing.
Innovative product designer, Raffaello Galiotto, has created Spiralotisa pendant lighting fixtures for the Italian design lighting company Serafini Marmo Luce that produces excellent lighting fixtures made of marble. The Italian designer has wonderfully created various furnishing products like chairs, tables, bath-wares and lighting fixtures out of materials including metal, glass, plastic and stone.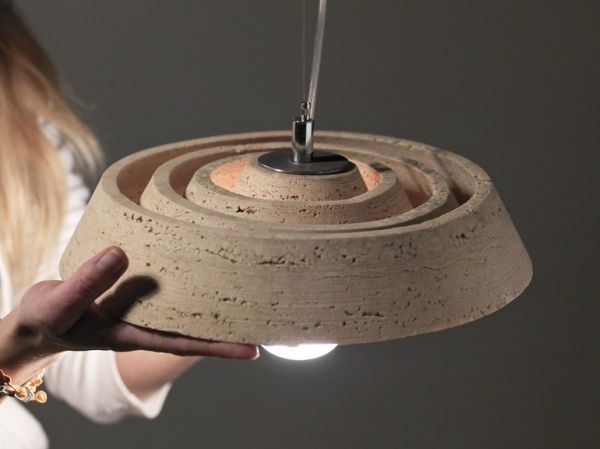 Via: Archiproducts