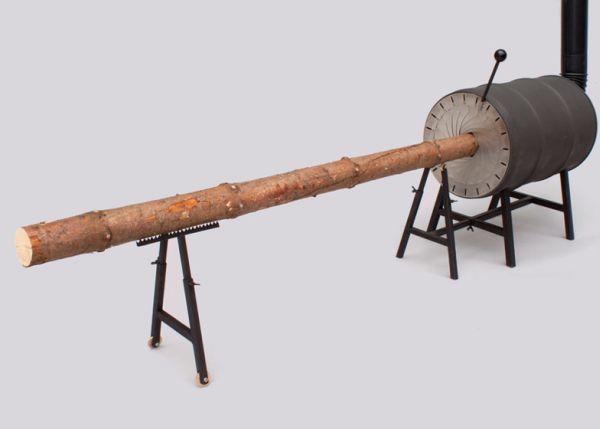 Chopping a tree trunk to pieces for burning wood is a time consuming and tricky process. Looking into this matter, two creative designers, Roel de Boer and Michiel Martens, have taken a new approach for burning wood by creating the Spruce Stove that can burn a whole tree trunk at once. The collaboration between the Dutch designers resulted in this interesting wood-burning stove which is designed to save time and labor. The stove burns whole tree logs instead of chopped tree chunks to provide heat.
The stove comprises of a cylindrical horizontal drum with a hole on one end.  The aperture engulfs around the tree to fit the diameter of different logs. During the fire, one just have to push the trunk inwards gently until it completely burns and simply enjoy the warmth offered by the stove. Lengthier the tree trunk, longer will be the cozy experience around the fireplace. The tree log rests on the top of a stand clamp fitted with wheels making it easier to move it towards the stove.
Spruce Stove designed by Roel de Boer and Michiel Martens was presented at Dutch Design Week 2013.