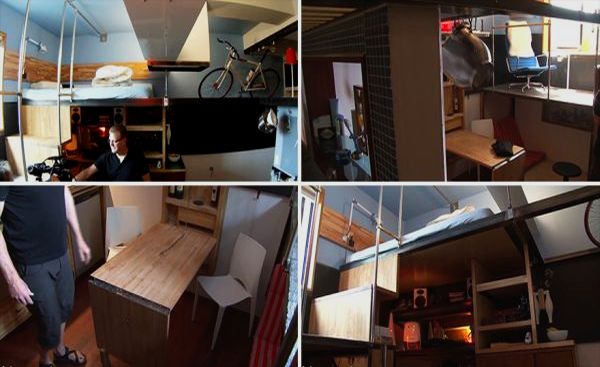 Urban living is shrinking to a couple of square foot area day by day. Micro-dwelling is a term that we have already heard and discussed too much, but the micro-apartment being discussed here is something that uses even lesser space while engaging more functionalities. Seattle based, Steve Sauer has transformed a small storage unit measuring  182 square feet with a single window into a liveable apartment with 8 different spaces in an interestingly fascinating way. He has built this house dubbed as the Pico Dwelling all by himself, in which he has succeeded admirably.
Inside the Pico Dwelling, Sauer has creatively managed to build 8 different spaces all by stacking functions. The Pico Dwelling involves a cafe area with Eames chair that is stacked on top of a video lounge equipped with a 37-inch TV. On the adjacent wall, there is a walk in closet cum office space on top of which is the bedroom space. On the main floor lays a transforming table that unfolds to seat six for dinner whereas a 3 foot deep  Japanese-style soaking tub hidden below the entryway, serving as the bathroom. The kitchen backs onto the bathroom, the top surface of which serves as a guest bedroom. The little left space serves as a storage area for two bikes, the steps to which doubles as benches.
Sauer has creatively and incredibly made good use of every specific inch of the Pico Dwelling worth applause. He did not compromise on the materials and made innovative use of his hacked IKEA projects as material resource. His micro-home took 7 years to complete and 2 years to get the permission of occupancy. Since the architecture and design of this extraordinary apartment would be difficult to explain with still pictures, here we have the video of the Pico Dwelling. Check it out!

Via: Faircompanies