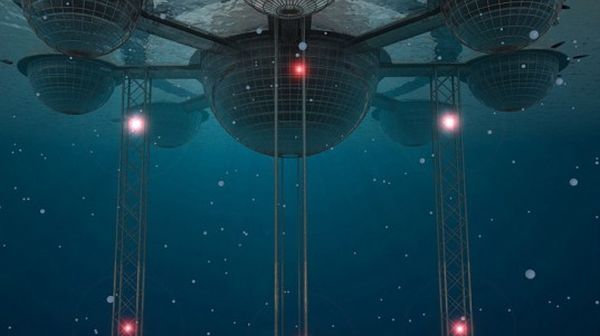 While Bioshock's Rapture enticed us gamers with its entire cityscape with 'skyscrapers' being submerged under water, the fantastical notion has unfortunately not materialized in our real world. That is up till now; as London based designer Phil Pauley has credibly conceptualized the Sub-Biosphere 2, an underwater living hub for hundred inhabitants. We say 'credible' because the designer has painstakingly invested the last 20 years of his life to contrive a viable underwater settlement that is aimed to be completed within his lifetime. In fact, more than just a figment of fantasy, the Sub-Biosphere 2 will have realistic architectural and structural components that would provide an alternative solution to inhabitants of our already cramped urban spaces.
In this regard, the self sustaining Sub-Biosphere 2 basically comprises of a network of 9 biomes, with the entire underwater site width equivalent to 3.1 American Football pitches (or around 340 m). Among these 9 biomes, the central biome will be the biggest in dimension. It will have the crucial capacity to control and monitor life systems, along with generating electricity and producing fresh water and food for the population. Structurally, this central pod rises 40 floors above the sea level, with additional 20 floors submerged beneath the water.
The other eight pods of the Sub-Biosphere 2 that symmetrically surround the central biome will act as the living quarters for the underwater population. Their individual zoning entails 10 floors above and 10 floors beneath water. Finally, the whole collective structure will be sturdily anchored to the sea, thus serving as a futuristic living solution that doubles up as an island/submerged settlement.
Via: PhilPauley