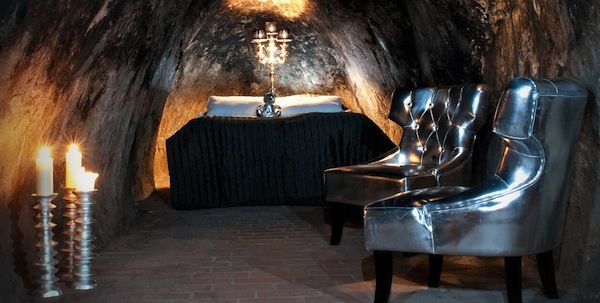 Previously, we have talked about hotels that utilize the 'naturalistic' factor in their favor. However, the 'Mine Suite' notches it up to a whole new natural level, with its location being a whopping 500 ft (around 155 m) below the earth's surface! Touted as the world's deepest hotel room, the so-called suite is a part of the well-preserved Sala Silvermine in Sweden. In this regard, there is a wide hall beside the suite, which is used as the festivity room 'surrounded by winding galleries and thrilling cavities.' And, to enhance upon the user experience, the hotel offers a guided tour through the mine; after which the guests are served with a sumptuous breakfast comprising of cheese, fruits, chocolate and champagne.
Because of the thermal insulation provided by a solid 155 m of earth, the Mine Suite has a 2 degree Celsius temperature all throughout the year. However, artificial heating allows the temperature to comfortably rise up to 18 degrees, while the beds are provided with a thick cover and an extra pair of blankets.
But given the odd location of the Mine Suite, the comfort level of the users had to be sacrificed on a few utilities. For example, to access the toilet, one has to travel 50 m from the suite. Other bathing facilities like showers and lounge are only available above the ground. Furthermore, communication (between the users and the hotel staff) during the night is to be done through an intercom radio, as cellular services are not provided at such a deep level.
For more details, like rates and utilities, please check this link.
Via: SalaSilverGruva