Intrinsic views of nature always relax our mind and soul with its tranquility. However, with hectic work life nowadays it's not possible for most of us to go out and enjoy the beauty of nature. Don't worry if you can't take out time for nature walk, you bring some nature into your home instead.
Thinking how is it possible? Well, it is certainly attainable with the ten creative furniture designs that are inspired by nature.
Bookshelves resembling tree branches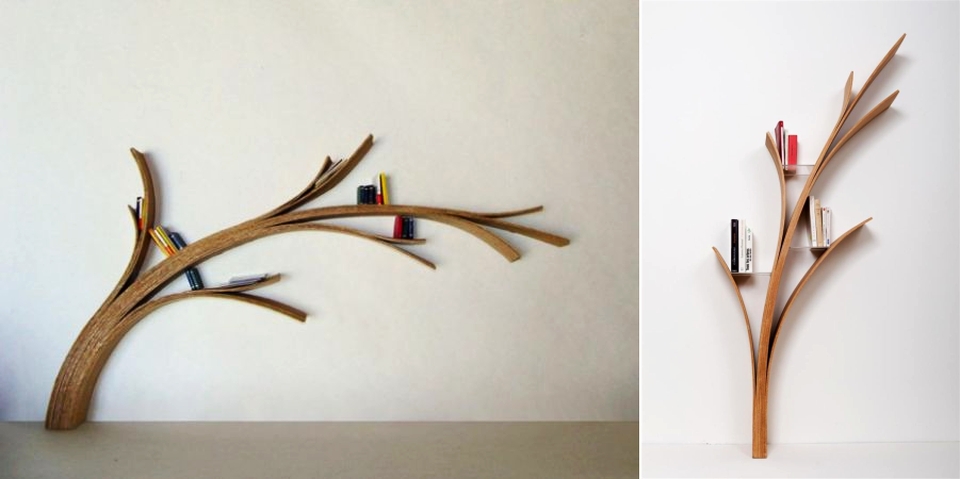 Trees are the most important part of nature and can be seen outside just though your window. But now you can bring calm essence of trees straight into your home with the ORA collection, which includes beautiful bookshelves that resembles tree branches. The collection will not only keep your books safe, but also provide stunning décor to your living room, study or library.
Bird nest bed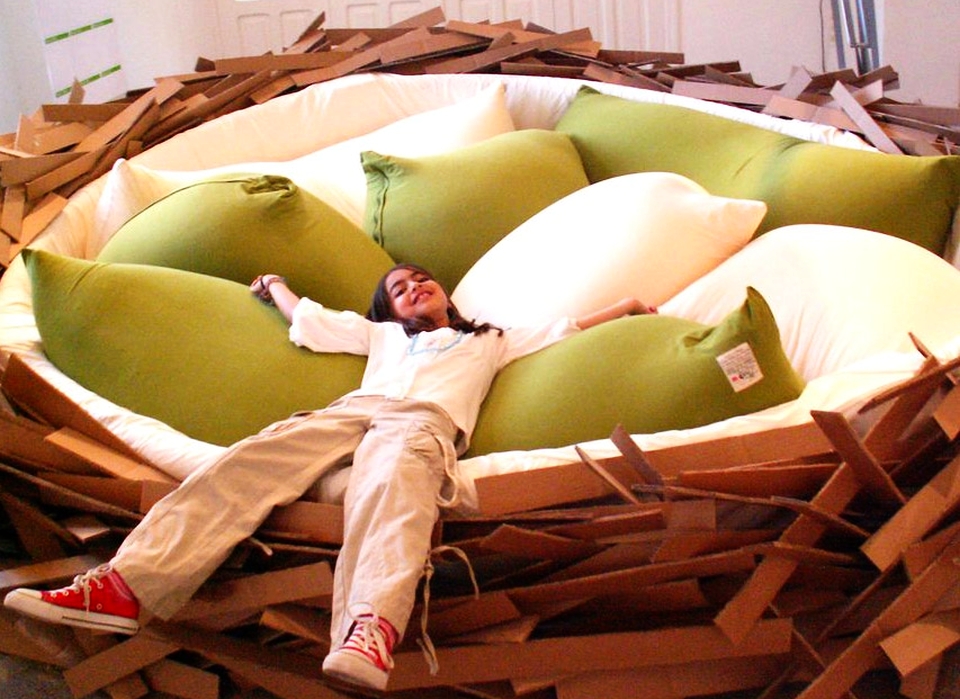 Talking of trees, how can we forget the chirpy inhabitants who reside on trees? With the bird nest bed by Merav Eitan and Gas­ton Zahr you can live like a bird in your home. The nest shaped bed is made by assembling different planks of wood together. At center you can fill the hollow space with different couches, pillows and blankets. So you can relax or sleep inside this human-sized nest, experiencing the life of real birds.
Flap Flap coffee table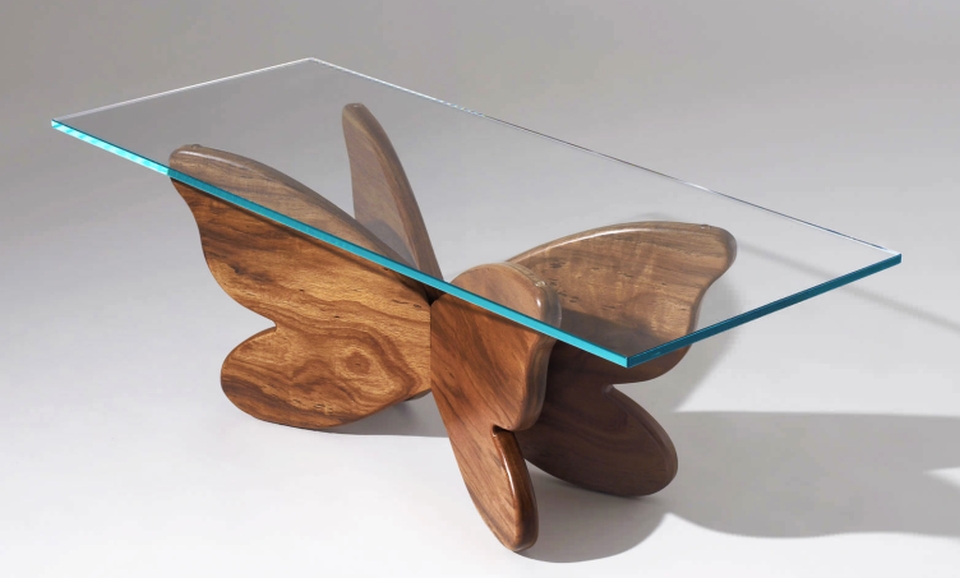 With creative Flap Flap coffee table, you can virtually bring the beauty of butterfly into your living room. It is designed by Francesco Barberini and Nina A to give natural touch to any space with its aesthetics. Instead of acrylic waxes and colors, the table is finished with beeswax to make it eco-friendly as well as more connected to nature.
Farmyard furniture collection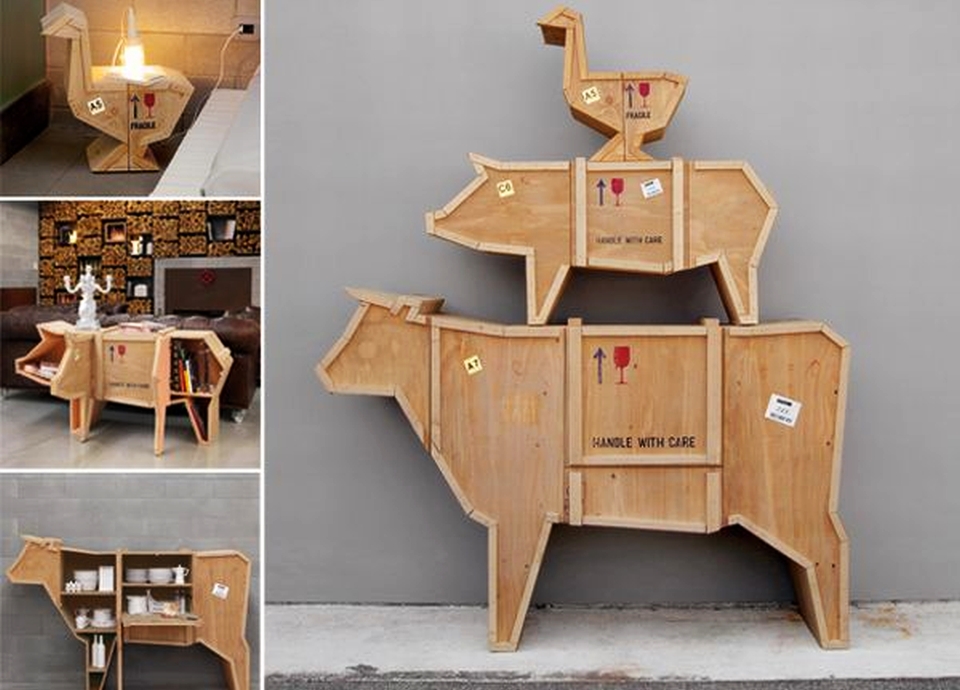 Italian Furniture Brand Seletti has launched the 'sending collection' of furniture designed in shape of various farm animals. The collection includes Sending Cow Sideboard, Sending Goose Lamp Table and Sending Pig Console Table. These furniture units are perfect addition into a home of animal lover. Each unit has minimal design yet practical use, making it perfect furniture for any contemporary home.
Rhinoceros Beetle chair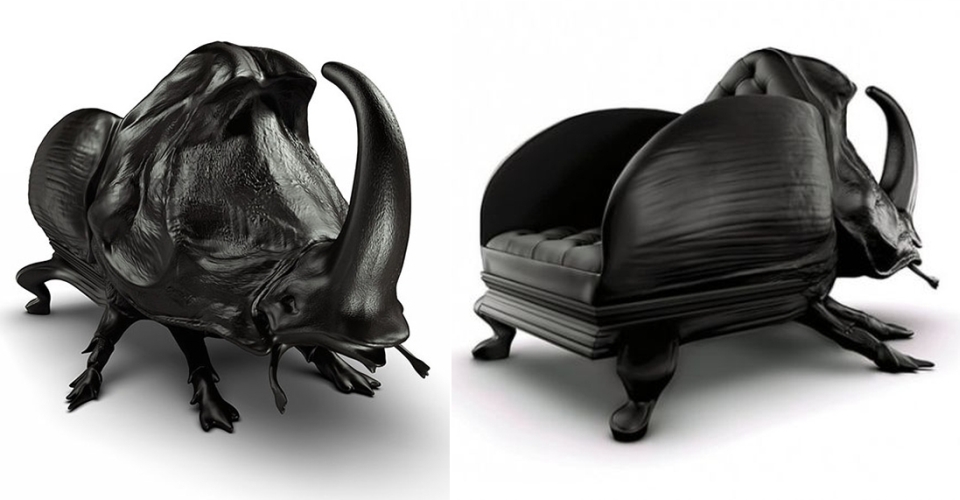 If you love crazy furniture around your house, then Rhinoceros Beetle chair is the one for you. It is crafted by designer Maximo Riera, who has created the chair inspired by original beetle insect (not the namesake car or the similarly named band). So the chair closely replicates the robust anatomy of a Rhinoceros Beetle specimen.
Rough water coffee table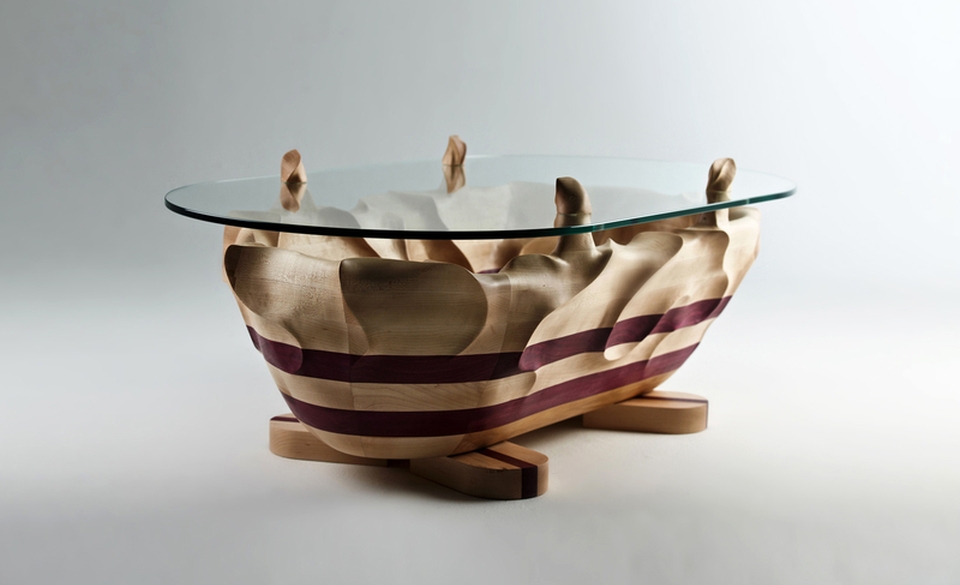 The Rough Water coffee table is one such piece of furniture that reflects dynamic state of impulsive sea through its stagnant design. It is created by designer Brish Mellor from Leeds College of Art to show how rough sea looks in form of sculptural furniture. It will make a classy addition into your living room with its artistic minimalistic layout.
Dedon nestrest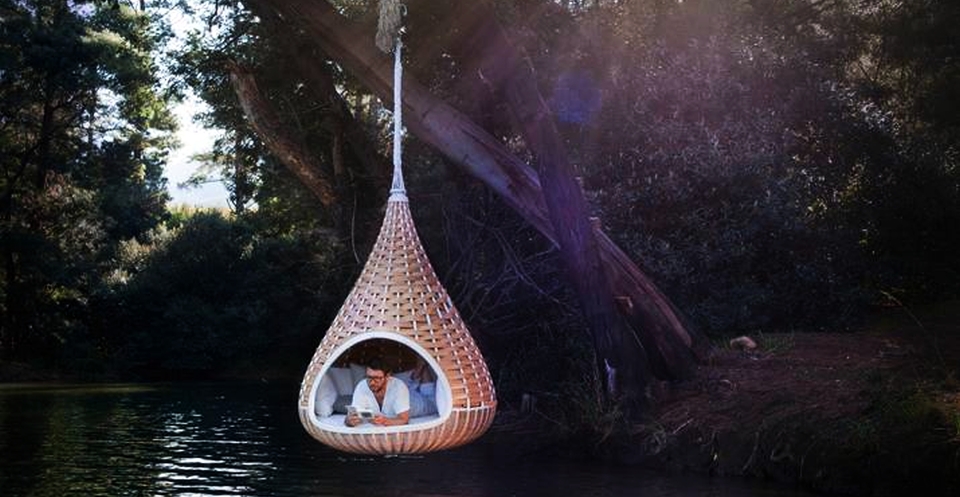 The hammock-styled Dedon Nestrest is reminiscent of a bird's nest. It can be hanged anywhere indoor or outdoor to relax, escaping the world. It is created by designers Fred Frety and Daniel Pouzet, partners of Jean Marie Massaud. The nestrest offers you a cocoon-like space to hide yourself and relax in peace, forgetting rest of the things.
Capsule furniture collection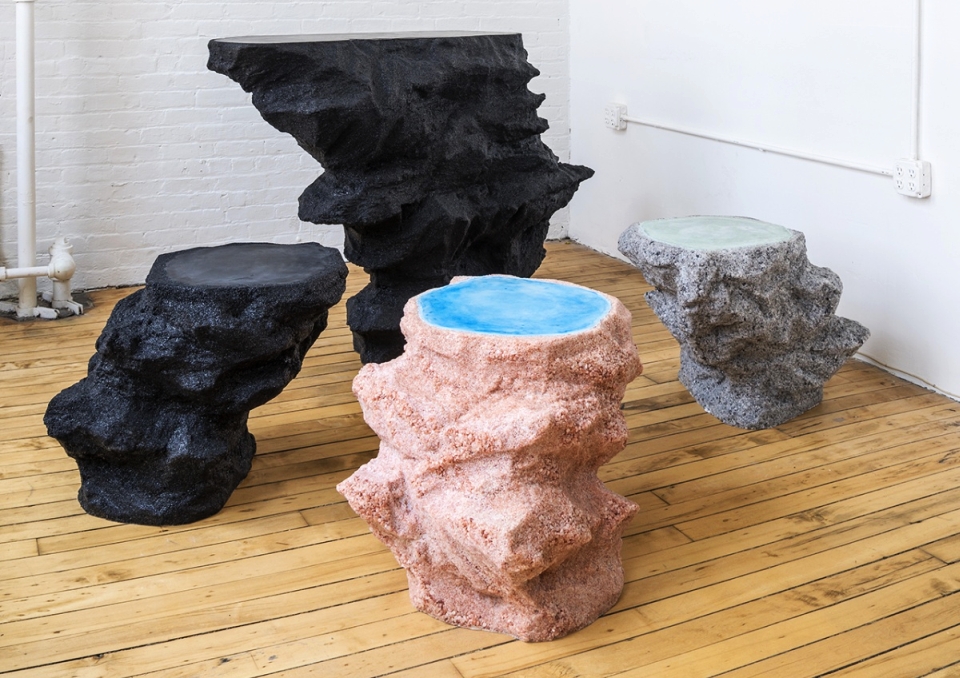 Interior designer Samuel Amoia and sculptor Fernando Mastrangelo have createdthe Capsule collection furniture that inspired by natural shaped of rocks. The collection includes amorphous tables created out of ground coffee, skeletal mirrors made out of shimmering borax crystals and garden stools constructed out of a natural crystalline substance topped with cement in a variety of colors ranging from sombre black to mint green to peachy pink. The collection is idyllic for both indoor and outdoor use.
Nautilus II table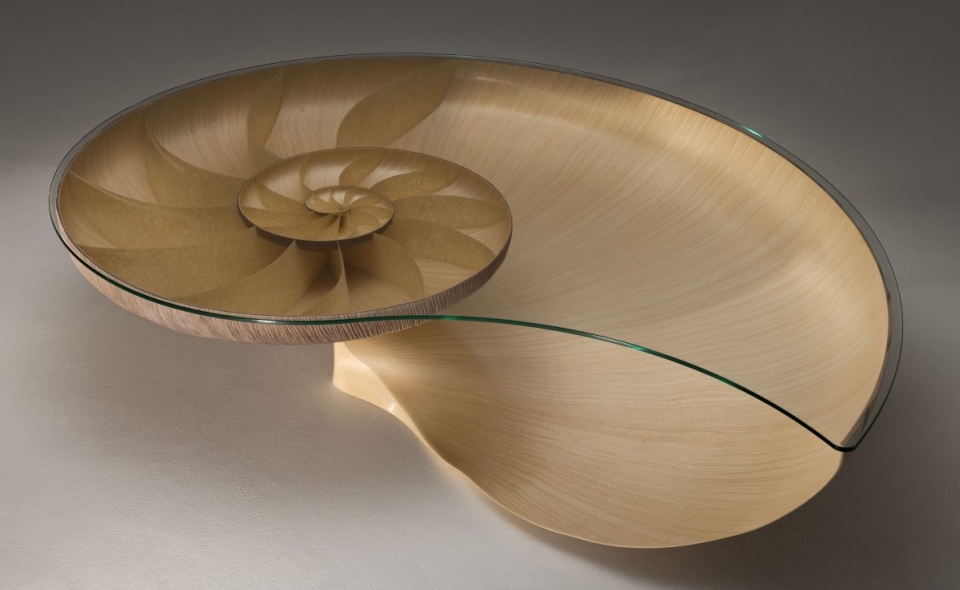 The Nautilus II Table is inspired from organic material furniture made from 4000 pieces of walnut and sycamore veneer i.e. 'sea shell.' It is created by Newhaven-based designer March Fish, using amalgamation of innovative construction methods and computer aided technology. It can be used as a coffee table in your living room, whilst adding heavenly touch into your interior.
Sculptural ocean waves

Australian artist Ben Young has hand-crafted stunning glass and concrete sculptures that depict mysteries of ocean waters. These eye-catching pieces will be a gorgeous addition into any living space. These can be used simple as décor objects or as side tables. Either ways these masterpieces will steal attention of your guests.
These nature-inspired furniture pieces will definitely transform your place into a natural hub, making you feel more connected to the environment. With such thoughtful furniture, you can easily unwind yourself even if you don't step out of your home or office.