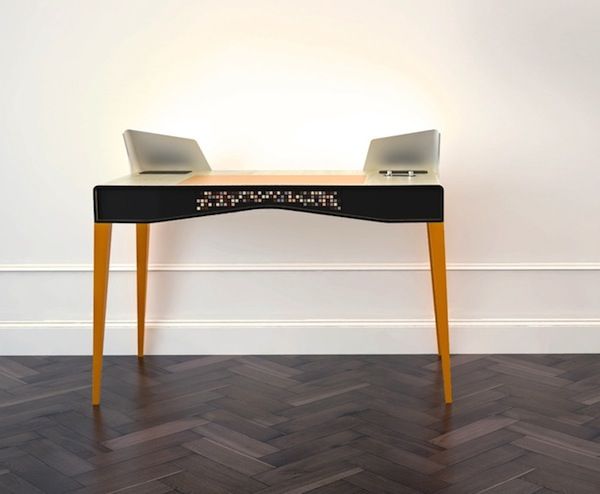 In our previous post, we mentioned how sound systems have evolved in their design language to emerge as definitive elements of home decor. On the other side of the coin, there are decorative furniture items that also integrate functional sound systems. The Echo office table (from French start-up Iota Element) belongs to this exclusive club with its intrinsic fusion of 'furniture art and digital technology'. The elegant looking table integrates full digital speaker systems on two sides of its counter surface. These are complemented by acoustic reflectors (and amplifier controls) that can be raised from their positions to impart high-quality surround sound. So, in essence, the Echo poses as a stylish work-space furniture that also exhibits high-end musical credentials.
According to the designers, the inspiration behind the Echo office table comes from various eclectic fields –
In the spirit of '50s furniture, revisited through the contemporary prism, Echo has a simple and elegant design in harmony with a subtle and intense sound. This fine piece of furniture embodies the essence of design, conceived the idea that each of its forms sublime functionality aims.
However, beyond all the cultivated visual quotient, the Echo office table does have its fair share of practicality. One of these practical features entails the mitigation of vibration when sound is produced from the speakers. In simpler terms, the table doesn't vibrate when it is playing its music, thus allowing you to keep your cup of coffee without the fear of splashing.
Price – €12,800 (around $16,770).
Via: IotaElement