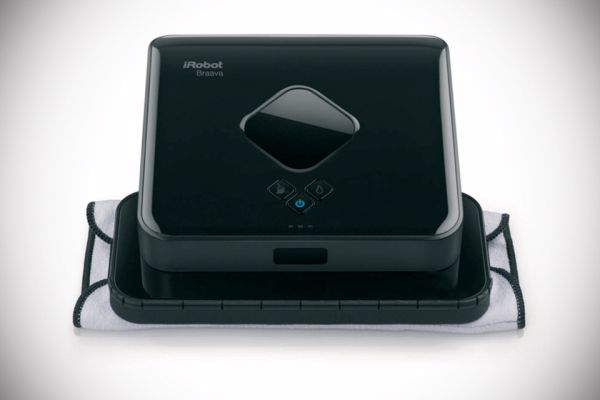 In all these tedious cycles of vacuuming and taking rest, we tend to forget one of the basics of cleaning our floors, and that is – mopping. Well, once again, robotics has come forth as our domestic savior to liberate us from the hassles of mopping. We are talking about the bantam iRobot Braava Floor Mopping Robot. Almost looking like one of those sleek next-generation gaming consoles, the only objective of the entire conception pertains to one solution – mopping our floors. In this regard, the robot can mop in two modes, dry and wet, both of which can be easily selected by the user.
As is pretty conventional for such types of technologies, the iRobot Braava is guided by an indoor schemed GPS system. The GPS component is projected by an integrated NorthStar Navigation Cube, while the scope is aided by other sensors that help in safe routes of the robot. By safe, we mean the iRobot Braava 'smartly' keeps away from stairs, voids, rugs and carpets.
Finally, coming to the commercial side of affairs, the iRobot Braava is available in two models – the Braava 320 and the Braava 380t. Among these, the Braava 320 has all the features we have mentioned before. However, the costlier Braava 380t comes with additional features like having its own Pro-Cleaning Mechanism (which allows the robot to use water for its mop cloth), multiple NorthStar Navigation Cubes for better guidance and higher battery life that improves upon the overall working scope.
Price – $199.99 (for Braava 320); $299.99 (for Braava 380t). For more details, please check the product's homepage.