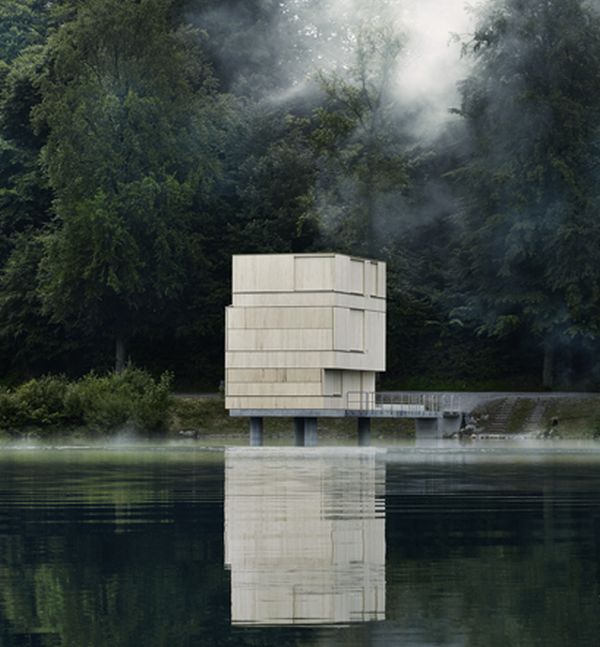 Good architecture is not only about the building, but also encompasses the scope of the environment in which the building is set. Lake Rotsee Refuge by AFGH Architekten is an apt example of such a 'collective' architectural piece. The conception surely entices us with its contemporary form defined by overlapping linear facades; but this essence of modernism is uniquely cradled within the picturesque setting of the lush banks of Lake Rotsee, Switzerland. In this regard, the Lake Rotsee Refuge has been actually built to serve as a credible vantage point during the annual rowing regattas held on the lake. The minimal level of functionality is appropriately conveyed by the unobtrusive design of the tower building, thus actually resulting in a more 'evolved' aesthetic appeal.
The access to the Lake Rotsee Refuge is provided by a concrete platform and a concrete staircase above the water level. According to the architects, this arrangement reflects the dual character of the refuge tower – serving as a stand for annual water sports competitions, and also posing as a sculptural building during the rest of the year. The surrounding natural landscape plays its crucial role in endowing that reclusive essence to the low-key, solitary structure. As a matter of fact, the appearance of the tower is altered during various times of the year, as the verdant landscape changes during the course of the seasons.
Finally, coming to the features of tower itself, the Lake Rotsee Refuge comprises of large-size sliding shutters. These shutters not only result in greater insulation (and thus energy efficiency) but also counteracts the predicament of bird strikes. Moreover, when closed, they provide a degree of 'enigma' with the lone, modernist building mysteriously closed from all sides.
Via: AFGH