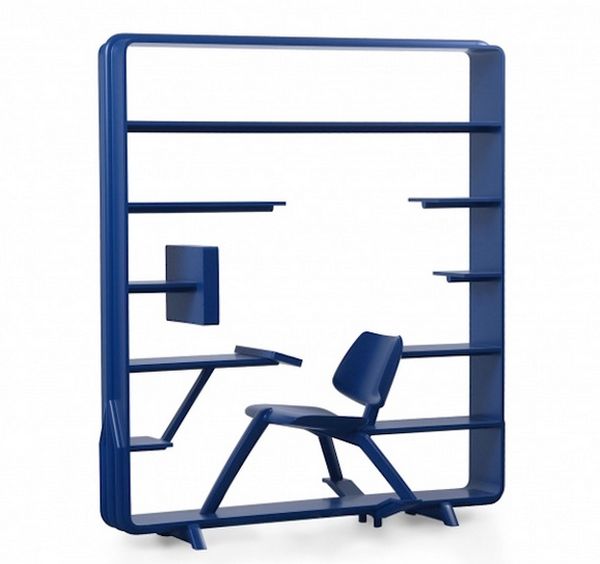 Another example of compact living, and this one might come in handy in a variety of spatial situations. We are of course talking about the aptly named Cabinet Chair conceived by Dutch design studio Oppewal. The chair basically combines the functionality of two core components used on a daily basis – a workstation for your computer and an arrangement of bookshelves. This 'fusion' is envisioned a pretty refined manner with a certain degree of minimalist essence associated with the white color scheme. The very first Cabinet Chair has actually been designed for a hotel lobby. And, in this regard, the varied application of the chair is quite evident, with its potential usage in public places like hotels, airports, bus stations and even libraries.
Now, beyond its usage credentials in public places, the Cabinet Chair can also pose as a credible furniture item for your living room or office. However, the so-called workstation integrated within the furniture's has been spatially optimized for a built-in screen and keyboard with internet connectivity. But this very frame might prove to be obtrusive, especially if you have a big desktop PC with boisterous specifications.
In any case, the Cabinet Chair still displays its multi-functional nature quite well, with a structure that incorporates the shelves along a singular plane. This unique arrangement makes the chair more compact, and thus spatially efficient for a range of user oriented areas. And finally, as for its pricing, the design will set you back by €5,895 (around $7,840). For more details, please check Oppewal's home site.
Via: Oppewal