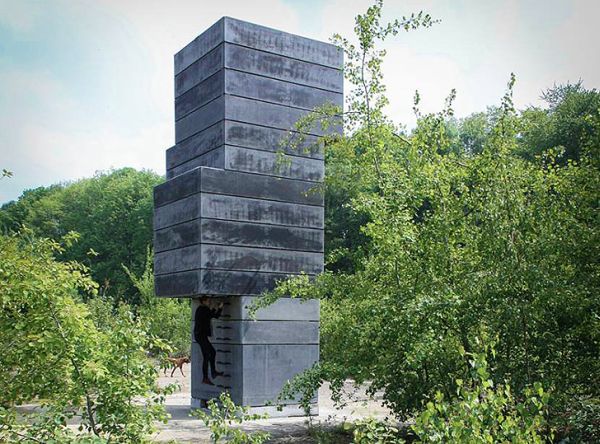 German-based architectural firm Modulorbeat, has built a 7.5 meter tall tower made from concrete shafts for the art festival Das Detroit-Projekt in Bochum. The tower is created on an abandoned factory site and divided into three segments – lower, central and upper floor. The central segment houses a small electrically-heated One Man Sauna within a wooden shell. The lower segment is made from waterproof shafts to hold water and alternatively can be used as a plunge pool. Upper segment has a metal grille platform with a bench to relax and is covered by a translucent roof, which on opening offers a beautiful view of the sky and surrounding landscapes from inside.
For easy movement inside this hollow structure from one segment to another, all three segments are connected via vertical ladder. Only one person at a time can get inside this tower to relax and enjoy three different facilities provided inside the tower. The narrow gaps between these stacked shafts let pass natural daylight into the tower and also offers an outside view while relaxing.
The firm basically created one man sauna for maintaining health of workers who used to work in mines before the factory was closed. After abandoning the factory, no one really bothered about heath of the workers, so the architects of Modulorbeat decided to make health benefiting sauna for those workers for relaxation. The one man sauna facility is available for factory workers and other localities until 5 July 2014, after that it will be dismantled and moved to some other location.
This innovative modular tower can be relocated to areas where people rarely get sauna facilities for relieving stress, relaxing muscles, and other health related recreational benefits.
Via: ArchDaily