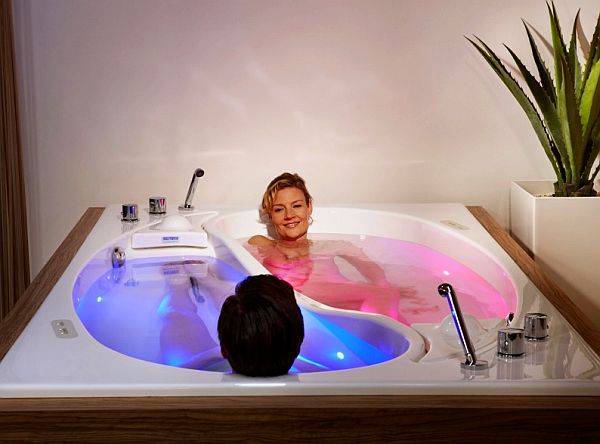 Wellness treatments are good for both mind and body, and now Trautwein's Yin Yang couple bath adds some extra fun to the whole experience. In response to the growing trend of couple treatments, Trautwein designed this amazingly useful bath that allows two people to bath together yet individually. It integrates sound wave massage that vibrates in every part of the body rejuvenating all senses. And, obviously it's not always couples, but any two people, be it friends; and mother and daughter, who can spend some quality time, nestled in therapeutic water, reflecting beautiful atmospheric colored light.
The design of the couple bath is an exact replication of the Yin Yang symbol. It comes with special frame for tilling and is edged down in the middle so that despite being separate, some connection is maintained between the two people in the two different compartments.
What's more is that the two users can customize their separate experiences without affecting the others. For example, they can choose the temperature, bathing activities and also the colored light they'd prefer without mingling with what the person chooses. Hygienically too this solution is more viable.
Keeping in view maximum comfort of every user, be it a short person or tall, the bath comes with tub shortness that are conveniently moulded into tub and allow even short people to enjoy the bath without sliding too deep.
For a completely profound experience that immerses every sense of your body in musical vibrations along with the regenerating colors creates the perfect ambiance that further soothes the mind and the body. Users can choose from different atmospheric colors, or even choose the rainbow patterns to flutter around while they relax.