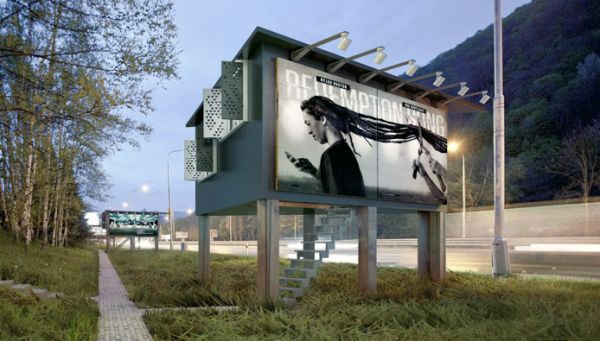 Billboards are very commonly seen along highways in cities for advertising, but Slovakia-based firm DesignDevelop started the Gregory Project, envisioning such billboards as permanent tiny homes for homeless. These homes are designed in triangular shape covering area of about 16.5 square meters on roadside. The houses are intended to be built along busy roads or highways so that its exterior walls serves as an advertising space, making it a live-in billboard.
The structure of these homes are raised above the ground level like a billboard and the owner can access it by a small staircase. Two exterior walls of the house are covered with advertisement hoardings and the rear wall include windows for ventilation. The advertisement hoardings can also be one of the sources of income for the poor residents.
Interior of the house looks exactly like a luxury home with wooden walls and ceilings, and contrasting white tiles on the floor. The house is divided into two portions- first portion includes a living area, kitchen area, desk for studying or dining, bedroom area with raised bed and ample storage space beneath it. Second portion sports a bathroom equipped with shower, toilet and washbasin.
DesignDevelop is still looking forward to sponsors and architects who could bring this amazing concept into reality. We hope that they get sponsors soon for this noble cause of developing triangular homes, which could provide a shelter as well as income to many homeless people in the country.
Via: HumbleHomes