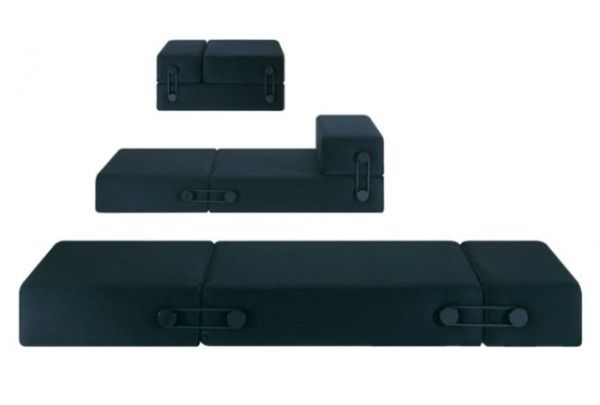 Simplicity is innovation – the dictum is aptly upheld by the Trix, a transforming furniture from Kartell (designed by one of Italy's most renowned designers Pierro Lissoni). Basically comprising of three cushions held by (externally located) elastic rubber bands, the 'dynamic' form of the conception can be transformed into various shapes that cater to different functions. For example, with easy rotating motions, one can convert it into – a classy ottoman as well as a comfortable lounger. These connected cushions can also be arranged along the right angles to remarkably transform the Trix into a full fledged pouf that can hold two people.
This fascinatingly modular scope of the Trix is partially achieved by the use of high-quality expansive polyurethane. The upholstery details on the cushions also aid the modularity factor with their three-dimensional woven fabric (for increased flexibility and comfort).
However, the best part about Trix is its aesthetic chicness that maintains itself even during the transforming process. So, whether you want a cozy armchair or a cool lounger, the nifty design language remains the same, thus efficiently posing as a variant yet practical furniture for your contemporary home decor.
Dimensions- H 36 cm, W 100 cm, D 75 cm.
Price – $1,390 (around £721). For more pricing and availability details, please check this link.
Some images are courtesy of Module-R.
Via: Panik-Design