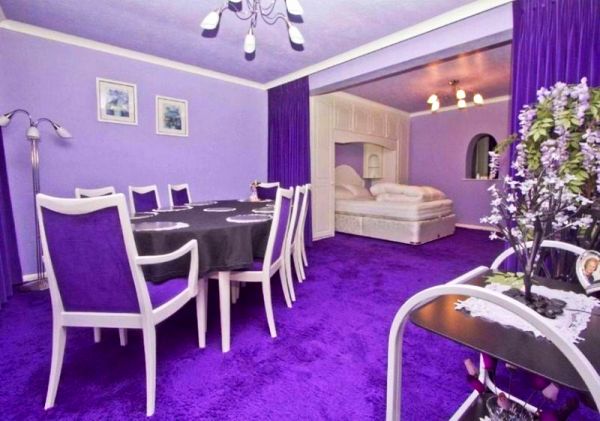 A few days ago, we talked about the $11 million 'eye sore' residence in Vancouver. Now, the above pictured £400,000 (around $648,000) Uxbridge Road house doesn't go by those ghastly credentials of dilapidated wood facades. In fact, this semi-detached building situated in Middlesex puts up quite a proper, British-like genteel appearance with its stony white facades and prim red tiles. However, the utter shock remains hidden inside the confines of those decorous walls. We are of course talking about the shock of purple in all its gaudy glory ready to pounce upon the unsuspecting owner! As a matter of fact, all of the interior facades (and by all, we mean even the flooring and ceiling) have been draped in different shades of purple.
If you take a gander at the gallery images we have provided, you would notice the disturbing essence of purple in carpeting, wall paints, curtains, furniture cushions, tiles and even bed sheets. The only things that stand out from the impact of aubergine are perhaps – the white hued fireplace, along with the arrangement of wall mounted cabinets and closets.
The tragedy of the entire scope, is that spatially the Uxbridge Road house does boast of a comprehensive range of user oriented zones. These include – master bedroom with dressing area, en-suite shower room, three secondary bedrooms, fully furnished kitchen and a large living/dining room. But in a crazy, ironic way, this spaciousness proves to be the architectural bane with vast expanses of purple hideously 'leering into your very soul.'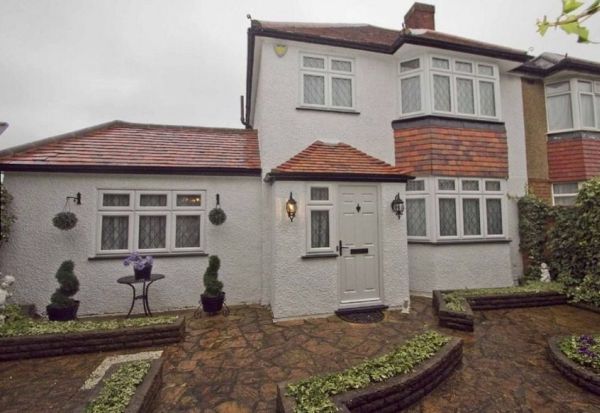 For more details, check out this real estate site.