Kitchen is of the utmost importance in any household. It doesn't really matter if it's simple or stylish. But you've got to admit, a stylish and luxurious kitchen sure lifts up your mood. This is where the awe-inspiring and stylish V888 Aston Martin kitchen by Formitalia comes to the fore.
Born out of an alliance between prestigious British luxury car manufacturer Aston Martin and Formitalia luxury group, this luxurious kitchen offers a rich experience of life. It displays the fine artistry of renowned sports car manufacturer. Handmade in Italy, using refined materials, this elegant kitchen represents a luxurious lifestyle of the inhabitant.
This bespoke custom kitchen with island is tailor-made in any shape and size. The island features a remote-controlled electric mechanism for sliding top. The benchtop is made of grey marble and the countertop is fashioned out of Canaletto walnut wood. The sides are furnished in Cuoio leather and the lacquered storage drawers have leather details. The feet of the island is made of metal in titanium finish but are also available in any RAL color.
Also Read: Do's and Don'ts of Kitchen Renovation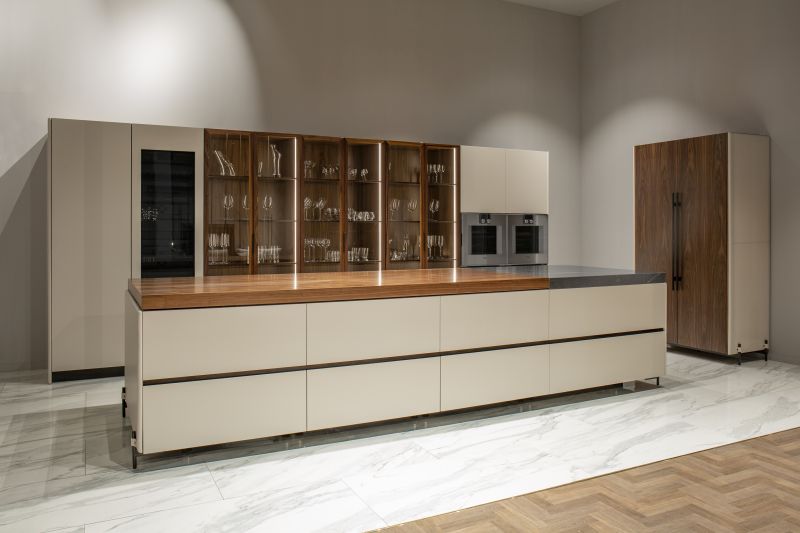 The spacious and well-equipped wall cabinet is made of blockboard wood with Canaletto walnut veneer with sides clad in leather, giving it a stylish, modern look. The metal details are with a titanium finish. The hinges used are from Salice and appliances in the kitchen are from Gaggenau. The dimensions of this storage unit are 520x65x220h cm.
The kitchen also houses a bar and pantry. Its structure is made of the same material as the wall cabinet. It contains two wide and spacious big drawers, an inner worktop of grey marble and a practical glass holding rack, which gives it a fashionable and inviting look. The size of the bar cabinet is 125x60x220h cm.
Also Read: Modern Kitchen Design Ideas for Your Home 
The door has been made using the blockboard wood with Canaletto walnut veneer, the sides are laden with leather and are furnished with blum mechanism and Salice hinges. The whole kitchen design is customized and comes in any RAL color.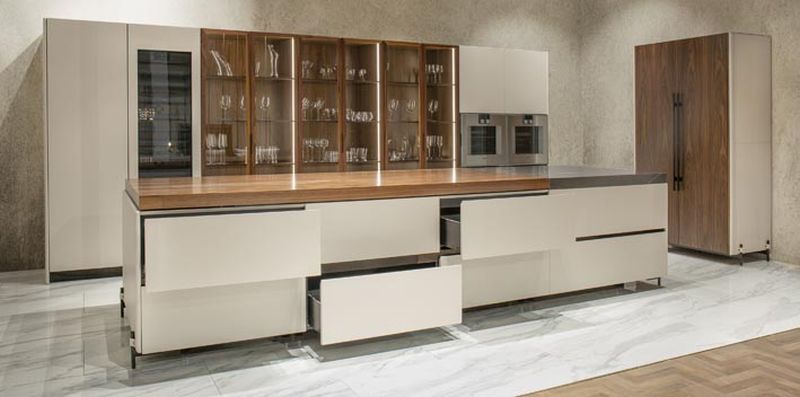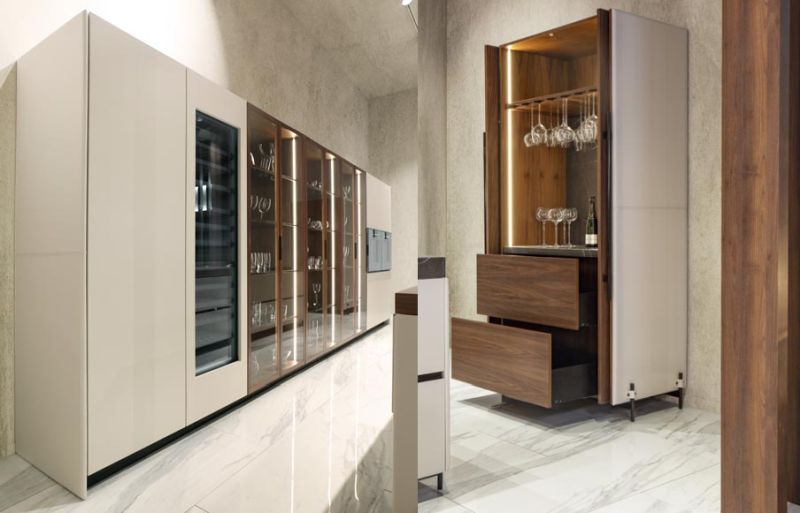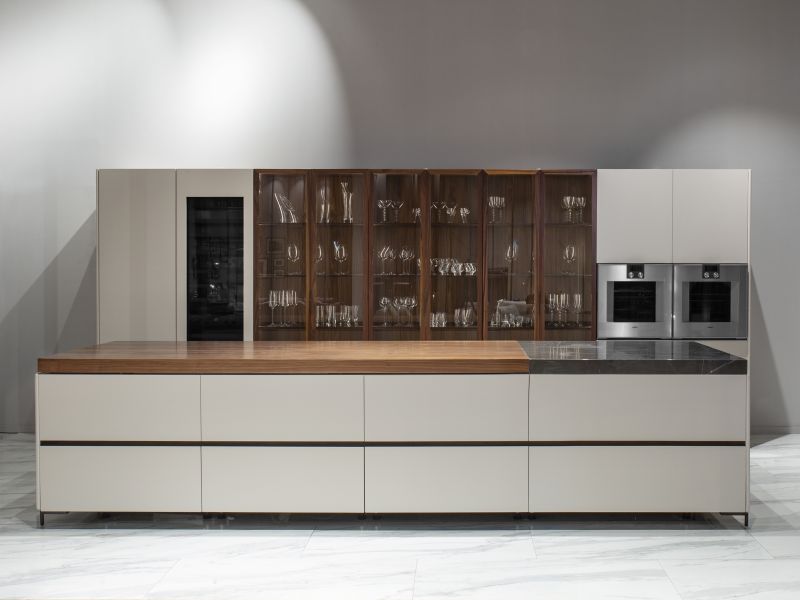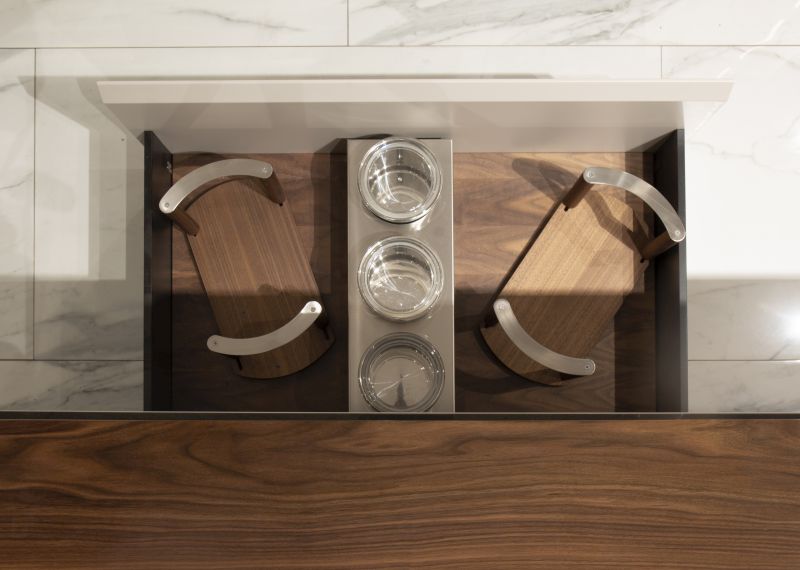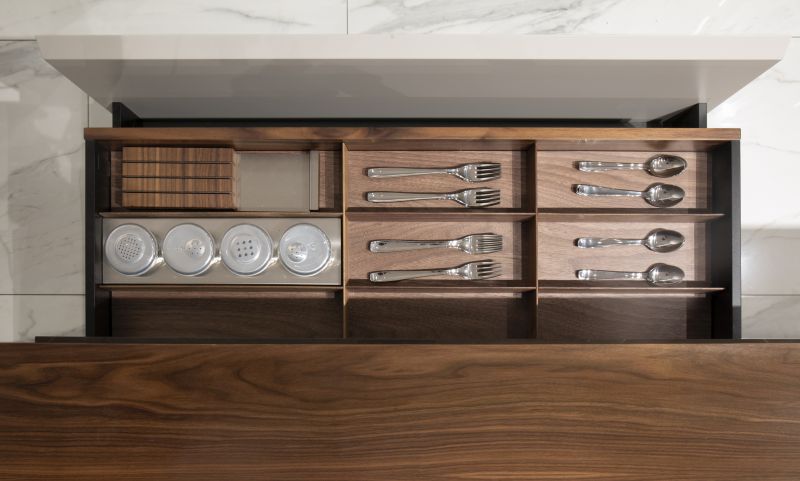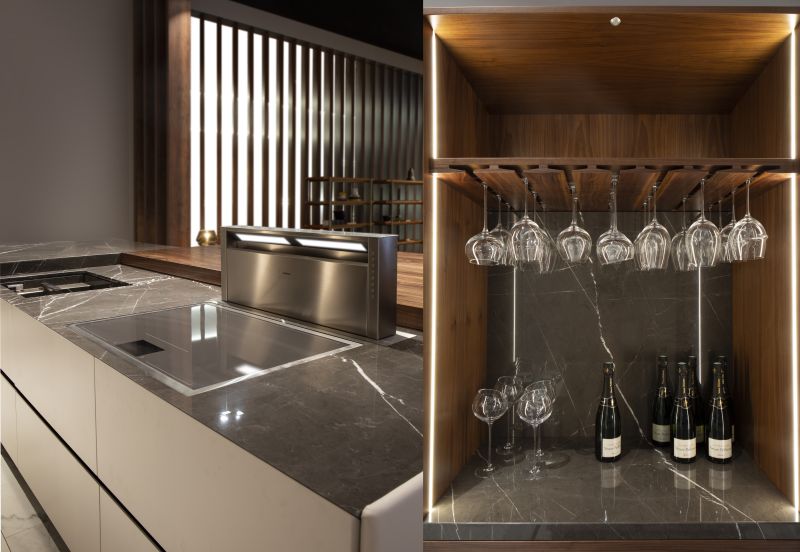 Via TKBB/ArchiProducts