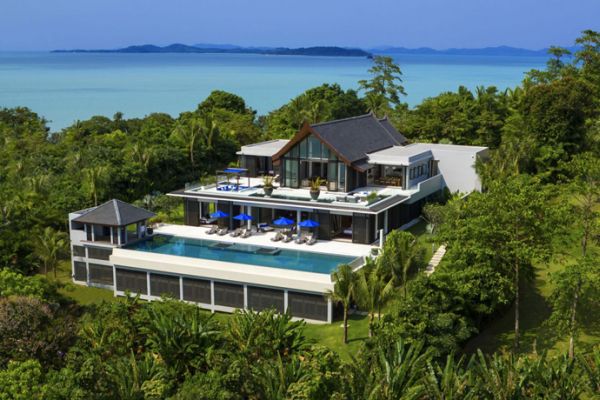 Whenever we think of luxury resorts in Phuket, we have reveries of glistening swimming pools and sun-kissed beaches. However, the Villa Padma cranks up on the 'personalized' luxury scale with a range of fun and exotic recreational activities. Exhibiting a vernacular style of Thai architecture, the villa-resort is based upon an enclosed yet spacious structure nestled amidst the lush greenery of surrounding mangrove forest. The expansive exterior of the villa is bedecked with an inviting pool, a spacious pool deck, a side parlor and luxury lounge chairs. On the other hand, the adjacent 'game areas' comprise of billiard rooms and foosball tables. They are accompanied by a full fledged theater with a pixel-perfect projection screen and surround sound.
The posh scope is also carried forth by the guestrooms of the Villa Padma. According to the hotel administration –
Each bedroom includes a desk with a multitude of international sockets as well as Wi-Fi for any unfinished work. A leisurely shower or soak is enhanced by the vast rain showerheads in the bathrooms or the beautiful Terrazzo soaking tubs. The staccato of fishing boats drifts away when the Sonas integrated stereo system plays your music of choice. While relaxing in the bedroom, enjoy the sound of your personal playlist using the specialized Yamaha iPod dock.
However, the definitive features of the villa would surely be its beach credentials. In this regard, the beach area is fully accessible from the building, while it comprises of a specialized 'Breeze Restaurant' that serves both Western and Thai cuisine. The Villa Padma also takes care of your physical well being by incorporating a fitness center and two tennis courts by the side of the expansive beach.
Via: VillaPadmaPhuket