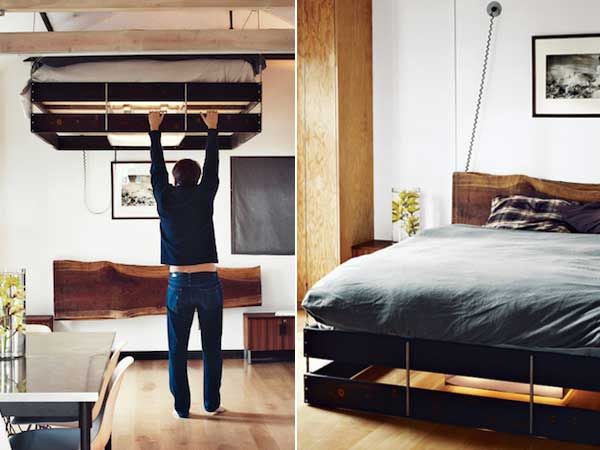 We're often fascinated with celebrity homes simply for their magnitude and style. But if looked upon closely, we have had many space saving home ideas, like the Espace Loggia mobile bed, which go on to prove that it doesn't always take a 10,000-square foot home to make it look superior, even a small home can deliver the style and personality we want – all it takes is planning and effort. Upholding the trend of small is new big, Pete Campbell in Mad Men – Vincent Kartheiser traded the idea of a big Hollywood-style mansion for a 580-square-foot abode and converted his purchase into a "Japanese-industrial"-style house with an elevator bed to create extra space.
Designed and revamped by designer and builder Funn Robert, Kartheiser's abode is made completely to his taste, suggestion and liking. The diminutive home that gets as glam as it can get, has been crafted to house variety of room. The remodeling began from replacing the wooden front door, and now has completely transformed the space into a Hollywood-star home that anyone would envy.
The main highlight of the house is Kartheiser's bed, which rises up to the ceiling to create extra space during day time and can descend down for sleeping. For its ability to retract a pulley system has been used, which utilizes almost 300 pounds steelwork to make sure everything is merry all the time. The headrest of the bed is crafted with slab of redwood fastened with hinges so that the huge plank can flip down to double as desk when the bed is raised to the ceiling.
Bathroom and closets in the house are lined up along one wall and have been deftly concealed behind fiberglass and steel sliders. These screens illuminate courtesy lights installed behind them. With classics like the Eames lounge and ottoman and exquisitely done outdoors, for extra privacy in the (made up) bedroom, Kartheiser has installed a thick red theater curtain on a ceiling track, which emerges to cordon offs the area leading to the bed.