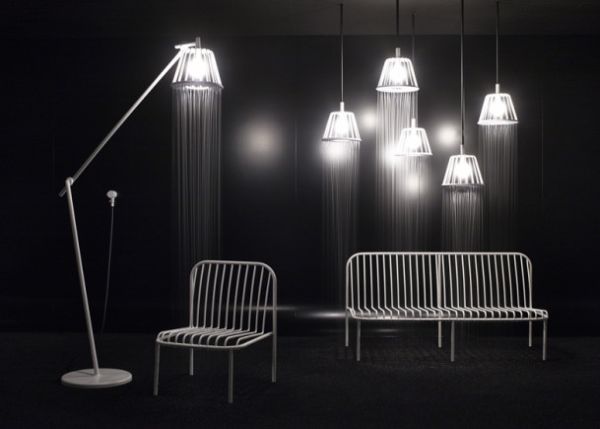 We have harped about lamps that mimic C3PO leg and we have reiterated about lamps that change their colors according to your mood. And, in spite of our coverage of such a wide spectrum of unique designs, this is the first time we have come across a lamp conception that also integrates a shower! Designed by Oki Sato (from Japanese design firm Nendo) for German brand Axor, the contrivance is named aptly as the WaterDream. Form wise, it comprises of a cage-like component that houses the light bulb; while the shower head is fixed to the bottom section. So, basically the design poses as a lighting mechanism, which also notches up on the novel 'rain like' ambiance in your living room.
Of course, a shower in our living room doesn't make much sense from the practical perspective. In this regard, the WaterDream is actually a conceptual piece that aims to showcase that even our private bathing function can be accommodated in a different zone with a bit of spatial modification. Philippe Grohe, head of Axor, has went on to say –
The natural coming-together of light and water is freed from spatial constraints: what traditionally took place in separate rooms – reading under a lamp in the living room, taking a shower in the bathroom – can now be experienced free from spatial allocations or confinements.
Now, many of us traditionalists would feel a bit awkward with all this talk of 'non-confined' bathing. However, from the purely aesthetic viewpoint, the WaterDream collection is surely a winner in our book.
Via: Spoon-Tamago